The Negroni Sbagliato is a delicious (and stunning!) cocktail with just three ingredients. With Prosecco, Campari and sweet vermouth, this drink is sweet and complex without being overly heavy. An orange slice garnish brightens it up even more. It's an elegant drink, and definitely a classy addition to any cocktail menu!
This drink is a variation of the classic Negroni cocktail. The "sbagliato" part of the name translates to "mistake", meaning that the addition of Prosecco instead of gin was a happy accident. It was created by a Milan-based bartender, Mirko Stocchetti, when he grabbed a bottle of bubbly instead of the gin he wanted. The exact dates are fuzzy, but it reportedly happened sometime in the 1970's or 1980s, about 50 years after the creation of the original Negroni.
The Negroni Sbagliato had a resurgence in popularity in 2022, when it went viral on TikTok. Actors Emma D'Arcy and Olivia Cooke, who play Rhaenyra Targaryen and Alicent Hightower on the HBO series House of the Dragon, had a conversation about their favorite cocktails. D'Arcy stated that their favorite was a "Negroni... Sbagliato... with Prosecco in it". The way they said it had everyone running to get some Prosecco!
Looking for more variations on a Negroni? Check out the White Negroni, or try out a Gin Campari Sour for a more citrusy take.
Jump to:
Ingredients
Here are the ingredients you'll need for this cocktail:
Red Italian aperitivo liqueur - although this is a category of liqueurs, the most well-known is definitely Campari.
Sweet vermouth - I used Punt e Mes, which is a sweet vermouth that's on the more bitter side, but it works really nicely here. Carpano Antica Formula also works beautifully and is one of the best sweet vermouths (it's made by the same company as Punt e Mes). If you can't find either of those, Martini and Rossi is one of the most widely available vermouths.
Prosecco - obviously you need the bubbly! Prosecco is a sparkling wine that's on the sweeter side. You can use Champagne or Cava if you're looking for something with a little more depth and yeastiness.
Orange slice - although optional, this sweet citrus provides a great finishing touch.
Variations
Here are some refreshing ideas for variations on this classic:
Strawberry Sbagliato - Cut up some strawberries and add them to a mason jar, then pour in enough Campari to cover them. Seal the jar and let them sit overnight or for a few days before straining out the berries and bottling up the liquid. Use this strawberry-infused Campari for a more sweet and fruity Sbagliato (and garnish with a strawberry, of course).
Lillet Sbagliatio - instead of sweet vermouth, use Lillet aromatized wine. This will give you a brighter drink, with less bitterness and more of a white wine flavor.
Sbagliato Bianco - switch out the gin in the White Negroni for two ounces of Prosecco. It will give the drink a sweeter taste and will pair well with the bitter Suze liqueur.
Equipment
This is a simple drink to put together, since you can make it right in the serving glass. All you'll need is a jigger or small measuring cup, plus the glass itself. An old fashioned glass (lowball) works well, or you can use a wine glass.
If you're making an orange slice garnish, you'll want to grab a knife and cutting board as well. Also, this Champagne bottle opener is one of my favorite things to use when opening up some bubbly!
Instructions
Start off by cutting an orange slice for your garnish. You can cut it into a wedge if you want to add a squeeze more of orange juice, but a half slice is pretty and enough to give the finished drink a nice orange aroma.
Alternatively, you could just garnish with a piece of orange peel. Squeeze the peel over the drink just before serving to express the orange oils and give an orangey pop of flavor.
Add ice to your serving glass, and then measure and pour in the Campari and sweet vermouth.
Open up your Prosecco, and add it into the glass. Give it a gentle stir to combine all of the ingredients without losing the carbonation.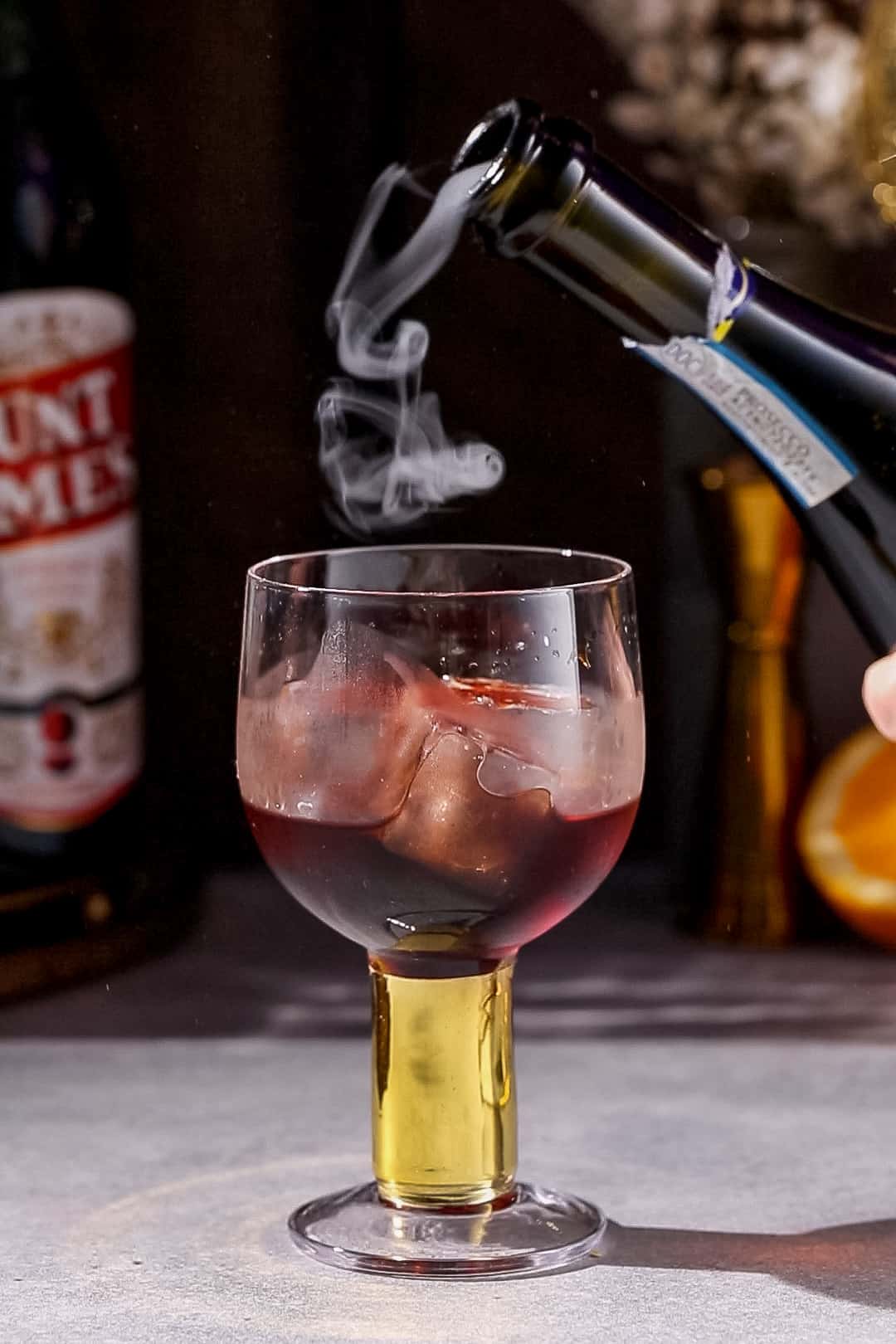 Add your orange slice either to the rim of the glass or just inside the glass, and serve.
Hint: You can also serve this as an "up" cocktail, without ice. If you prefer to do that, stir the Campari and vermouth together with ice first, and then strain the liquid into the serving glass before adding in the Prosecco. This will let the drink dilute and chill as it would if served over ice.
Frequently Asked Questions
What does a Negroni Sbagliato taste like?
The overall taste is a mix of sweet and bitter, with citrusy flavors from the Campari and deep berry notes from the vermouth. The Prosecco sweetens the drink up a bit, adding fruity freshness and some lightness with the bubbles.
Who invented Negroni Sbagliato?
Milan-based bartender Mirko Stocchetti of Bar Basso created the drink. The story goes that he accidentally picked up a bottle of Prosecco instead of the gin called for in a classic Negroni, and the "mistake" became cocktail history.
Top tip
This is a great party drink since it's so easy to make! You can even partially batch this by mixing the vermouth and Campari together in equal parts beforehand. You can have a pitcher of that mixture out on a display table alongside some bottles of Prosecco. You can also have some gin out with the Prosecco, so your guests can choose between a classic Negroni and a Sbagliato!
📖 Recipe
Negroni Sbagliato
A Negroni Sbagliato cocktail is easy to make with only three ingredients, but it is deeply delicious. Prosecco is used instead of the gin that's in the classic Negroni.
Equipment
1 Cocktail serving glass

(an old fashioned glass or a small wine glass work well)

1 Knife and cutting board

(for orange garnish)
Ingredients
1

ounce

red Italian aperitif liqueur

(like Campari)

1

ounce

sweet vermouth

2

ounces

Prosecco

(or other sparkling wine)

orange slice

(for garnish)
Instructions
Add ice to your serving glass.

Measure the red Italian aperitif liqueur and and pour it into the glass.

Measure the sweet vermouth and add it to the glass.

Pour in the Prosecco and give the drink a gentle stir to combine.

Add the orange slice garnish, and serve.
Notes
You can make this drink in the serving glass as written, or you can stir the red Italian aperitif liqueur and sweet vermouth together with ice first. If you stir them, you can still serve it over fresh ice, or you can choose to serve it without ice in a coupe or Champagne glass. Just strain out the ice when pouring it into your serving glass.
Nutrition
Calories:
129
kcal
Carbohydrates:
10
g
Protein:
0.1
g
Fat:
0.01
g
Sodium:
4
mg
Potassium:
62
mg
Fiber:
0.2
g
Sugar:
1
g
Vitamin A:
15
IU
Vitamin C:
3
mg
Calcium:
8
mg
Iron:
0.2
mg
Made with WP Recipe Maker plugin