The White Negroni is an easy-to-make gin cocktail that has a complex, herbal flavor. Suze liqueur, which is flavored with bitter gentian, gives the drink its iconic yellow color, while dry vermouth brings a mellow sweetness. It's not for the faint of heart, but definitely a delicious sip for spirit-forward cocktail lovers!
This drink is based on a classic Negroni cocktail, but instead of Campari and sweet vermouth, it uses Suze and dry vermouth. Sometimes, Lillet Blanc is used in place of the dry vermouth, which makes it a little sweeter with some citrus notes. Also, the Suze is sometimes replaced with Cocchi Americano Bianco, which has cinchona instead of gentian as the bitter base flavor.
The drink was first developed in 2001 by a British bartender named Wayne Collins. He won a cocktail competition at VinExpo, a beverage tradeshow in France, with this delicious concoction.
If you enjoy this drink, check out the classic Vieux Carré for a spirit-forward cocktail with bourbon and Cognac. Or the Bees Knees, a honey-based gin drink, might be right up your alley.
Jump to:
Ingredients
With only three main ingredients, each one makes a big impact on the drink. Here is what you'll need to make this cocktail:
Gin - the drink was originally made with Plymouth Gin, so that is a great option. Any London Dry style of gin works well in this drink.

Suze

liqueur - Suze aperitif liqueur is a liqueur flavored with gentian root. Developed in France in 1889, the gentian gives it a bitter starting point, with other floral and herbal notes layered on top. It also has a lot of sweetness, but the bitter and herbal flavors outpace the sweet. It is famously a bright yellow color.

Dry vermouth

- vermouth is a fortified and aromatized wine, which means that it has a wine base and has extra alcohol and flavorings added to it. Dry vermouth has white wine as the base, and it has less sugar added than sweet vermouth. I've used Noilly Prat vermouth in this drink, which I definitely recommend as a good quality bottle.
Lemon twist - lemon peel makes a great garnish for this drink. You could also use orange peel.
Substitutions
If you need to substitute any of the ingredients, here are a couple options that may help.
Gin - if you are out of gin, try using either vodka or tequila blanco. It won't be the same, but those spirits would go well with the Suze and vermouth.
Suze - there are only a couple other liqueurs on the market with a similar flavor profile to Suze, although nothing is exactly the same. The closest one flavor-wise is called Avéze, and the other is called Salers gentian liqueur. Alternatively, you can try using Cocchi Americano Bianco, which is an aromatized wine with bitter cinchona bark as a main flavor.
Dry vermouth - the best substitute for dry vermouth here is Lillet Blanc, which is also a fortified and aromatized wine, but a bit sweeter than vermouth with more citrus and herbal flavors.
Variations
Here are some ways you can vary this recipe to your taste.
Too sweet - if this drink is too sweet for you, cut back on the vermouth and increase the gin by a little bit.
Too bitter - if this drink is too bitter for your taste, try using only a tiny bit of Suze, and increase the vermouth.
Too strong - if you feel this drink has too much of an alcohol taste for you, cut back on the gin and add a little more of the vermouth instead. Alternatively, you can serve the drink over ice and add some seltzer or soda to take away some of the alcohol burn.
Not bitter enough - for a stronger bitter flavor, increase the Suze and lower the gin.
Equipment
To make this drink, you'll need a heavy-bottomed glass to mix the ingredients with ice, a long bar spoon, and a jigger. You'll also need a vegetable peeler and, optionally, a knife and cutting board for the lemon twist.
For the serving glass, I used one of these twisted Old Fashioned glasses, which gives the drink a little bit of elegance. Any lowball glass can be used here, or even a small coupe glass if you're planning to serve it without ice.
My mixing glass, jigger and bar spoon are all from A Bar Above, and I love them! You can get 10% off on their website using my discount code, LKDrinks.
Instructions
This drink is really simple to put together. Start by measuring and adding Suze liqueur to your mixing glass. Then, measure and add in the dry vermouth.
Measure and add the gin to the mixing glass, and fill the glass with ice.
Using a spoon, preferably a long bar spoon, stir the drink for about 30 seconds. As you stir, try to keep the spoon going in a circle, with the back of the spoon always touching the glass. This stirring technique will chill the drink quickly without overdiluting it.
Once you're done stirring, strain the drink over a large piece of ice in your serving glass. You could also use smaller pieces of ice, but a large chunk will melt more slowly, so your drink won't get diluted as quickly.
Use a vegetable peeler to take off a fairly large piece of lemon peel. If you'd like, clean up the edges with a sharp paring knife.
Squeeze the lemon peel over top of the drink to express the oils. Then, twist the peel and add it to the top of the drink before serving.
Hint: let your lemon get to room temperature in order to get the most oils out of the peel. If your lemon is cold, you can just stick it in the microwave for 10 to 15 seconds.
Frequently Asked Questions
What does a White Negroni taste like?
A White Negroni has a very different flavor from a regular Negroni. The regular Negroni has bitter citrus notes and a lot of rich sweetness. The White Negroni is a lot less sweet, and it has more of a floral and herbal flavor profile.
What does Suze taste like?
Suze liqueur is flavored with gentian root, so it is very bitter. It also has sweetness to counteract the bitterness, but the main flavor is kind of like a bitter leafy green, such as arugula or dandelion greens.
What makes Suze yellow?
The main yellow color of Suze comes from the gentian root that gives it the strong bitter flavor. They do also use some yellow number 5 food coloring to enhance the color.
Top tip
It's really easy to make a big batch of this drink, and it even keeps well in the refrigerator. Just use the same proportions of all of the ingredients, but also add ½ ounce of water per cocktail, since you won't be able to stir and dilute the mix with ice.
If you are making a big batch, you can actually add more flavors to the mix and let them infuse in the liquid. Add some cut up grapes, apples or pears for a fruit-infused version, or some herbs like rosemary. Let them soak in the mixture overnight or even for a few days. Then just strain them out before serving.
📖 Recipe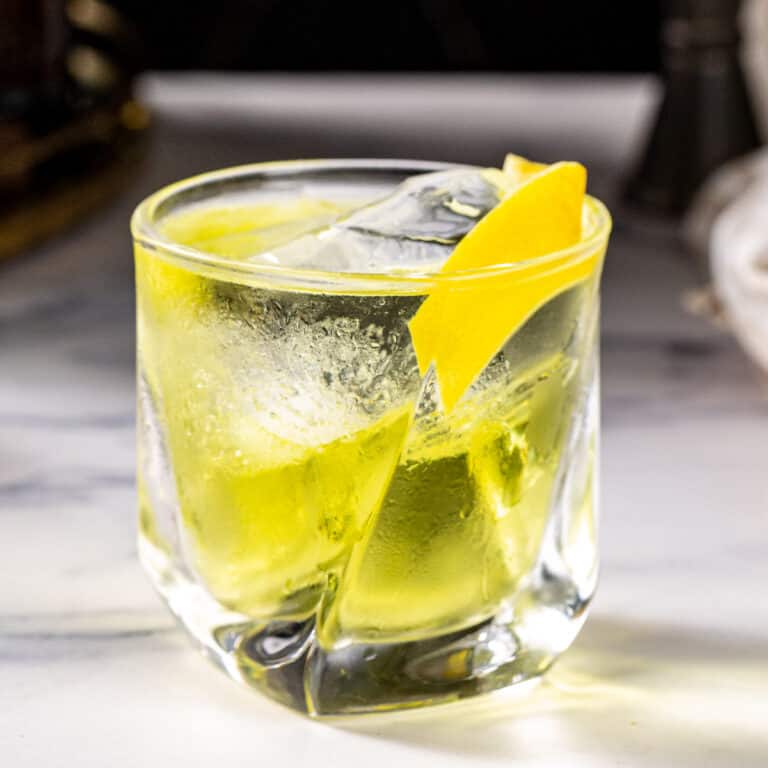 White Negroni
White Negroni, an easy to make gin cocktail featuring Suze, a bitter gentian flavored liqueur
Equipment
Cocktail strainer

Vegetable peeler

(for garnish)

Knife and cutting board

(optional - for garnish)
Instructions
Cocktail
Add the Suze liqueur, dry vermouth and gin to the mixing glass.

Fill the mixing glass with ice and stir for 30 seconds.

Add ice to the serving glass and strain the drink into the glass.
Garnish
Use a vegetable peeler to take off a large piece of lemon peel.

Use a paring knife to trim the edges of the lemon peel to make a long parallelogram shape.

Squeeze the lemon peel over top of the drink to express the lemon oils onto the surface of the drink.

Twist the lemon peel and add it to the glass before serving.
Nutrition
Calories:
159
kcal
Carbohydrates:
5
g
Protein:
0.02
g
Sodium:
0.4
mg
Potassium:
1
mg
Iron:
0.02
mg
Made with WP Recipe Maker plugin