These layered Mini Beer shots are so cute and tasty, they're sure to be a hit at your next party! With only two ingredients, these shots are super easy to put together, and they taste creamy and delicious. Even though they look exactly like beer, they don't taste anything like it. With a base of vanilla liqueur and a topping of heavy cream, they are so cute and perfect for any party!
Also called Little Beer shots, these are even better when you serve them in cute beer-shaped shot glasses! The layer on the bottom looks just like lager, with the cream as the foamy head of the miniature beer. The resulting flavor is like boozy french vanilla ice cream, or a spiked vanilla milkshake with a creamy finish.
The main ingredient is a sweet liqueur called Licor 43. It's bright yellow in color with flavor notes of vanilla and some orange and cinnamon. It's made with 43 herbs and spices that combine to create the nuanced final result. It has is 31% alcohol, so these shots have less alcohol than a shot of standard liquor (typically 40%), but they still pack a punch.
A crowd-pleasing shot like this is perfect for holidays and special occasions. They're super popular for Saint Patrick's Day, Super Bowl Sunday, or Cinco de Mayo. Whether you sip or shoot these, they are flavorful and delicious. They look so good that no one will know how easy they are to put together!
Looking for more fun and easy party drinks? Try out the cute and simple Dirty Shirley, a boozy tribute to the Shirley Temple, or the festive and delicious Midori Sour (perfectly green for St. Patrick's Day)! For some more layered cocktails, try out this Candy Corn Martini, which also features Licor 43. Or, the beautiful and delicious gin and Aperol cocktail, Fade to Pink is always a hit.
Jump to:
Ingredients
To make this mini beer shot recipe, here are the ingredients you'll need:
Licor 43 - This is a vanilla flavored liqueur with hints of citrus and spice. The yellow color is an exact match for a lager beer, making it the perfect base for these shots.
Heavy cream - To create the "head" of these shots, heavy cream is perfect. It's light enough to easily float on top of the yellow liqueur, resembling the head of a tiny beer!
What is Licor 43?
Licor 43 Original, the star of this recipe, was first created in 1946 by the Zamora family. It is a Spanish vanilla liqueur produced in Cartagena, Spain. The recipe is a closely guarded secret, but it's known to be made from a blend of 43 different herbs and spices. It has a sweet vanilla flavor with notes of citrus, caramel and baking spice, making it a great ingredient for adding to coffee or mixing in cocktails.
In Spain, Licor 43 is popular as a digestif after meals, or mixed with coffee as a nightcap. The liqueur has also gained popularity around the world, and has become the best-selling Spanish liqueur worldwide!
Substitutions
Here are some ways you can substitute the ingredients in these little beers:
Licor 43 - although this is a specialty ingredient, you can use a few other liqueurs in its place to create a similar shot. Tuaca, an Italian vanilla-flavored liqueur, is the best substitute for flavor. You can also try Galliano, Gran Gala, or Grand Marnier. In a pinch, you can also substitute this by mixing together one part vodka with one part simple syrup, and add a dash of vanilla extract to taste, plus a tiny amount of yellow food coloring. It won't be quite the same, but it will work for the presentation.
Heavy Cream - instead of heavy cream, half and half will create the same look and feel. I would recommend whipping half and half as the added air will help it sit on top of the bottom layer.
Variations
Here are some variations on this recipe:
Baby Guinness Shots - Instead of the yellow Licor 43, you can use a coffee liqueur like Kahlua to mimic the color of Guinness. The head of a Guinness is brownish in color as well, so try floating Bailey's Irish Cream on top instead of heavy cream. These are a great option for St. Patrick's Day!
RumChata - For an additional layer of flavor, try using RumChata liqueur instead of the heavy cream. RumChata is made with heavy cream, and has flavors similar to horchata, a traditional Spanish and Mexican drink. The RumChata will float easily and bring some tasty spice flavors to the shot.
Coffee - Instead of cream, try floating some coffee on top of the Licor 43 for a mini Carajillo (a traditional Spanish coffee cocktail).
Equipment
The most fun part of this recipe is for sure the mini beer glasses. They really make it look like beer! Beer mug-shaped glasses or ones that look like mini pint glasses both work well.
A jigger or small measuring cup is helpful for accurately measuring the ingredients. A milk frother is also great if you want to lighten up the heavy cream by whipping some air into it.
Instructions
Start making these shots by measuring the Licor 43, and then add it to your shot glass.
Then, you can optionally use a frother to whip up the heavy cream (not to the point of making whipped cream, just for about a minute to lighten it up).
Slowly pour the heavy cream on top, and it should easily float on top of the Licor 43. Then serve and enjoy!
Hint: If you are having trouble with the layers, pour the heavy cream over the back of a spoon to help gently guide it into its own layer.
Frequently Asked Questions
What does a mini beer shot taste like?
These mini beers taste just like a boozy vanilla milkshake! The vanilla liqueur mixes with the heavy cream and creates a delicious and rich flavor.
Does Licor 43 need to be refrigerated?
You don't need to store Licor 43 in the refrigerator, but it is recommended to chill your bottle for at least 30 minutes before using it in this recipe.
How does the cream float on top?
In a layered shot, the bottom layer is typically denser and thicker (in science terms, it has a higher specific gravity) than the layer on top. Liqueurs are heavier than water or other liquids because they have sugar dissolved in them. Cream is even lighter than water or alcohol because of the fat content! This makes it much lighter than the sugary liqueur, so it easily floats on top, especially if you whip some air into it.
I keep messing up the layers and it mixes together! What can I do?
If you are having trouble, try pouring the cream onto the back of a bar spoon to help you guide the cream slowly and gently into its own layer. Also, try frothing it up with a whisk or milk frother to make it even lighter and easier to make its own layer.
Top tip
For the best experience with these shots, try chilling the bottle of Licor 43, heavy cream, and shot glasses. Put them in the fridge for at least 30 minutes before serving them up to your guests. It's best to serve these just after putting them together, since sometimes the cream can solidify a bit over time.
📖 Recipe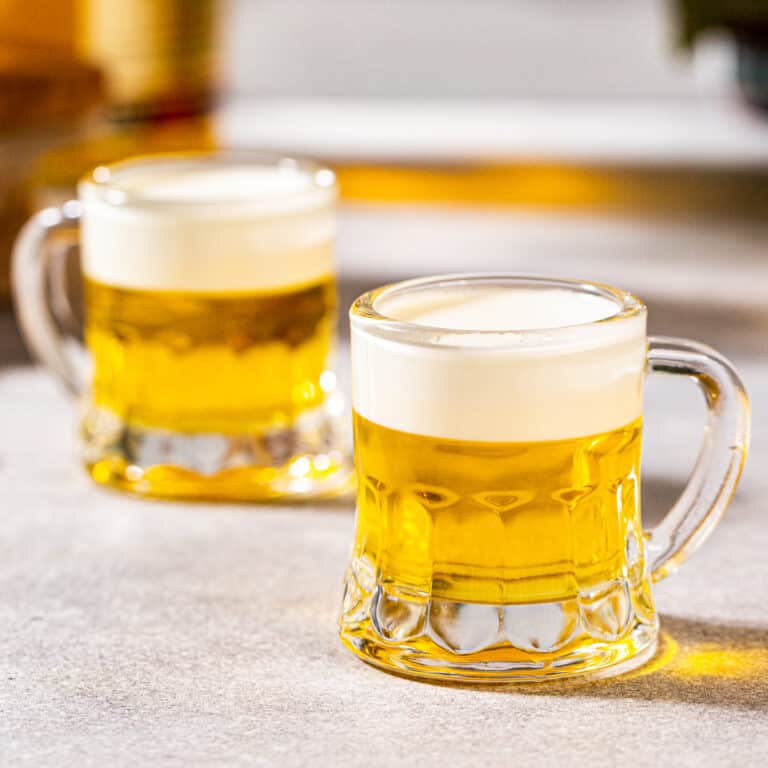 Mini Beer Shots
This easy Mini Beer shot recipe is so fun and delicious! Made with just 2 ingredients, Licor 43 Original and heavy cream, these shots taste like vanilla but look exactly like little beers.
Instructions
Measure out the Licor 43 and add it to your shot glass.

If you have a milk frother, use it to aerate your heavy cream to make it a little lighter.

Slowly pour the heavy cream on top. If you are having trouble making neat layers, try pouring the cream onto the back of a spoon and directing the flow on top of the liquor.
Nutrition
Serving:
1
g
Calories:
181
kcal
Carbohydrates:
12
g
Protein:
1
g
Fat:
8
g
Saturated Fat:
5
g
Polyunsaturated Fat:
0.4
g
Monounsaturated Fat:
2
g
Cholesterol:
24
mg
Sodium:
9
mg
Potassium:
31
mg
Sugar:
12
g
Vitamin A:
313
IU
Vitamin C:
0.1
mg
Calcium:
14
mg
Iron:
0.04
mg
Made with WP Recipe Maker plugin