This Pineapple Coconut Margarita is the perfect tropical drink for when you can't decide between a margarita and a pina colada! It uses the classic margarita building blocks of tequila, lime and Triple Sec, but adds cream of coconut syrup and tangy pineapple juice for a delicious twist. It's such a tasty summertime drink!
Sometimes this drink is called a Margarita Pina Colada, a Pina Colada Margarita, or a Coconut Pineapple Margarita. Pineapple and coconut are always a delicious tropical flavor pairing, and the tangy lime of the margarita goes perfectly too. I love drinking this one outside on the patio!
If you're looking for more summer drinks, check out the Painkiller cocktail, an absolutely delicious rum based classic cocktail with pineapple, coconut and orange juice. Or, try out a Pineapple Whiskey Smash for a great whiskey-based option!
Jump to:
What is a Pineapple Coconut Margarita?
The classic margarita can be traced back to the late 1930's in Mexico, and the piña colada is rumored to have been invented in the 1950's in Puerto Rico. These two classic warm-weather drinks combine in the Pineapple Coconut Margarita, and in my opinion, it's the best of both worlds!
Since these classic recipes were originally made on the rocks, that's how I made this version. But, you can definitely make these into frozen drinks in the blender. Either way, they're delicious and perfect for any hot weekend afternoon.
Ingredients
Here are the ingredients you'll need to have on hand?
Tequila - the main liquor in this drink is blanco tequila, which is unaged tequila (also called silver tequila). This will give a really fresh agave flavor to the cocktail. I used Yave brand blanco tequila.
Triple sec - this sweet orange liqueur is a staple in any margarita. You can also use Cointreau liqueur.
Pineapple juice - canned pineapple juice works great. Fresh juice is even better if you can get your hands on it!
Cream of coconut - this is not the same as coconut cream or coconut milk. Cream of coconut is a sweetened syrup with coconut solids in it, whereas the cream and milk are made from unsweetened coconut. My favorite brand is Coco Real cream of coconut.
Lime juice - preferably fresh lime juice!
Dried shredded coconut - this is optional, to add to the rim of the glass as a garnish. It gives a great extra coconut flavor, and you can even make toasted coconut for some deeper color and flavor.
Pineapple fronds - these are optional garnishes, taken from the top of a fresh pineapple.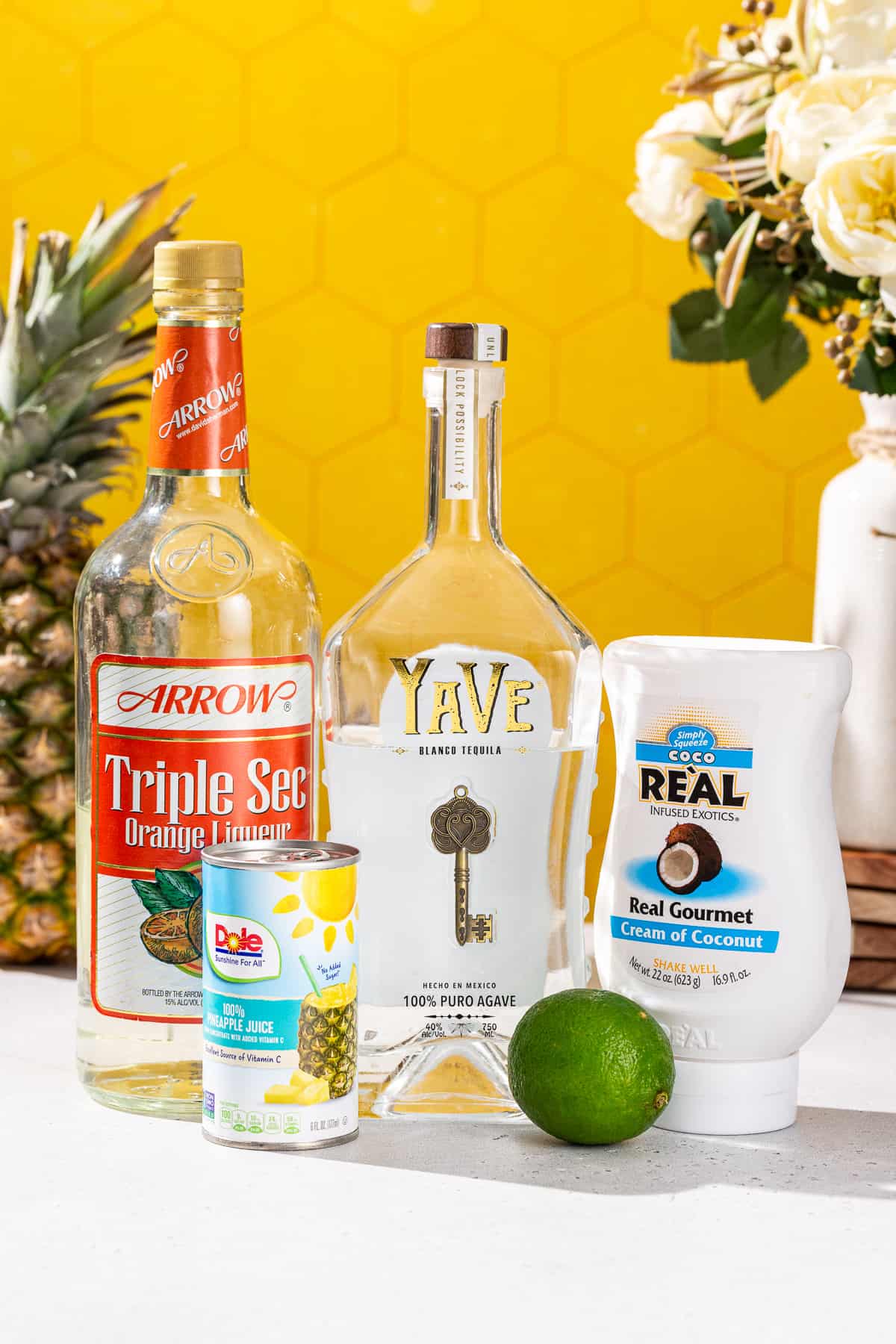 Substitutions
Here are some ways you can substitute the ingredients in this cocktail:
Tequila - if you don't have tequila, try using vodka or white rum.
Triple Sec - if you don't have triple sec liqueur, you can use Orange Curacao liqueur or Grand Marnier liqueur. These will give the finished drink a little bit of an orange or brown color.
Cream of coconut - you can make this drink with unsweetened coconut cream or even coconut milk. For the cream, use about a tablespoon, plus add in a half ounce of simple syrup. For the milk, use about a half ounce plus a half ounce of simple syrup or agave nectar.
Pineapple juice - not much will substitute for pineapple juice, but orange juice will work in a pinch.
Variations
Here are some variations on this recipe:
Strawberry version - add in some fresh strawberries to the cocktail shaker and muddle them to make a delicious strawberry version. You could do this with any other berry too!
Non-alcoholic version - if you're avoiding alcohol, try using a tequila substitute, like Lyre's Agave Blanco. Or, you could always use seltzer or soda in place of the tequila. For the triple sec, try either an orange syrup, or Lyre's Orange Sec.
Fresh Pineapple Puree: If you're a fan of fresh fruit, blend some chunks of fresh pineapple to create a vibrant and slightly chunky puree. This adds an extra layer of texture and some natural sweetness.
Frozen Pineapple Coconut Margarita - the frozen version of this drink is just as delicious! Add everything to a blender along with about a cup of ice, and blend it all together.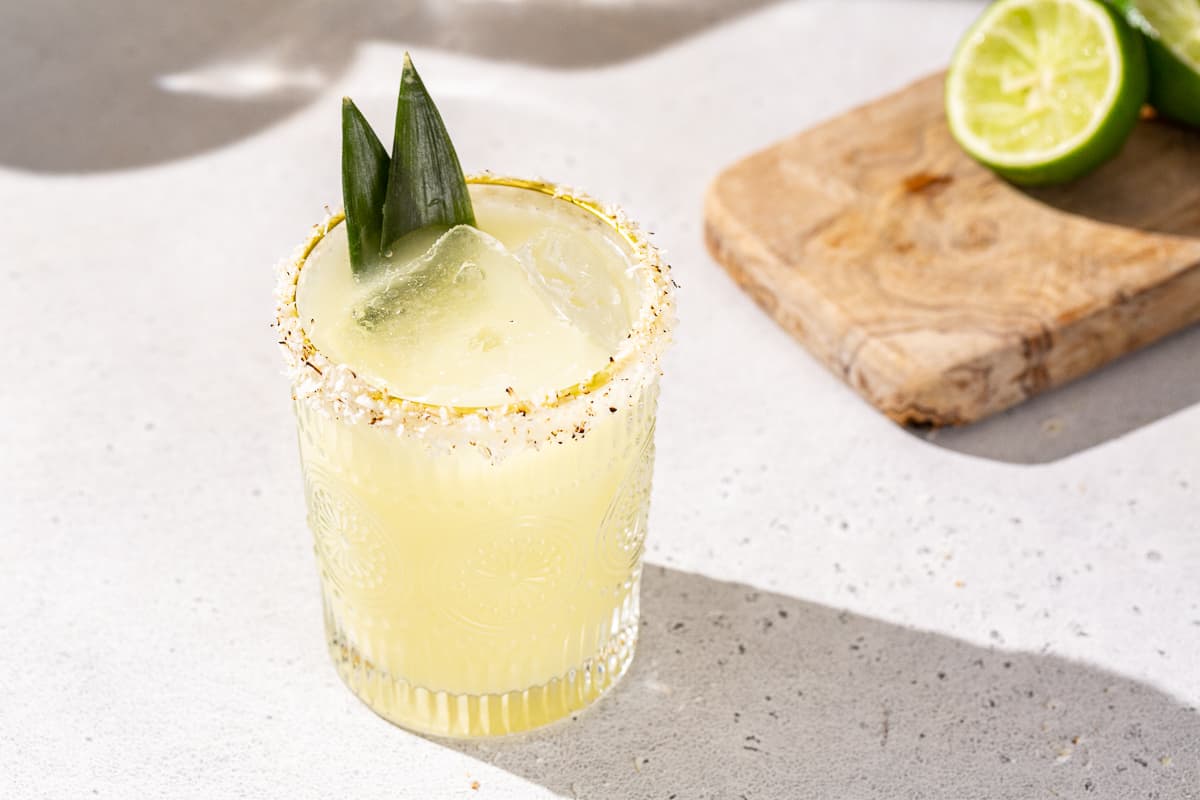 Equipment
Equipment can have a big impact on how a recipe turns out. Stone bakeware takes longer to heat up than metal pans, and also retain heat for longer, which could make the recipe more watery, or burnt on the outsides.
Include affiliate info as long as bar tools were used in the post. Add amazon links for any specialty equipment. Paraphrase the sections so each post is not the same.
If you need any new bar equipment, I really love the products from A Bar Above! You can get 10% off using my discount code, LKDrinks. Their bar tools are really durable, and also can be thrown in the dishwasher when you're done mixing!
Instructions
Start out by prepping the rim of your serving glass, if you're planning to use the dried coconut rim.
If you want to add some extra flavor and color, toast the coconut first. Spread it onto a small baking dish, and toast it either in a toaster oven or under the broiler of an oven. Make sure to keep an eye on it, as it'll toast quickly!
Then, add it to a small dish, and add some cream of coconut to another small dish. Dip the rim of the glass into the cream of coconut until it is coated.
Then, dip the rim of the glass into the coconut, so that it coats all of the spots where there is cream of coconut.
Set the glass aside and then start making the drink. Add your lime juice to a cocktail shaker.
Then, add in the cream of coconut and triple sec liqueur.
Next, add in the tequila and pineapple juice.
Fill the shaker with ice and shake vigorously, about 15 to 20 times. You'll want to shake it pretty hard so that all of the cream of coconut gets mixed in instead of sticking to the bottom of the shaker.
Then, fill your serving glass with fresh ice.
Strain your drink into the serving glass. Finally, add in the pineapple fronds, and serve. Cheers!
Hint: if you want to make an easy garnish but don't have pineapple fronds, just take a slice of your fresh lime, or a lime wedge. Make a notch and add it to the rim of your glass.
Frequently Asked Questions
Is cream of coconut the same as coconut cream?
No, they're not the same. Cream of coconut is sweetened and used for cocktails and desserts, while coconut cream is the thick, rich layer that forms at the top of a can of coconut milk. You can also buy coconut cream itself, and it is normally unsweetened.
What is the difference between a margarita and a piña colada?
A margarita is tequila-based, and a piña colada uses white rum. Typically, a margarita has tequila, lime juice, triple sec and simple syrup, whereas the pina colada is just rum with coconut and pineapple.
Top tip
The cream of coconut is a pretty thick syrup consistency. So, it'll tend to sink to the bottom of your cocktail shaker. Make sure to shake it up really well! If your shaker is part glass like mine, you can check to make sure that there is no layer of white at the bottom before straining it.
📖 Recipe
Pineapple Coconut Margarita
The Pineapple Coconut Margarita is a delicious mix of tequila with pineapple juice, cream of coconut and lime juice. It's a tropical tequila cocktail that's easy to make and will always satisfy!
Equipment
Knife and cutting board

(if using fresh citrus)

Oven safe tray

(optional - for toasting shredded coconut)
Ingredients
Garnish (optional)
2

pineapple fronds or pineapple wedge

¼

cup

dried shredded coconut
Cocktail
2

ounces

blanco tequila

1

ounce

lime juice

½

ounce

triple sec

(or Cointreau)

½

ounce

cream of coconut

2

ounces

pineapple juice
Instructions
Garnish (optional)
You can optionally make toasted coconut for a toasted coconut rim. Spread it out on a baking sheet and put it in the toaster oven or under a broiler to toast. Keep an eye on it as it will toast up really fast!

Pour a tablespoon or two of cream of coconut onto a small dish.

Dip the rim of your serving glass into the cream of coconut so it coats the rim.

Then, dip the rim of the glass into the toasted coconut, turning the glass after coating each section. Set the glass aside.

For the pineapple fronds, pluck them out of the top of a fresh pineapple. Then, wash and dry them. You can freeze them in a plastic bag and then use them whenever you want!
Cocktail
Add the tequila, lime juice, triple sec, cream of coconut and pineapple juice to a cocktail shaker.

Fill the shaker with ice, seal it up and give everything about 15-20 vigorous shakes. Make sure the cream of coconut is well mixed and not still in a white layer at the bottom.

Add fresh ice to your serving glass, and then strain the drink onto the fresh ice in the glass.

Add the pineapple fronds, and serve. Cheers!
Notes
If you don't have shredded coconut but want to add something extra to the rim, you can use coarse salt, sugar or vanilla sugar.
To make this drink as a batch cocktail, just multiply the ingredient amounts by the number of drinks you want to make. Mix them together in a pitcher, and add ½ ounce of water per cocktail (so you don't have to shake it with ice). Chill the pitcher until you're ready to serve. You can make it up to an hour ahead of time.
Nutrition
Calories:
273
kcal
Carbohydrates:
24
g
Protein:
0.3
g
Fat:
2
g
Saturated Fat:
2
g
Polyunsaturated Fat:
0.04
g
Monounsaturated Fat:
0.01
g
Sodium:
10
mg
Potassium:
112
mg
Fiber:
1
g
Sugar:
20
g
Vitamin A:
17
IU
Vitamin C:
14
mg
Calcium:
11
mg
Iron:
0.2
mg
Made with WP Recipe Maker plugin