Eating pineapple curd is like eating a little bit of sunshine. It is so bright, tangy and fruity, and it brings such a punch of pineapple flavor. It's the perfect filling for macarons or cakes, and you can also use it to top a pillowy pavlova. (You can also just eat it with a spoon, it's that good!)
What even is a curd??
When I first heard the word "curd" in association with fruits, it sounded pretty weird to me. When I tried making it, though, my mind was blown. It was like I had never tasted fruit before! I'm not even exaggerating. (OK, maybe a little... but not much.)
Curd is basically a sweet and tangy custard. It's made with fruit juice (usually a citrus fruit or a mix of citrus with other fruits), eggs, sugar and butter. When you heat the eggs with sugar and fruit juice, the mixture thickens, and the sugar protects it from becoming sweet scrambled eggs. Then you add the butter, which gives it extra smoothness and creaminess.
When making pineapple curd, you need to add a citrus juice as well. Otherwise, it just won't thicken up. I picked lime because I know they go so well together (like in this amazing Pineapple Limeade!).
Here is a short article on the science of citrus curds if you are interested in the why behind fruit curds.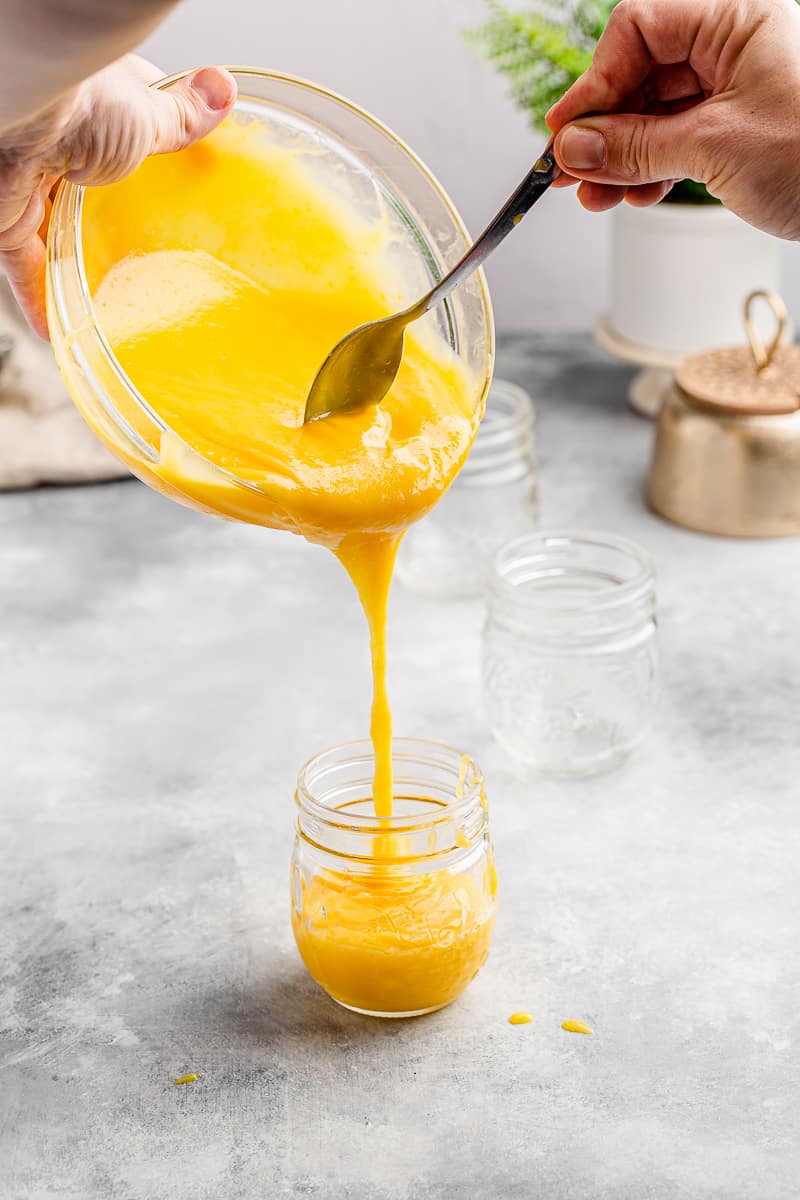 How do you use this stuff?
You can use a fruit curd in any place you might use jam or jelly! It's definitely thinner and wetter than either of those, though, and needs to be refrigerated to stay thick. It tastes wonderful as a cake filling, but I suggest making a ring of buttercream or ganache all around the edges of the cake to give it more structure. When the curd gets warm, it gets even more soft and will start to absorb into the cake.
When I use curd to fill macarons, I do the same kind of thing with making a ring of buttercream. Before that, though, I scrape a light layer of buttercream on the bottoms of each macaron shell. This helps to keep some of the moisture of the curd out of the shell, so they don't absorb too much of the moisture. Some absorption is good, but too much gives you a mushy mess!
Making the Pineapple Curd
Go for Quality
Since Pineapple Curd has so few ingredients, try to use the best quality you can. The only ingredients here are pineapple juice, lime juice, sugar, eggs and butter. A lot of people will add cornstarch to thicken curd more, but I haven't found it necessary, and it can impart a chalkiness to the curd.
As you can see, I use canned Dole pineapple juice, which gives a flavor just about as good as fresh juice. If you can get your hands on fresh, though, go for it!
Reduce the Juice
Start by reducing your pineapple juice to concentrate the flavors. To do this, just bring it to a simmer on medium low heat. Stir occasionally and watch until the liquid level is reduced by approximately half. This step is optional, but it really enhances the flavors! I got this idea from Sugar Salt Magic's pineapple curd recipe. If you want to skip it, just use half of the pineapple juice called for in the recipe.
Creating the Curd
While the juice is reducing, separate your eggs. You need 3 egg yolks for the curd, so you'll have 3 egg whites left over. (Perfect for making macarons!) You can also prep your butter by cutting it into tablespoon-sized pieces.
Next, add the lime juice, sugar, whole eggs and egg yolks to the pineapple concentrate. Lower the heat, and stir constantly. You want the mixture to thicken, but not cook the eggs, so you need to keep it moving around the pan.
Once everything starts to thicken up, add your butter one piece at a time. Stir until that piece disappears, and add the next piece, until all the butter is added in.
Thicken and Strain
At this point, the curd should have a fairly thick consistency. You should be able to run your finger down a curd-coated spatula and leave a line across it, like in the photo above.
Remove it from the heat and immediately pass it through a fine mesh strainer into a bowl. This is just to make sure there are no cooked-egg pieces left over in your curd (not a great surprise to find in there!) You can stir it around with a spatula, but don't press too hard on the strainer to avoid any egg chunks passing through.
Finally, press plastic wrap tightly against the surface of the curd so it doesn't form a skin, and refrigerate for several hours to thicken up. Grab a spoon and dig in. You're done!
Other Recipes You Might Like
Did You Make this Recipe?
I would love to hear if you tried this recipe! How will you use it? Please leave me a comment or star rating below and let me know!
📖 Recipe
Pineapple Curd
An easy-to-make fruit curd with pineapple and lime flavors.
Equipment
Medium saucepan

Spatula or Whisk

Mixing bowls

Mesh Strainer
Ingredients
250

g

pineapple juice

(1 cup)

60

g

lime juice

(¼ cup)

200

g

sugar

(1 cup)

2

whole eggs

3

egg yolks

114

g

butter

(1 stick)
Instructions
Heat the pineapple juice on medium until it simmers. Simmer, stirring occasionally, until it is reduced in volume by about half.

Meanwhile, cut the butter into tablespoon-size pieces and separate your eggs if you haven't already.

Reduce the heat to medium low and add in the lime juice, sugar, eggs and egg yolks. Stir or whisk the mixture constantly.

When the mixture starts to thicken, add the butter one piece at a time and stir until it disappears before adding the next piece.

After the butter is incorporated, you should be able to leave a trail down a coated spatula or spoon with your finger. If not, continue cooking on low until it reaches this consistency.

Set a strainer on top of a mixing bowl. Take the mixture off of the heat and pour it through the strainer. You can tap the strainer and scrape the underside of it with a spatula. Try not to push down on any egg lumps that remain in the strainer itself.

Chill for at least 4 hours or overnight until set. Pour into containers and seal tightly.

It will keep for about a month in the refrigerator, or it also freezes well in a freezer-safe container.
Nutrition
Calories:
204
kcal
Carbohydrates:
24
g
Protein:
2
g
Fat:
12
g
Saturated Fat:
7
g
Polyunsaturated Fat:
1
g
Monounsaturated Fat:
3
g
Trans Fat:
1
g
Cholesterol:
116
mg
Sodium:
97
mg
Potassium:
61
mg
Fiber:
1
g
Sugar:
23
g
Vitamin A:
415
IU
Vitamin C:
4
mg
Calcium:
19
mg
Iron:
1
mg
Made with WP Recipe Maker plugin