If you're looking for a light and refreshing vodka cocktail that's easy, but also really delicious, look no further than a Vodka Press! This simple drink has just three ingredients, plus it has a lot less calories and sugar than most cocktails. Perfect for a lazy summer afternoon!
The Vodka Press is a great choice for a summer cocktail recipe. Not only is it refreshing, but it's also a really easy one to remember and throw together at the last minute!
Looking for more simple and thirst-quenching summer drinks? Try out the tasty Elderflower Gin and Tonic. Or, whip up a Dirty Shirley, another delicious and easy vodka cocktail that uses lemon-lime soda.
Jump to:
History of the Vodka Press cocktail
You might think the name "Press" is from pressing citrus or something like that. But, it's really a shortening of the word "Presbyterian"!
The Presbyterian Cocktail is the classic cocktail recipe from the late 1890's that this vodka version takes inspiration from. Originally made with whiskey and ginger ale, it changed over time as many people started to use lemon-lime soda instead.
Ingredients
Here are the simple ingredients you'll need for the Vodka Press cocktail:
Vodka - A good vodka is always a plus, but you don't have to break the bank for this one. I love using Tito's vodka in this one.
Lemon-lime soda - Sprite, 7-Up or Starry are all popular options here.
Seltzer or club soda - adding in sparkling water gives this drink extra bubbles, but also a crisp and refreshing taste.
Lime slices - these are optional, but definitely enhance the drink's flavor. You can use a lime wedge here instead if you prefer, or even squeeze in a bit of lime juice for extra tartness.
Fresh mint - mint is an optional garnish, but does add a ton of flavor and aroma as you sip the drink.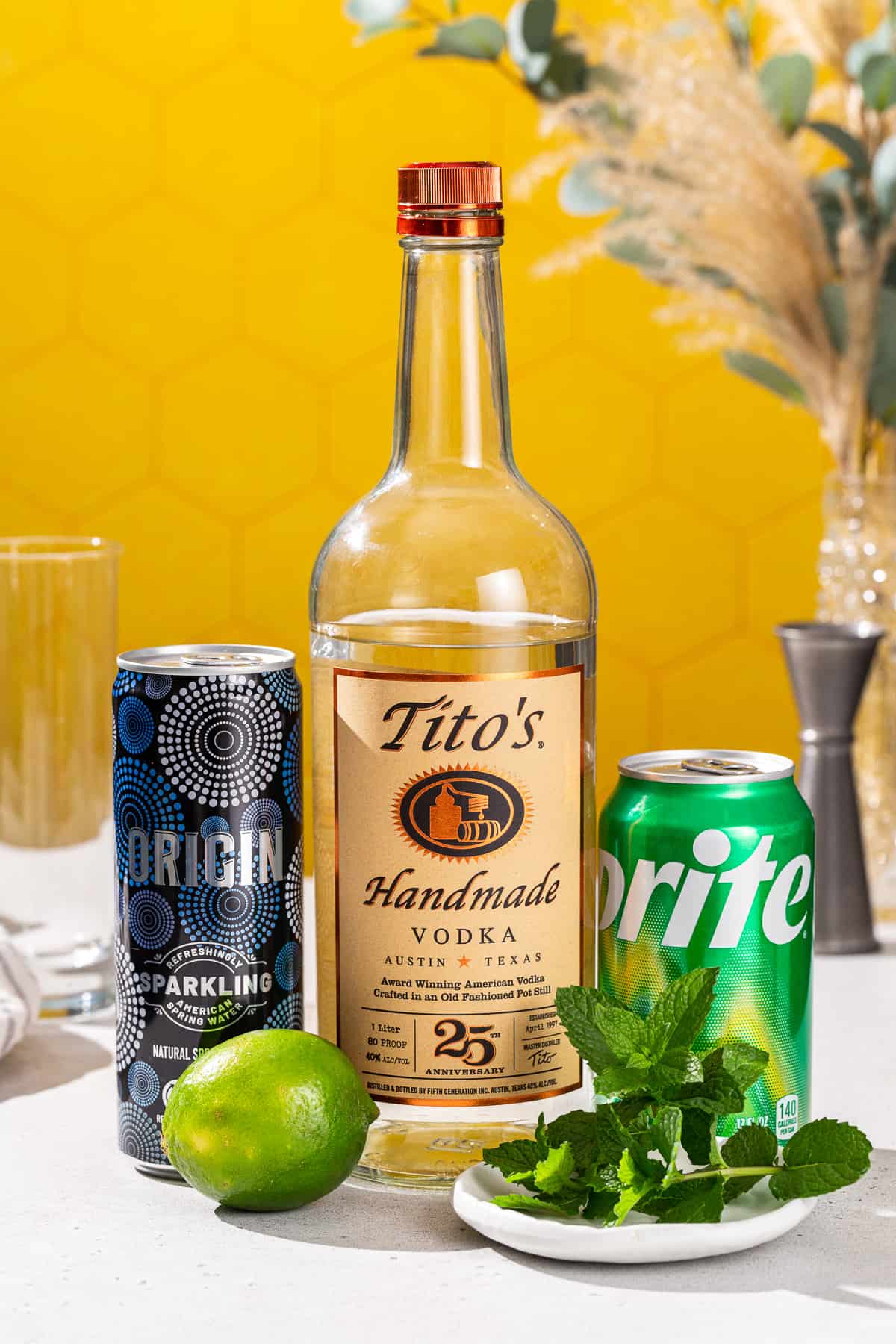 Substitutions
Here are some ways you can substitute the ingredients in this cocktail:
Vodka - try white rum, blanco tequila or gin as a substitute. It's such a simple drink, you really can't go wrong, so use what you enjoy best flavor-wise.
Lemon-lime soda - the traditional "press" soda was ginger ale, and you can definitely use that in place of lemon-lime soda here. If you don't have either, you can use a mix of lemon juice and simple syrup, like in a Tom Collins.
Seltzer - you can also use tonic water here, if you want something with a little more bitterness to counteract the sweetness. Just keep in mind that tonic water has sugar in it, while seltzer or club soda don't.
Variations
Want to switch things up? Here are some variations on this recipe:
Flavored Vodka - to add a little more pizzaz to this drink, try subbing in a flavored vodka. A cucumber vodka, like Effen Cucumber Vodka, works really well here, and you can use a fresh cucumber as a garnish. Another great option to try is the Ketel One Botanical series (I like the Ketel One Botanical Peach & Orange Blossom flavor).
Grapefruit version - add a splash of grapefruit juice, or use grapefruit soda in place of the lemon-lime soda. You can even use grapefruit vodka instead of the plain vodka. Garnish this tasty version with a grapefruit slice.
Cranberry - add a splash of cranberry juice, bringing a pop of color and flavor to the drink. This will make it similar to a Vodka Cranberry.
Keto Friendly Vodka Press - for a version with less sugar, just use a sugar free soda in place of the lemon-lime soda.
Non-alcoholic Vodka Press - while there isn't really a good vodka substitute other than plain water, you can mix half Sprite with half soda water for a mocktail version. Make yours more fun by adding some extravagant fresh garnishes, like more limes, lemon slices, or berries to the mix!
Equipment
You don't need a huge home bar setup to make a Vodka Press! You don't even need a cocktail shaker. The main thing is to have a jigger to measure things out, and a serving glass.
For the serving glass, this is traditionally served in a Collins style glass, which means it is tall and skinny with straight sides. It's like a Highball glass, but usually a little bigger. Or, you can serve it in a tumbler or a large wine glass too.
If you want to get super fancy (who doesn't?!) this Collins spear ice maker will take your cocktail to the next level! It lets you make a crystal clear ice spear that fits perfectly in your Collins glass. Charming for sure!
Instructions
Now for the fun part: mixing up the drink! Prep your lime slices first and have them ready to go, along with the mint.
Then, fill your serving glass with ice.
Add the lime slices to the sides of the glass, and then add in your vodka.
Then, add in equal parts of lemon-lime soda and seltzer.
If you have a long bar spoon, you can give everything a quick and gentle stir at this point, just to mix all the liquids together.
Finally, top it off with your sprig of fresh mint. Serve and enjoy!
Hint: try to make sure all of your ingredients are chilled before making this drink. That way the ice will melt much less quickly! You can even chill the serving glass for about 30 minutes before making the drink.
Frequently Asked Questions
What kind of a drink is a "press"?
When it comes to cocktails, the name "Press" is actually short for "Presbyterian", and it means a drink made with equal parts Sprite and seltzer water.
What is a Vodka Press made of?
The Vodka Press recipe is super simple, and uses only three main ingredients: vodka, Sprite or 7-Up, and seltzer water.
Top tip
This is a pretty easy drink to serve at a party, but because of the carbonation it doesn't make that great of a pitcher cocktail. Instead, you can set up a station for guests to make their own, and keep the vodka and soda bottles on ice.
📖 Recipe
Vodka Press
The Vodka Press is an easy and delicious vodka cocktail with lemon-lime soda and seltzer.
Equipment
Knife and cutting board

(if you're making a fresh lime garnish)
Ingredients
Garnish (optional)
2

slices

fresh lime

1

sprig

fresh mint
Cocktail
2

ounces

vodka

1.5

ounces

lemon-lime soda

(like Sprite, 7-Up or Starry)

1.5

ounces

seltzer
Instructions
Fill your serving glass with ice.

Add your fresh lime slices to the inside of the glass with the ice.

Measure and pour in your vodka.

Add the lemon-lime soda to the glass, followed by the seltzer.

Top the drink off with the sprig of mint, and serve.
Nutrition
Calories:
153
kcal
Carbohydrates:
6
g
Protein:
0.2
g
Fat:
0.04
g
Polyunsaturated Fat:
0.02
g
Sodium:
14
mg
Potassium:
22
mg
Fiber:
0.5
g
Sugar:
5
g
Vitamin A:
49
IU
Vitamin C:
4
mg
Calcium:
10
mg
Iron:
0.2
mg
Made with WP Recipe Maker plugin