This easy White Christmas Margarita is a delicious and refreshing cocktail for celebrating the holiday season! Not only is it simple to make and beautiful to serve, but the flavor combination of tequila, lime and coconut is a winner. A fresh rosemary and cranberry garnish gives this drink a festive aroma and pop of color. Perfect for any holiday party!
This margarita recipe makes such a fun and perfect holiday cocktail! Although it's a tropical flavor, the creamy feel and bright look of the coconut definitely gives a snowy vibe. And, the cranberries give it a lot of festive color. I love making this drink during the holidays because it has such a striking look and is super satisfying.
Looking for more Christmas drinks for your party menu? Check out my full list of Christmas cocktail recipes! The Poinsettia Cocktail (aka Cranberry Mimosa), Aged Eggnog, and Cranberry Margarita are some of my festive favorites!
Looking for a little more of a tropical spin? Definitely try out the delicious Pineapple Coconut Margarita!
Jump to:
Ingredients
Here are the ingredients you'll need to whip up this delicious cocktail.
Tequila - blanco tequila (also called silver tequila) works best to keep the bright white color of the drink.
Cointreau - this orange liqueur is a traditional part of a Margarita! It is really tasty with the coconut and lime. You could substitute in your preferred brand of triple sec if you want.
Cream of Coconut syrup - not to be confused with Coconut Cream, which is an unsweetened thick cream made from coconut flesh. Instead, Cream of Coconut is a thick and sweet syrup. Be sure to shake well before measuring it out, as the coconut solids settle in the mixture. I used Coco Real Cream of Coconut.
Vanilla vodka - this is optional, but a delicious way to warm up the flavor of the drink a little bit. You could also use vanilla extract for a more intense vanilla flavor, although it will color the drink a little more brown unless you are using clear vanilla.
Lime juice - fresh lime juice will give the best flavor.
Dried shredded coconut - I used unsweetened, but you can use sweetened if you prefer.
Fresh cranberries and rosemary - for garnish.
Substitutions
Here are some ways you can substitute the ingredients in this cocktail.
Tequila - if you don't have blanco tequila, try using gin or vanilla vodka instead.
Cointreau - if you don't have Cointreau or triple sec, try substituting in limoncello or falernum liqueur. It will affect the color of the finished drink slightly.
Cream of Coconut syrup - if you don't have this syrup, you have a couple of options. First, to keep the coconut flavor, add about a tablespoon of coconut cream along with 1 ounce of simple syrup instead of the cream of coconut. You can also use coconut milk, although the finished drink will be a little thinner in texture. Or, try using ½ ounce of heavy cream and ¾ ounce of simple syrup for a dairy option.
Vanilla vodka - try using coconut rum instead of the vanilla vodka. Malibu rum would work fine here.
Lime juice - you can use a bottled lime juice if you don't have fresh lime. Just use water or simple syrup instead of a cut lime to stick the coconut to the rim of the glass.
Dried shredded coconut - for a more margarita-like feel, just use salt here. You could also opt for a vanilla scented sugar to rim the glass instead.
Fresh rosemary and cranberries - if you don't have these garnish options, you could use a slice of lime and/or pomegranate arils for the same type of color pop. A lime wedge is also always a great way to garnish a margarita!
Variations
Looking to change things up? Here are some variation ideas:
Frozen White Christmas Margarita - instead of shaking with ice, this drink would be delicious as a frozen blender cocktail. Just use all of the same ingredients, but blend it with ice instead of shaking it. This would be great for Christmas in a warm weather area!
White Cranberry juice - if you have white cranberry juice in your area, this would be a tasty addition to the drink. Just add in an ounce of the white cranberry juice and reduce the lime juice by about ¼ ounce.
Virgin White Christmas Margarita - this is a really easy drink to make into a non-alcoholic Christmas mocktail! Just use Lyre's tequila style non-alcoholic spirit instead of the tequila, and omit the Cointreau and vanilla extract. If you don't have the tequila replacement, you can just use sparkling water.
Equipment
To make this margarita, you'll want to have some basic bar equipment: a jigger, cocktail shaker, and cocktail strainer. You'll also need a cocktail serving glass, a knife and cutting board for the lime, and a dish to hold the coconut that you'll add to the rim of the serving glass.
For the serving glass, I like to use an old fashioned glass with ice, but you could also serve it in a coupe glass without ice. Just keep in mind that the coconut will tend to sink to the bottom of the drink the longer it sits, and the ice helps keep it in place a little bit.
If you need any new bar equipment, the products from A Bar Above are my top pick! You can get 10% off using my discount code, LKDrinks. Their bar tools are beautiful and durable, and also can be thrown in the dishwasher when you're done mixing.
Instructions
Start by adding the dried coconut to the rim of your glass. Cut your lime in half and use it to wet the rim of the glass. Then, dip the rim into the coconut so it sticks.
If you're having trouble getting it to stick, you can use the cream of coconut syrup instead of lime juice to wet the rim.
Set the serving glass aside while you make the drink. Juice your lime and measure it out before pouring the lime juice into your cocktail shaker. Then, add in the cream of coconut (and make sure to shake the bottle well before measuring it out).
Next, add in the Cointreau and the tequila.
Finally, add in your optional vanilla vodka. Then fill the shaker with ice.
Seal the shaker and shake well for about 15-20 seconds. Add fresh ice to your serving glass, and strain the drink into the glass.
Add the fresh cranberries to the top of the drink. Lightly tap the rosemary onto the palm of your hand a few times to release the aromas. Then, add it as a final garnish, and serve.
Hint: Make sure to shake up the cream of coconut really well before adding it in! The coconut solids do tend to separate out, so this drink is best enjoyed just after shaking. Think of it like a really slow moving snow globe!
Frequently Asked Questions
What is the best tequila to use in a White Christmas Margarita?
Part of the wow factor in this drink is the bright white color! To keep the color bright, use a blanco tequila in this cocktail. The drink will still be delicious if you use a reposado, but will have a little bit of a yellow tint.
What is the difference between cream of coconut and coconut cream?
Cream of coconut is actually a syrup that contains coconut cream as an ingredient. The coconut cream itself is unsweetened and made from the flesh of a coconut. This recipe calls for cream of coconut, but if you don't have it, you can use a half and half mix of coconut cream and simple syrup.
Top tip - Party pitcher
Looking to make a large pitcher of margaritas for a Christmas party? This is a really beautiful drink to serve in a big batch! Just multiply the ingredients by the number of servings (or use the handy servings calculator in the recipe below).
Fill a pitcher with ice and add all of the ingredients in just before the party starts. You can either add the garnishes to each individual glass, or to the pitcher itself (or both)!
Make sure to keep a large spoon or stirring stick in the pitcher. The coconut will tend to separate out of the drink, so it's best to give it a quick stir for each new drink you pour. Cheers!
📖 Recipe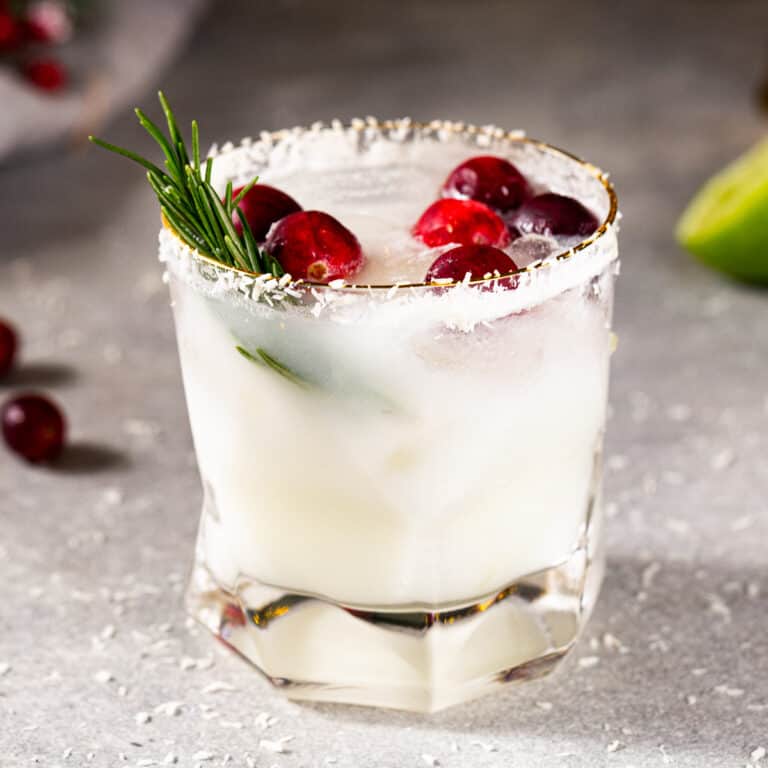 White Christmas Margarita
This White Christmas Margarita is a festive and tasty cocktail for the holiday season! Coconut and lime pair perfectly in this wintery drink.
Equipment
1 Knife and cutting board

(if using fresh lime)
Ingredients
Garnish
2

tablespoon

dried unsweetened shredded coconut

1

sprig

fresh rosemary

5-8

cranberries
Cocktail
1

ounce

lime juice

(from about 1 fresh lime)

1

ounce

cream of coconut

(shake well before using)

½

ounce

Cointreau

(or other triple sec liqueur)

2

ounces

tequila blanco

1

bar spoon

vanilla vodka

(optional)
Text Ingredients
Instructions
Garnish
Cut a lime in half and use it to wet the rim of your serving glass. (Or, use water or some cream of coconut syrup if you are not using a fresh lime.)

Dip the wet rim into the shredded coconut, turning the glass so that the entire rim is covered. Set the glass aside.

Wash and dry a rosemary sprig and cranberries, and set them aside while you make the drink.
Cocktail
Add the lime juice, cream of coconut, Cointreau, tequila, and vanilla vodka to a cocktail shaker.

Fill the shaker with ice, seal it up and shake for 15-20 seconds.

Fill the serving glass with fresh ice and strain the drink into the glass.

Add the cranberries to the glass. Lightly tap the rosemary against your palm, add it the glass, and serve.
Notes
Make sure to shake the cream of coconut well before measuring it out.
The coconut in this drink will tend to separate out of the mixture within 5 to 10 minutes, so it's best enjoyed just after shaking and straining. But, you can also just stir it up again and it will still be good!
Nutrition
Calories:
329
kcal
Carbohydrates:
27
g
Protein:
0.3
g
Fat:
6
g
Saturated Fat:
5
g
Polyunsaturated Fat:
0.03
g
Monounsaturated Fat:
0.1
g
Sodium:
17
mg
Potassium:
49
mg
Fiber:
1
g
Sugar:
24
g
Vitamin A:
17
IU
Vitamin C:
9
mg
Calcium:
5
mg
Iron:
0.1
mg
Made with WP Recipe Maker plugin