If you're looking for the perfect tropical drink to transport you to an island paradise, look no further than the Mermaid Water cocktail. This bright blue-green fruity rum punch is not only beautiful to look at, but it's delicious and refreshing too! Whether you're hosting a summer party or just need a fun summer cocktail to enjoy, the Mermaid Water is sure to be a hit.
This cocktail recipe definitely gives off warm weather. summery vibes! With its pineapple and coconut flavors, plus a splash of Blue Curacao, it's perfect for summer. Such a great drink to serve at a pool party or for lounging in the backyard on a hot day. The aqua blue color just makes me want to dive right in!
The style of this drink is a rum punch. There is an old Barbados rhyme that helps to mix up a rum punch: "One of sour, two of sweet, three of strong and four of weak." This is basically a formula for making a perfectly balanced punch, and the Mermaid Water drink is no exception!
Looking for more refreshing summer drinks? Check out the always-delicious Painkiller, a tropical cocktail that also combines pineapple, coconut and orange flavors. The Mango Mai Tai and the Pineapple Whiskey Smash are two more amazing tropical drinks!
Jump to:
Ingredients
Here are the ingredients you'll need to make this cocktail:
Coconut Rum - the coconut rum really is the signature flavor of this drink! Malibu rum is probably the most well-known coconut rum, and it will work great here. I've used Monkey Rum Toasted Coconut for a deeper coconut flavor.
Vanilla Vodka - many Mermaid Water recipes use spiced rum instead of the vanilla vodka. I personally love the vanilla flavor (I used Stoli vanilla vodka), and it allows the drink to have a brighter blue color!
Blue Curacao - this bright blue liqueur not only gives the drink its color, but also brings an orange flavor to the drink.
Pineapple Juice - this brings a tropical pineapple flavor and sweetness to the final cocktail.
Lime Juice - fresh lime juice will give you the best citrus flavor!
Substitutions
Here are some ways you can substitute the ingredients in this cocktail:
Coconut Rum - if you don't have this but want a coconut flavor, try using light rum and add in ½ ounce of cream of coconut, which is a sweet coconut syrup (I like Coco Real cream of coconut). This will make the drink look a little cloudy but bring a nice coconut flavor.
Vanilla Vodka - you can use vanilla rum in place of this, or use a spiced rum or dark rum if you want some extra flavor in this drink.
Blue Curacao Liqueur - the thing that sets this liqueur apart is the blue color, but you don't need it to make the drink blue. Try using Triple Sec along with a few drops of blue food coloring, or ½ teaspoon of blue spirulina powder for a more natural blue color.
Pineapple juice - try orange juice in place of this if you don't have it on hand.
Lime juice - you can also use lemon juice, but definitely add some citrus in to counteract the sweetness of the other ingredients!
Variations
Here are a few variations on this recipe:
Keto Friendly Mermaid Water - there is quite a bit of sugar in this drink because of the juice, the Blue Curaçao and the flavored rum and vodka. If you want to reduce the added sugar, use plain light rum in place of the flavored spirits. Omit the Blue Curaçao and use sugar free Triple Sec syrup instead, with a couple drops of blue food coloring or ½ teaspoon blue spirulina powder. This way you are just left with the natural sugars from the juice.
Non-alcoholic Version - if you're avoiding alcohol, try substituting in Lyre's White Cane non-alcoholic spirit for both the rum and vodka, and add in a few drops of coconut extract (Olive Nation on Amazon). You can also use Blue Curaçao syrup instead of the liqueur.
Freshwater Mermaid - Instead of the Blue Curaçao, try adding in Midori melon liqueur. This will make the drink a vibrant green color, and add some delicious melon flavor to the mix. You can also top it off with a little ginger ale for some bubbles.
Spiced Rum - try spiced rum, like Captain Morgan spiced rum, instead of the vanilla vodka. This will give the drink some more depth and add spice flavors like cinnamon, clove and allspice.
Equipment
You only need a few simple bar tools to shake up this drink. Grab a cocktail shaker and strainer, as well as a jigger to measure the ingredients.
I highly recommend trying out A Bar Above if you're looking for new bar tools! Use code LKDrinks for 10% off.
If you're using fresh citrus, a knife and cutting board are great for the lime slices, and a citrus press juicer makes easy work of juicing the lime.
For the glass, I used this Viski Raye Hurricane glass, which holds 14 ounces. You can use any glass you'd like as long as it holds at least 10 ounces, although a little bigger is better to make room for the ice.
If you want a new hurricane glass, I love checking through Amazon's glassware or even searching through Etsy. Secondhand stores are also great to find some beautiful vintage glassware.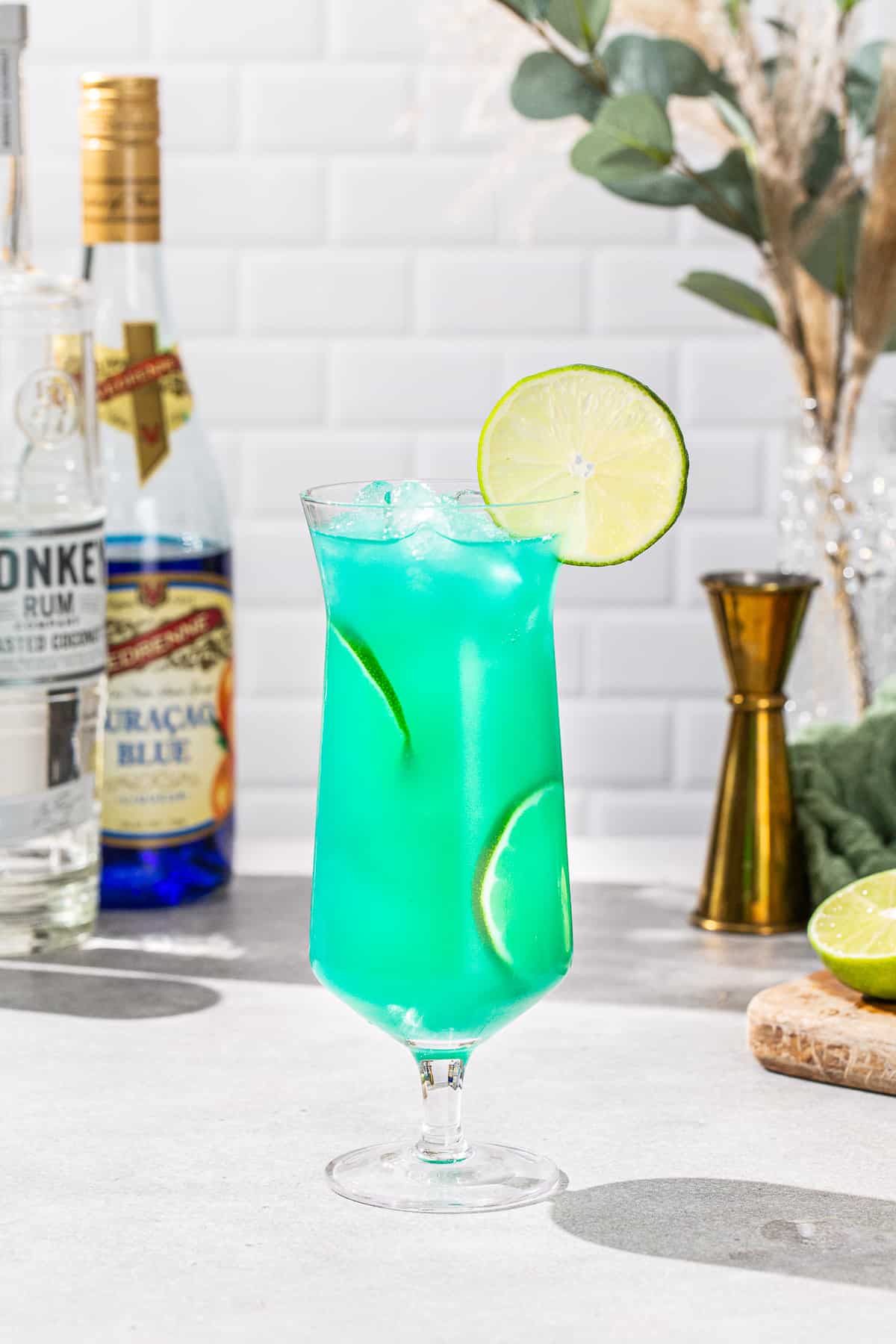 Instructions
Start out by preparing your garnish. I made three lime slices for this one, so I could add two to the inside of the glass, and then attach one slice to the rim.
Then, begin adding the ingredients to your cocktail shaker. Start with the lime juice.
Next, add in the pineapple juice and vanilla vodka to the shaker.
Then, add in the coconut rum and the Blue Curacao.
Fill the shaker with ice and shake vigorously for about 20 seconds.
Add fresh ice to your cocktail serving glass, and add in the lime slices to the sides of the glass if you're using them.
Then, strain the drink into the glass.
Cut a slit in the final lime slice before attaching it to the rim of the glass, and serve. Cheers!
Hint: Try chilling all of the ingredients in the fridge for at least 30 minutes before making the drink. You can chill the glassware too, which helps the drink stay colder longer!
Frequently Asked Questions
What kind of alcohol is Blue Curaçao?
Blue Curaçao is an orange-flavored liqueur that has blue food coloring added. You can also get Orange Curaçao without the blue food coloring. Typically the orange version is a little higher in quality and price.
What cocktails are blue in color?
Probably the most well-known blue cocktail is the Blue Hawaii, which has similar tropical flavors to the Mermaid Water but without the coconut. Other blue drinks include the Blue Moon, Blue Lagoon and my own Cerulean Sour drink.
Top tip - Making a big batch for a party
This rum punch is a great addition to any party, and you can definitely make a pitcher of these drinks! Each drink is 8.5 ounces, plus room for ice, so a 64-ounce (~2 liter) pitcher will hold around 6 cocktails.
Just multiply the amounts in the recipe card below to make the number of drinks you want. Measure the ingredients, and add in ½ ounce of water per cocktail (this takes the place of shaking with ice). Stir it all together and keep it in the fridge.
Mix up the drink no more than an hour before your party. Then, you can add ice to the pitcher and serve to your guests over fresh ice.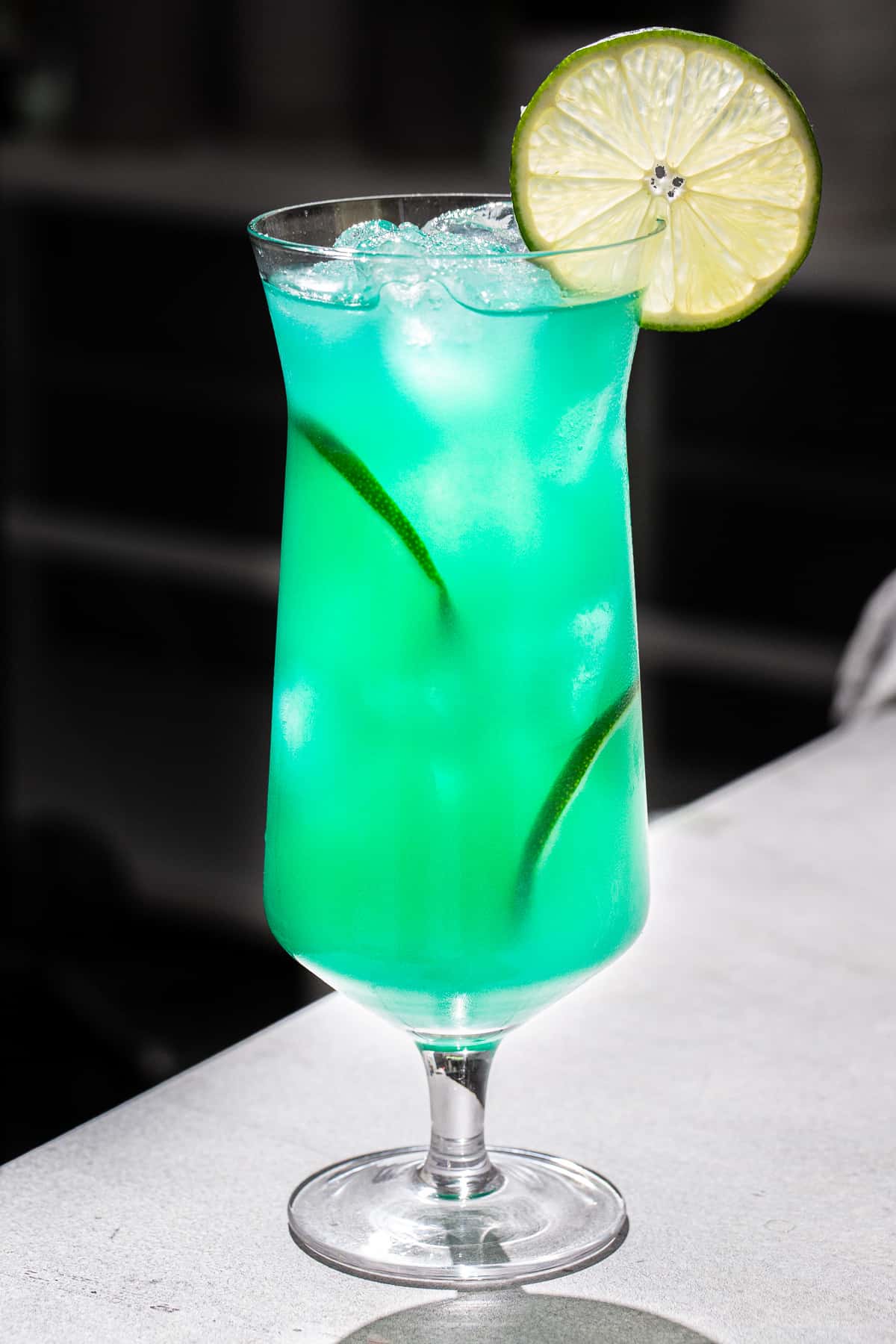 📖 Recipe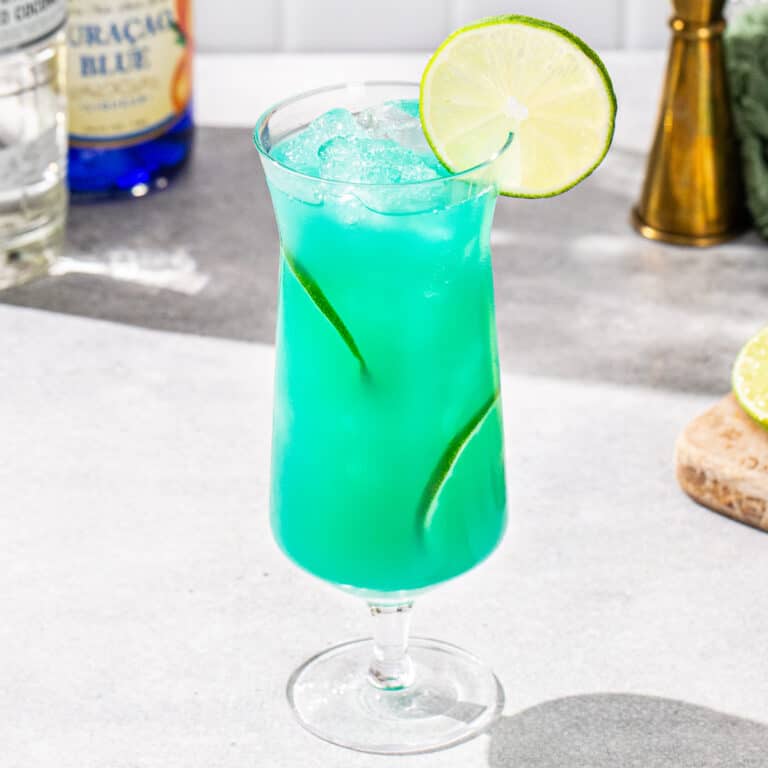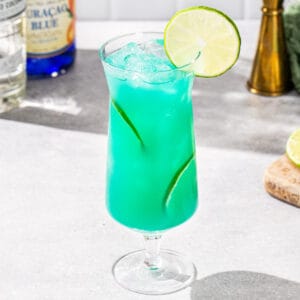 Mermaid Water Drink
The Mermaid Water is a bright blue rum punch cocktail with coconut rum, vanilla vodka, pineapple juice and lime juice, plus some Blue Curaçao liqueur for the gorgeous blue color.
Equipment
Knife and cutting board

(for the garnish)
Ingredients
Garnish
3

slices

fresh lime

(optional)
Instructions
Add the lime juice, pineapple juice, coconut rum, vanilla vodka, and Blue Curaçao to a cocktail shaker.

Fill the shaker with ice.

Shake well, about 20 seconds.

Fill your serving glass with ice. If you're using lime slices for garnish, place 2 of the lime slices against the side of the glass in different places.

Strain the drink into the serving glass.

If you have a third lime slice, cut a slit in the side and attach it to the rim of the glass.
Nutrition
Calories:
281
kcal
Carbohydrates:
24
g
Protein:
1
g
Fat:
0.2
g
Saturated Fat:
0.03
g
Polyunsaturated Fat:
0.1
g
Monounsaturated Fat:
0.02
g
Sodium:
5
mg
Potassium:
207
mg
Fiber:
1
g
Sugar:
17
g
Vitamin A:
30
IU
Vitamin C:
26
mg
Calcium:
26
mg
Iron:
1
mg
Made with WP Recipe Maker plugin