This delicious Spicy Paloma is such a refreshing and delicious summery cocktail. With grapefruit, tequila, lime and a spicy kick from jalapeño peppers, the flavor combination is citrusy and flavorful without being overly sweet.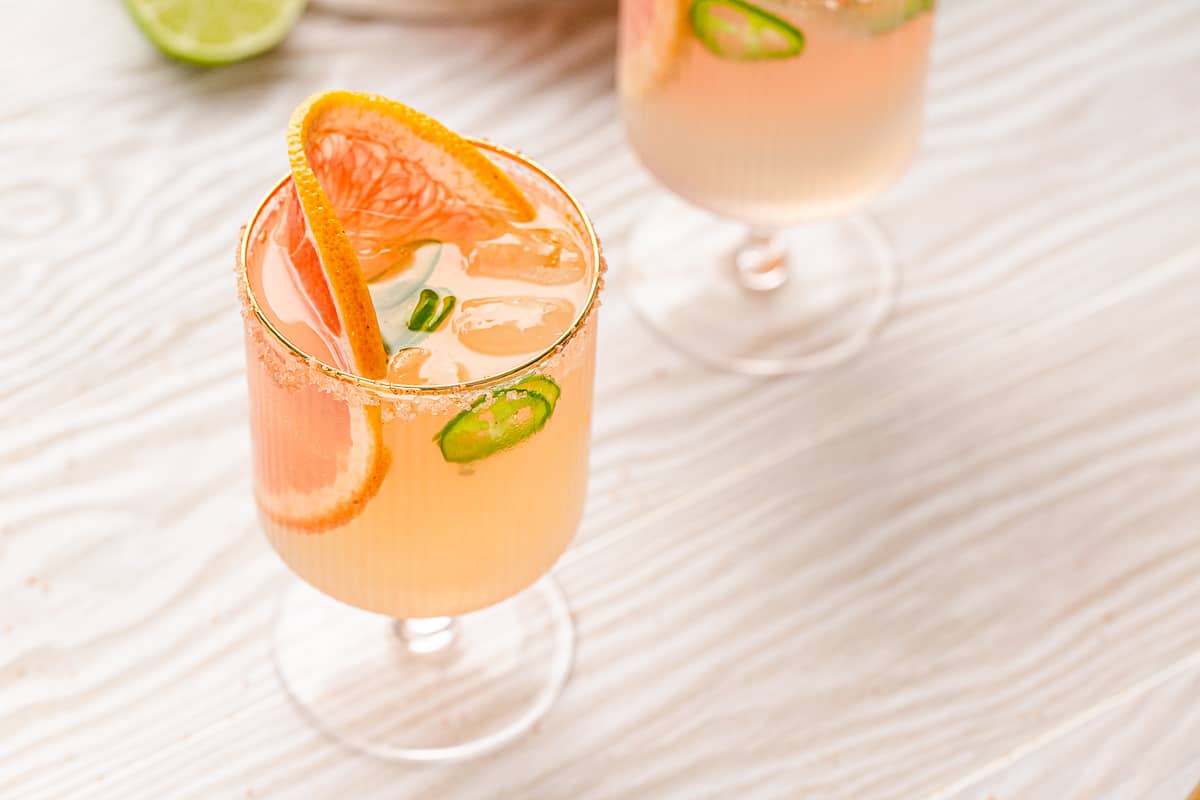 There's a reason that the Paloma is the national cocktail of Mexico! Grapefruit always pairs perfectly with tequila. In this drink, a little bit of heat from fresh jalapeños gives it a little something extra.
This drink would be perfect on a cocktail menu with my Sage Margarita, and you can use the same tequila for both drinks. Or, sub out the gin for tequila in my Grapefruit Rickey recipe if you're looking for something with a little less sugar.
Jump to:
Ingredients
There are a couple of different ways you can make this drink, so I'm including the ingredients for both methods. The drink is really delicious both ways! Using fresh juice gives a little bit more tanginess and acidity, while the version using the mixer is a little smoother.
Using Fresh Grapefruit Juice
Here is what you'll need to make this drink using grapefruit juice:
Tequila - I used blanco tequila from Pasote. You can purchase Pasote on Total Wine (US). Or, Espolon blanco tequila is another great choice (and available on The Whiskey Exchange for international shipping).
Lime Juice - preferably freshly squeezed.

Grapefruit Juice

- preferably freshly squeezed. I used a ruby red grapefruit, which is sweeter than a white grapefruit and gives the drink a beautiful color.
Jalepeño Syrup - you can make your own jalapeño simple syrup, or use plain simple syrup and muddle your jalapeños instead of just stirring them in.
Fresh Jalepeños - these are kind of a garnish, but also give some additional spice to the drink.
Seltzer - I used Q Club Soda because it has a ton of bubbles.
Salt - to rim the glass. I used Himalayan pink salt (fine grained).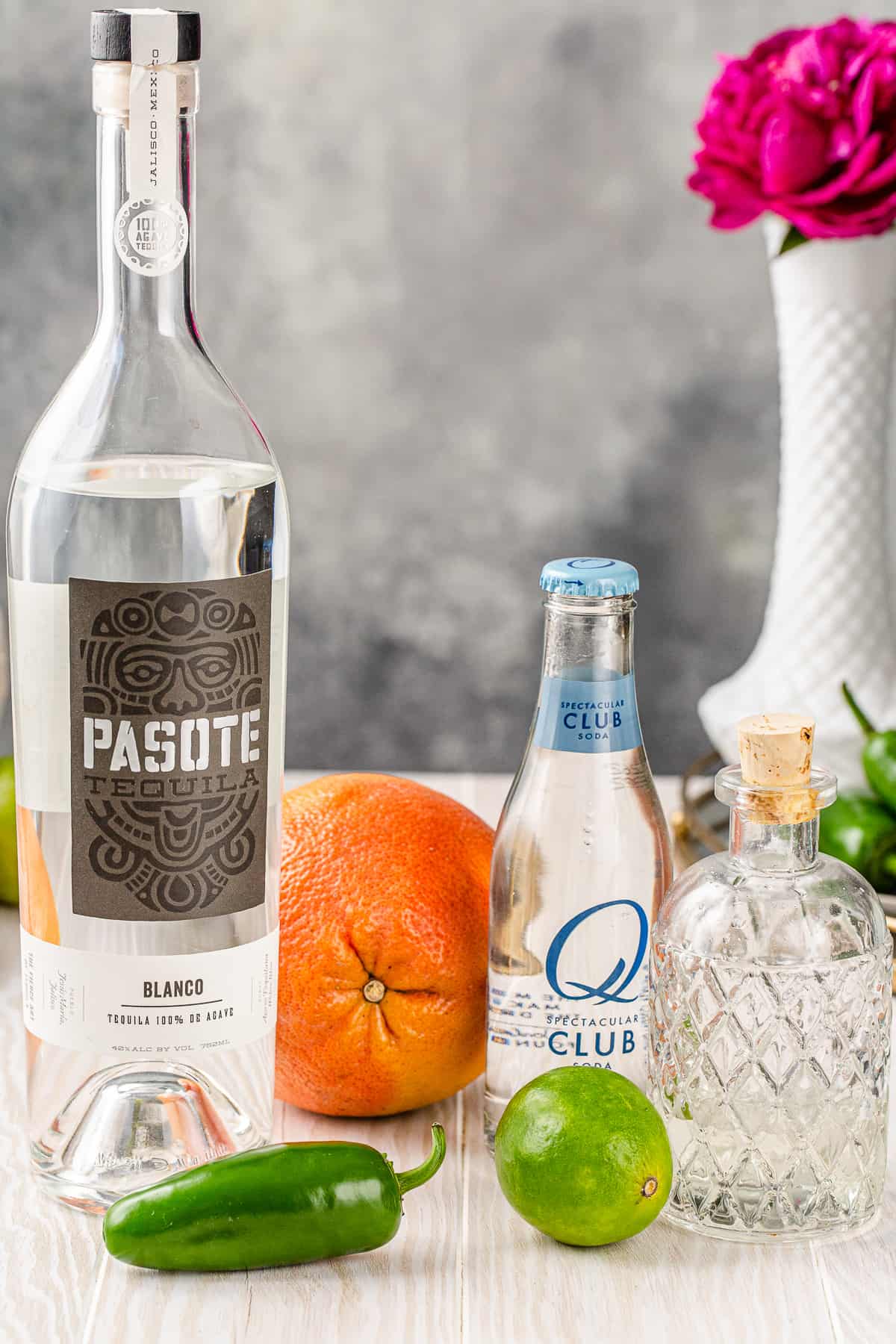 Using Grapefruit Soda or a Mixer
It is actually more widespread in Mexico to use a grapefruit flavored soda for a Paloma than fresh juice. It makes things super easy, too!
Tequila - blanco tequila.
Grapefruit Soda or pre-made mixer - I used Root Elixirs Grapefruit Jalapeño and it made the perfect drink.
Lime juice - only if you are using plain soda, because the Root Elixirs mixer already has lime in it.
Fresh jalapeño - for garnish. If you are using plain grapefruit soda, muddle the jalapeno using a cocktail muddler before adding ice to your serving glass.
Fresh grapefruit - for garnish.
Salt - my preference is Himalayan pink salt!
Substitutions
Need to make some changes to this drink? Try these substitutions.
Grapefruit juice - although the grapefruit juice is what makes this a Paloma, many people can't have grapefruit since it reacts with some medications. Instead, try the juice of a blood orange (or any orange if you can't find one).
Jalapeño Syrup - it's super easy to make your own jalapeño syrup, but if you don't have it, just use plain simple syrup. To add some jalapeño flavor, you can mash the peppers up into the simple syrup, and then strain them out to get a quick version of jalapeño syrup.
Low Sugar - the fresh fruits will always add a little sugar, but you can use allulose instead of sugar to make a sugar free syrup.
Extra Spicy - to get a really spicy cocktail, you can try infusing your tequila with jalapeños overnight. Just add slices of fresh jalapeño to a jar of tequila, and strain out the peppers before using. You can do a taste test before straining them out to see if it's as strong of a flavor as you like.
Variations
Here are some different ways to put a spin on this cocktail!
Classic Paloma - just omit the jalapeños to enjoy a classic Paloma drink. It's one of the best!
Spicy Strawberry Paloma - muddle up a whole strawberry into the bottom of your cocktail glass before mixing this drink up to make it a little sweeter and more fruity.
Spicy Gin Paloma - gin makes a great stand-in for the tequila in this drink.
Spice & Smoke - use mezcal instead of tequila, or split them half and half, in order to bring a little mezcal flavor into the mix.
Equipment
You don't need too much equipment to make this drink. All you really need is a jigger or small measuring cup, a knife & cutting board for the fruit, a cocktail glass, and a long bar spoon. You'll also probably want a small dish to use for adding the salt to the rim of your glass.
For this drink, I used a 10-ounce glass. I got this glass from an Etsy seller, PierHaus. Any cocktail glass will work OK, but I prefer one with straight sides so the grapefruit and jalapeño slices will look nicer against the side of the glass.
If you're looking for any new home bar equipment, check out A Bar Above! You can get 10% off when you use my discount code, LKDrinks. Their bar tools are really high quality, and they look great too!
Instructions
This drink is made directly in the glass, so it's really easy to put together. Start out by rimming your glass with salt. To do this, cut your lime or grapefruit in half and use it to wet the rim of the glass. Then, dip the rim in salt. Cut your jalpeño peppers into slices and set them aside.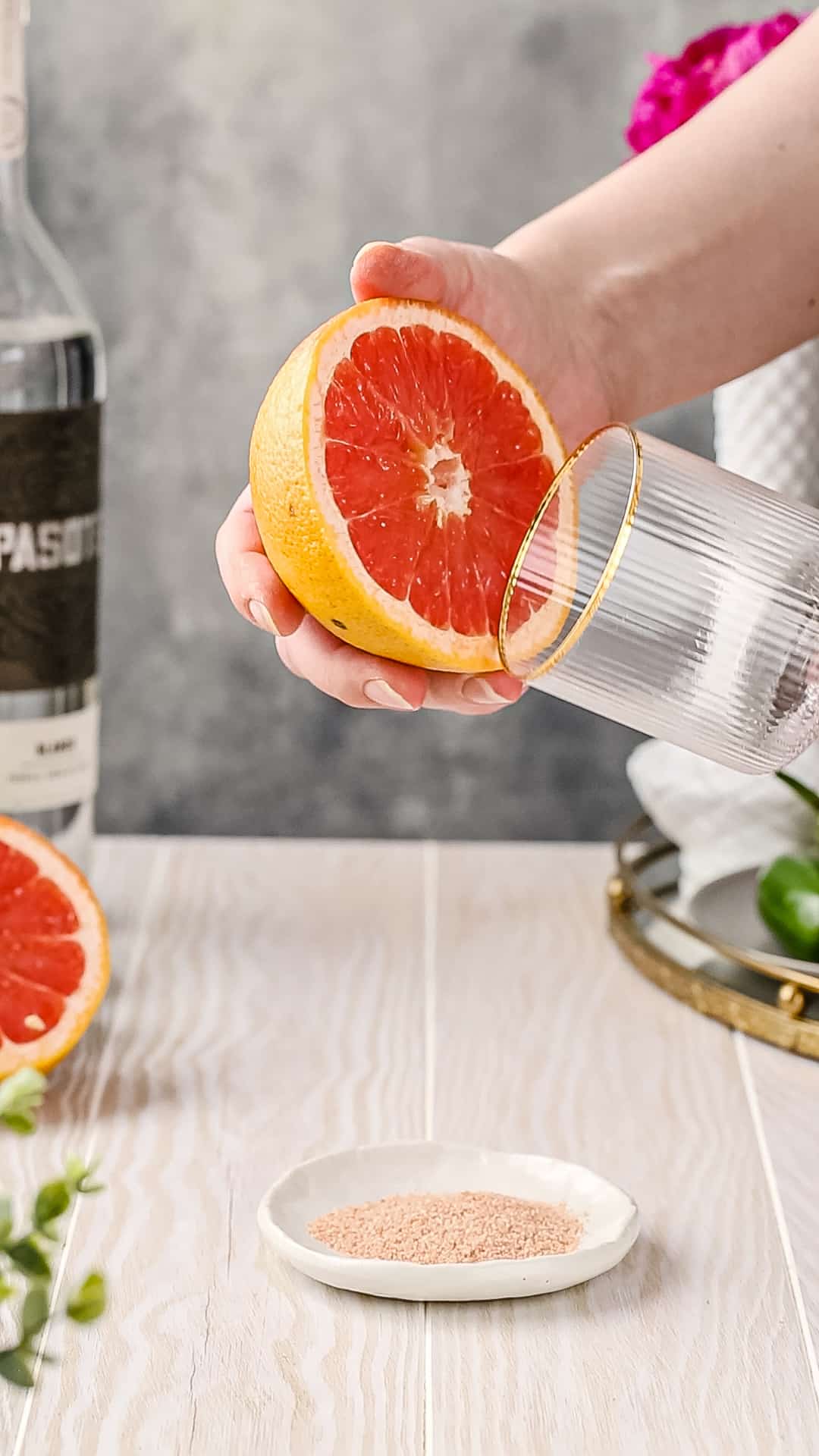 If you are using plain grapefruit soda, muddle the jalapeño slices in the bottom of the serving glass at this point.
Fill your glass with ice and then add the tequila.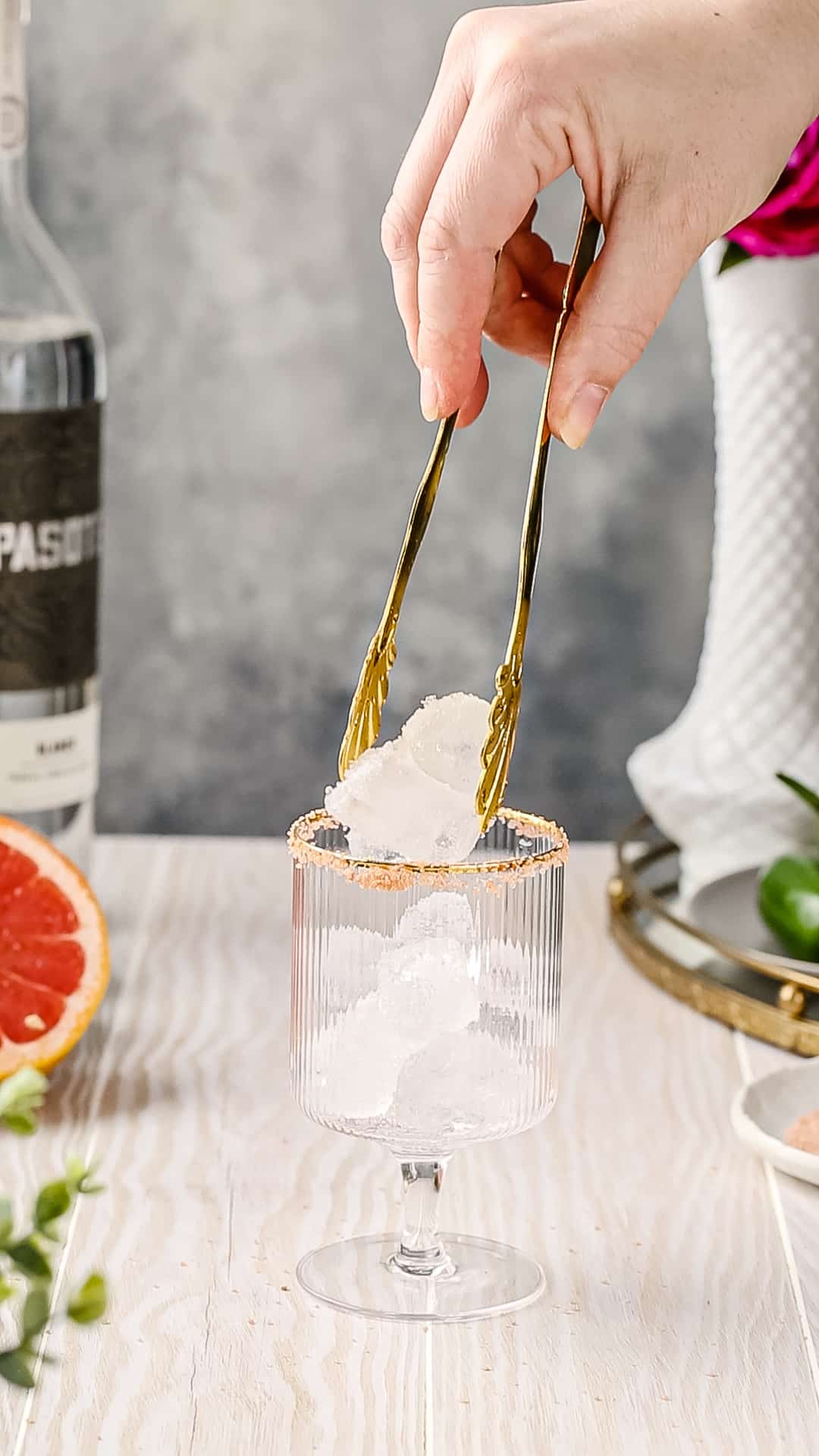 If you are using a pre-made mixer, all you have to do at this point is add the mixer to the glass. If you're making it with fresh juice, add in the grapefruit juice, lime juice, and jalapeño syrup separately.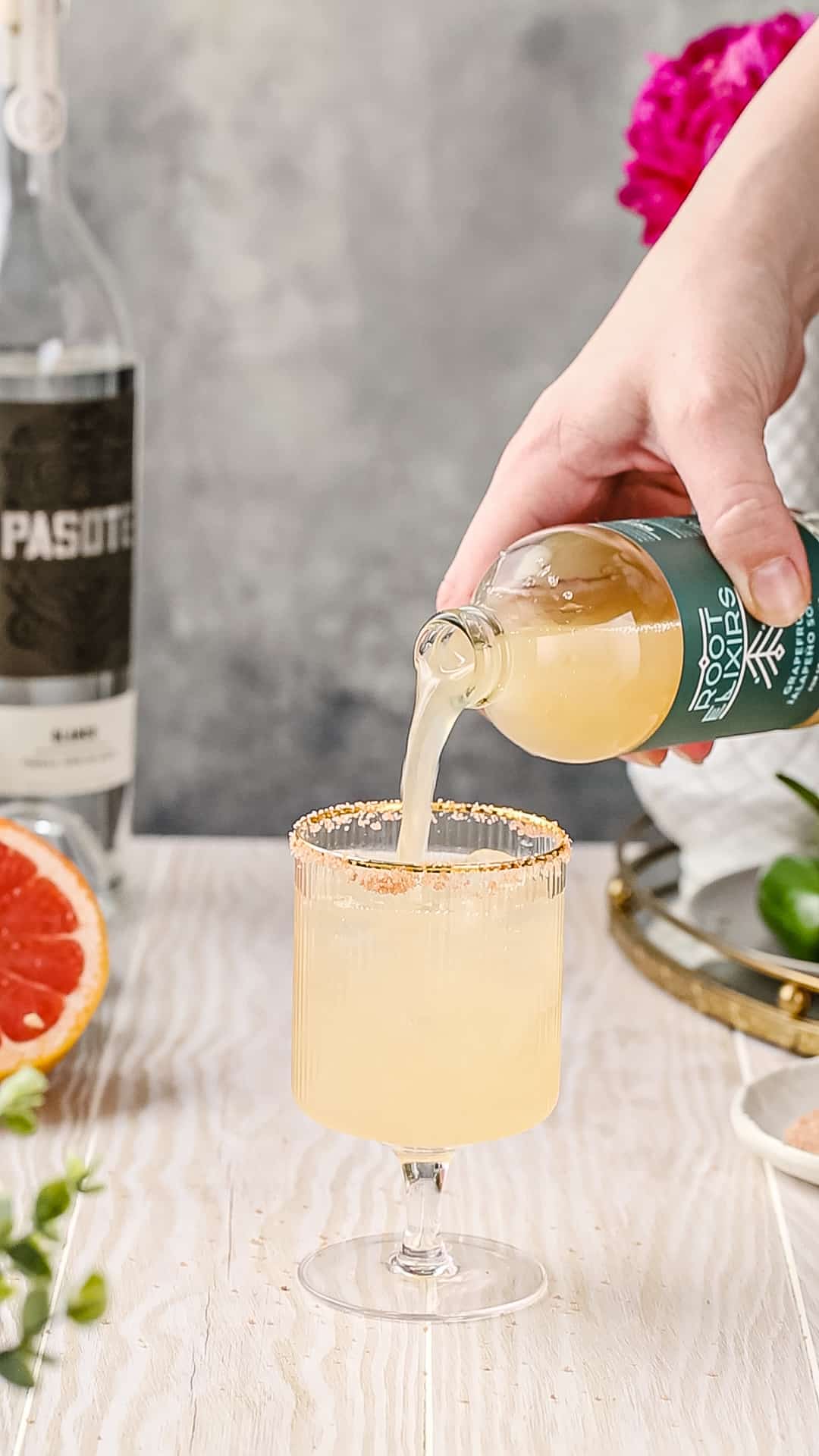 Add the fresh jalapeño slices to your glass, and stir to combine. If you're making the drink with fresh juices, then top the drink with seltzer at this point too.
Put a large slice of fresh grapefruit on the side of the drink for garnish, and serve.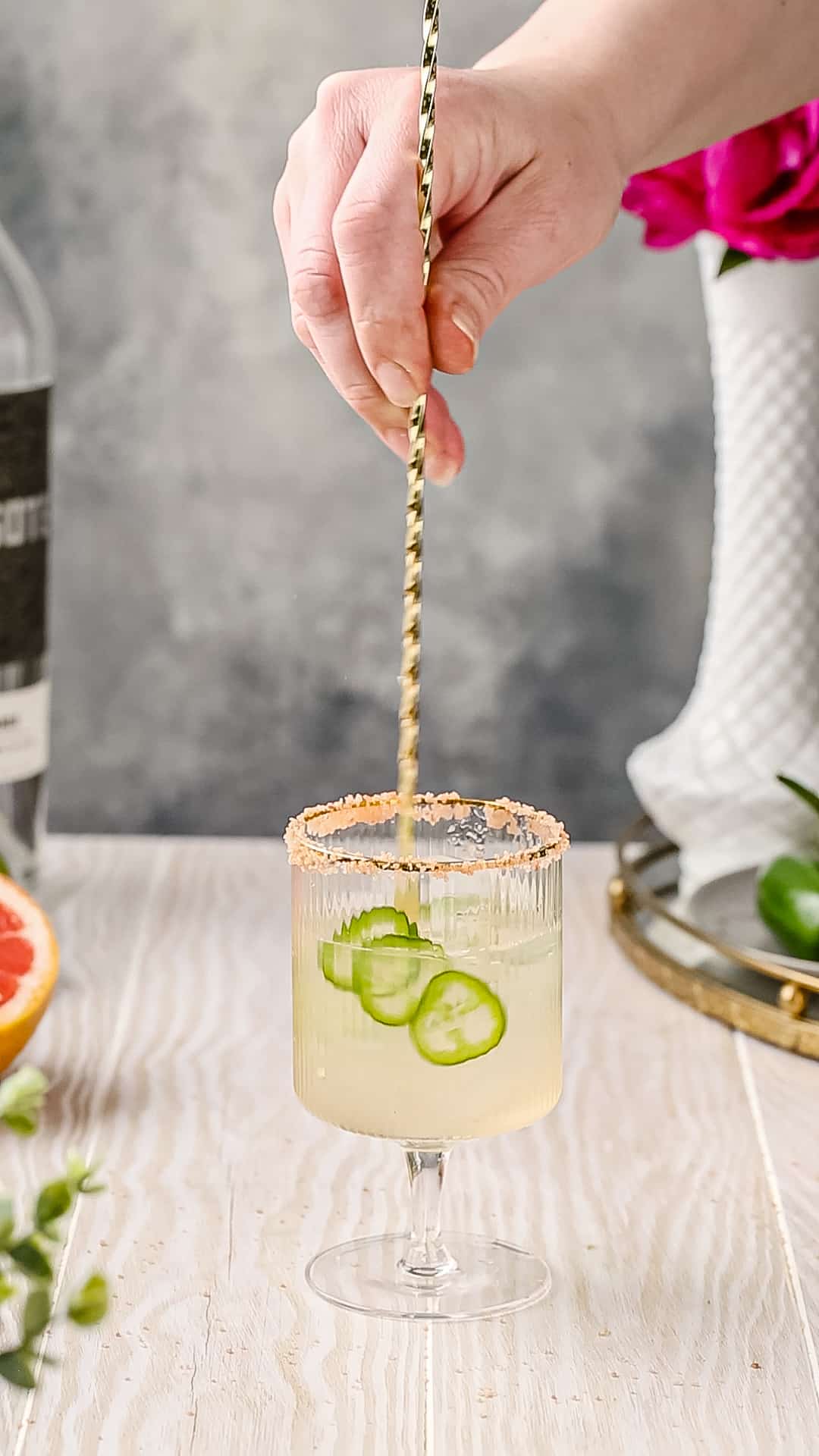 Frequently Asked Questions
What is the difference between a Margarita and a Paloma?
Although they are both tequila-based drinks, there are some differences. A Margarita is made with tequila, lime, triple sec, and simple syrup. A Paloma is usually made with just tequila and grapefruit soda, and sometimes with lime juice. Or, it can be made with fresh juices, simple syrup and soda water instead of pre-made grapefruit soda.
How do you make a Paloma spicy?
Fresh jalapeños are a great way to add spice to a Paloma. You can muddle them in a cocktail shaker, infuse them in tequila, or make your own jalapeño syrup. In this recipe, I've used jalapeño syrup along with adding some fresh slices to the drink as a garnish.
Top tip
Although I love using a handheld citrus juicer for limes and lemons, it doesn't work with grapefruits since they're so much bigger. Instead, you can use a citrus reamer to loosen up the insides, and squeeze the fruit by hand.
📖 Recipe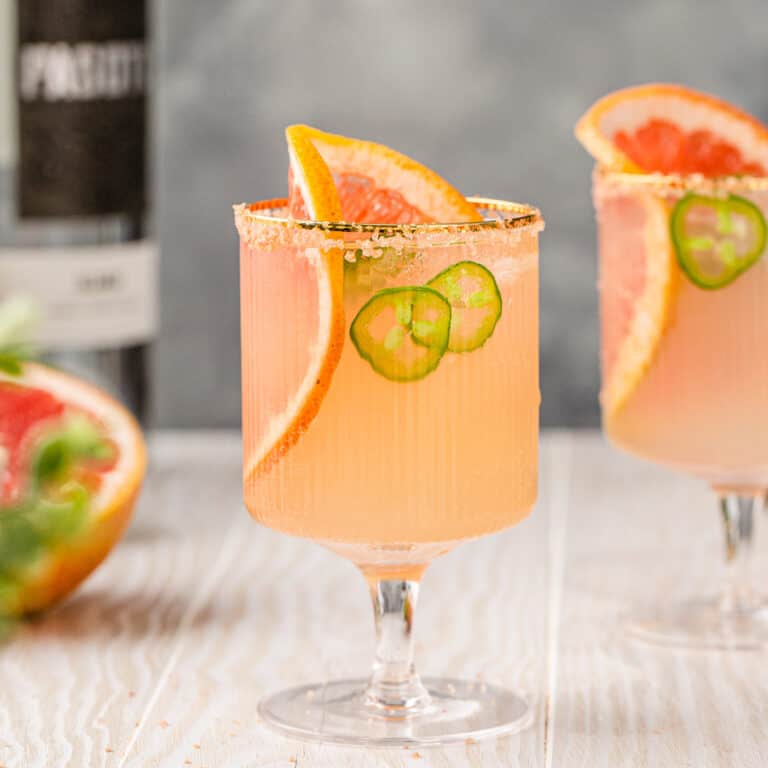 Spicy Paloma (Tequila, Grapefruit, Lime, Jalapeño)
This refreshing tequila cocktail is both delicious and beautiful. With grapefruit, lime and jalapeño syrup, you can't beat this sip on a hot afternoon.
Ingredients
Garnish
salt

(for rim of glass)

1

slice

fresh grapefruit

5

slices

fresh jalapeño
Spicy Paloma Using Fresh Grapefruit Juice
2

ounces

tequila blanco

1

ounce

lime juice

¼

ounce

grapefruit juice

(I used a ruby red grapefruit)

¾

ounce

jalapeño syrup

2

ounces

seltzer
Spicy Paloma Using Soda or a Pre-made Mixer
2

ounces

tequila blanco

3

ounces

Grapefruit Jalapeño mixer (or Grapefruit Soda)

(I used Root Elixirs Grapefruit Jalapeño soda - link in notes)

¾

ounce

lime juice

(optional - only if using plain grapefruit soda)
Instructions
Prep your Serving Glass
Wet the rim of your serving glass with a cut lime or grapefruit, and dip the rim into the salt, coating it all the way around.
If using Fresh Citrus Juices
Fill the serving glass with ice and add in the tequila.

Add in the lime juice, grapefruit juice, and jalapeño syrup.

Add the jalapeño slices to the glass and stir with a bar spoon.

Add the grapefruit slice to the side of the glass and serve.
If using Soda or a Pre-made Mixer
If you are using a plain grapefruit soda, add your jalapeño slices to the bottom of the serving glass and muddle them with a cocktail muddler. You can skip this step if your mixer already has jalapeño in it.

Add ice to the serving glass and add in the tequila.

Top with the soda or mixer. If your mixer doesn't have lime, add in the lime juice too. Give it a quick stir with a bar spoon.

Add the jalapeño slices and fresh grapefruit slice to garnish, and serve.
Nutrition
Calories:
201
kcal
Carbohydrates:
19
g
Protein:
0.3
g
Fat:
0.1
g
Polyunsaturated Fat:
0.02
g
Sodium:
26
mg
Potassium:
78
mg
Fiber:
0.2
g
Sugar:
17
g
Vitamin A:
74
IU
Vitamin C:
18
mg
Calcium:
11
mg
Iron:
1
mg
Made with WP Recipe Maker plugin