This spirit-forward Strawberry Tequila Cocktail is something a little bit different! It's like an herbal and fruity take on a Manhattan-style drink. It's sweet, but with a lot of complexity from the combination of Cynar liqueur, gin and tequila.
This cocktail was inspired by strawberries and early summer. I love strawberry season around here, even though I can find them in my grocery store year-round.
Another strawberry cocktail you can try is Strawberry Afternoon, which is a much lighter and more refreshing summer sip. You can use the strawberry tequila from this recipe instead of strawberry vodka for a nice change.
Jump to:
Ingredients
This drink combines both tequila and gin for a split-base cocktail. These spirits work really well together, because they both have fresh and herbal tastes. The agave flavors from the tequila usually pair well with a dry style of gin.
Here are the ingredients for this drink:
Strawberry-infused tequila (homemade) - see this section on how to make it at home.
Cynar liqueur - this is an amaro, which means it has a lot of bitter flavors in it. It's very complex on its own, so it adds a lot of dimension to this drink. It's similar to Averna, but with a little more of a bitter bite to it. Although this liqueur is well known for being made with artichokes, it doesn't really taste like them at all. It is herbal and bitter with caramel flavors to balance it out.
Gin - I used a fairly dry style of gin. Choose one that is more herbal and less citrusy to pair with the tequila.
Hemp Syrup and Hemp Bitters - these were gifted to me by a company called Barefoot Botanicals. They went really well in this cocktail and complemented the flavors of the tequila.
Substitutions
Although this cocktail uses a few specialized ingredients, you can always make something similar by substituting. Here are a few ways you can substitute ingredients if you don't have everything on hand:
Strawberry-infused tequila - if you don't have time to make this, you can add in strawberries in a couple of different ways. The easiest is to just cut up a strawberry and add it to your mixing glass, an use a muddler to mash it up in the bottom of the glass. Then just use plain tequila in the drink. Another way is to use strawberry syrup instead of the hemp syrup, and you can use either homemade syrup or store-bought syrup.
Cynar - you can substitute Cynar with another dark amaro, like Averna or Ramazzotti. If you don't have any of those, sweet vermouth would also work well instead. Cynar has more alcohol in it than vermouth, so you can increase the amount of tequila by ¼ of an ounce if you make that switch.
Gin - if you don't have gin, just use more of the tequila.
Hemp syrup - you can use plain simple syrup here, or use a strawberry flavored syrup for more of a fruit flavor.
Hemp bitters - use another type of bitters if you don't have this. Angostura bitters, or aromatic or herbal bitters like coriander would work really well.
Variations
If you're finding this drink too sweet/bitter/strong, here are some ways you can change it up.
Too sweet - you can add a couple more dashes of bitters to combat the sweetness, or add a pinch of salt before stirring it up.
Too bitter - if you find this drink too bitter for your palate, omit the bitters, or add ¼ ounce more simple syrup at a time until you like it. You can also add a pinch of salt to take down the bitterness instead.
Too strong - this is a spirit-forward drink, so it's meant to be pretty strong. But, you can always change the drink up by adding it to a larger serving glass with ice, and topping it with plain seltzer. This will give you the same flavors, but in a more refreshing style of drink.
How to make Strawberry-Infused Tequila
It sounds fancy, but it's pretty simple to make a strawberry-infused tequila. All you have to do is get an airtight glass container, some kind of strainer (I use a Chemex style coffee maker to strain my infusions), and a bottle or other airtight container to store it in after it's ready to use. You'll also need some fresh strawberries and plain, inexpensive tequila.
Begin the Infusion
Wash your strawberries and cut them up into small pieces. Add them to your airtight glass container, and pour in enough tequila so that they are completely covered in liquid. I like to infuse about 8 ounces (one cup) of liquid at a time, and I used about three whole strawberries for that amount.
Let the mixture sit at room temperature overnight, or up to a week. You can use a bar spoon to taste test the infusion so you can decide when it's ready to strain.
Strain and Bottle the Infusion
When it's ready, just pour the liquid and strawberries through a strainer and collect the liquid. You can toss out the strawberries (but I like to add them to a glass of sparkling wine!). Bottle up the liquid in a clean bottle and seal it with a cork or other airtight seal.
That's it! You can use this in place of plain tequila in any of your favorite drinks. It gives the tequila a beautiful pink color as well.
Equipment
Since there is no fruit juice or cloudy ingredients like milk or cream, this cocktail is better as a stirred cocktail. You'll need a cocktail stirring glass, or a heavy-bottomed glass that won't slide around as you stir. You'll also ideally have a long-handled bar spoon to stir with, a jigger or small measuring cup, and a cocktail strainer to strain out the ice. You can use either a Hawthorne strainer (the one with the coiled wire) or a Julep strainer (which is one piece of curved metal with larger holes in it).
You'll also need a serving glass, and I recommend a Nick & Nora style glass with a stem. It's an elegant way to serve it, and the strawberry garnish looks great with this type of glass.
If you're looking to get or gift bar equipment, A Bar Above is my go-to place for high quality and durable mixing glasses, bar spoons, jiggers... you name it! Use my code LKDrinks for 10% off on their website.
Instructions
This drink is pretty easy to mix up once you have all of the ingredients together. Start out by measuring out your strawberry tequila and Cynar, and adding those to the cocktail mixing glass.
Then, add in the gin and the hemp syrup.
Finally, add in the hemp bitters. Then, fill the mixing glass up with ice.
Use a long bar spoon to stir the drink for about 30 seconds, and then strain the cocktail into your serving glass. Add a strawberry to the rim of the glass for garnish, and serve immediately.
Hint: For a pro-level finishing touch, chill your serving glass beforehand. You can chill it in the freezer, or just fill it with ice and water while you make the drink, then empty it out before straining in the drink.
Frequently Asked Questions
Is there a strawberry tequila?
Although there is no strawberry flavored or infused tequila on the market at the moment, there is a liqueur called Tequila Rose. It's made from mixing tequila with a strawberry cream. It is only 15% alcohol by volume, so it's not quite right for this cocktail unless you would like to switch it out for the Cynar. Check out this section to make your own strawberry tequila.
Is Cynar the same as Campari?
Cynar is a similar type of liqueur to Campari, but they have very different flavors. Campari is much more citrus-flavored, with a more astringent bitterness. Cynar is also bitter, but it has warmer flavors and caramel notes.
Does Cynar taste like artichokes?
Although Cynar is famously made with artichokes, it doesn't really taste like artichokes at all. It has a unique blend of bitter herbal notes, but with a lot of sweetness and caramel flavors too.
Top tip
This is a great cocktail to make as a batch for a party. It gets even better when you make it ahead and let it sit overnight in the fridge! If you make it as written, though, you will still need to stir with ice to dilute the finished drink. You can skip the stirring step by adding a half ounce of water per cocktail before refrigerating.
📖 Recipe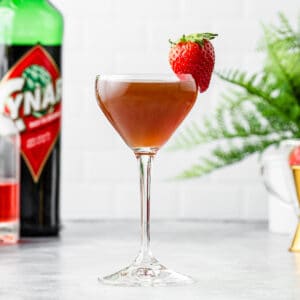 Strawberry Tequila Cocktail
This spirit-forward drink is both complex and refreshing, with the fruit and sweet notes balancing out the tequila and gin.
Equipment
Cocktail stirring glass

Cocktail strainer
Ingredients
1

ounce

strawberry-infused tequila

see Notes (1)

1

ounce

Cynar liqueur

½

ounce

gin

½

ounce

hemp syrup

see Notes (2)

2

dashes

hemp bitters

see Notes (2)

1

strawberry

for garnish
Instructions
Add the strawberry-infused tequila, Cynar, gin, hemp syrup and hemp bitters to a cocktail stirring glass.

1 ounce strawberry-infused tequila,

1 ounce Cynar liqueur,

½ ounce gin,

½ ounce hemp syrup,

2 dashes hemp bitters

Fill the stirring glass with ice and use a bar spoon to stir well, for about 30 seconds.

Use a cocktail strainer to strain the liquid into a serving glass (preferably a stemmed glass, like a Nick and Nora style glass).

Cut a slit in the bottom of a whole strawberry and add it to the rim of the serving glass as a garnish. If you want, you can slide the strawberry all the way around the rim for a little extra burst of strawberry aroma.
Notes
See this section for instructions on how to make your own strawberry-infused tequila. If you don't have time to make it, you can also muddle (mash up) a strawberry into your cocktail mixing glass before adding the rest of the ingredients. It will change the texture of the drink, but you'll still get some nice strawberry flavors in there. You might want to shake this drink instead of stirring it if you use the fresh fruit.
The Hemp Tea syrup and Hemp bitters were gifted to me by Barefoot Botanicals. I highly recommend them! But, if you don't have them, you can substitute with plain simple syrup and Angostura bitters.
Nutrition
Calories:
225
kcal
Carbohydrates:
20
g
Protein:
1
g
Fat:
1
g
Polyunsaturated Fat:
1
g
Monounsaturated Fat:
1
g
Sodium:
9
mg
Potassium:
28
mg
Fiber:
1
g
Sugar:
11
g
Vitamin A:
1
IU
Vitamin C:
7
mg
Calcium:
4
mg
Iron:
1
mg
Made with WP Recipe Maker plugin