If you've never combined strawberries and peppercorns before, you are missing out! It is one of those unexpected combinations that somehow just works. In this cocktail, a strawberry-infused vodka combines with peppercorn flavored syrup and gin to create a super refreshing cocktail. It's perfect for backyard summer afternoons (hence the name)!
Strawberries and... What??
I'm not actually sure where I first heard of combining strawberries and black pepper, but it took me by surprise the first time I heard about it. Check out this article, which mentions that the pairing can be found in Mark Bittman's book, How to Cook Everything.
The pepper flavor mellows out the acidity of the strawberries, making them taste even richer and, somehow, more strawberry-like. With the peppercorns infused into the syrup, it's not a super strong pepper taste at all. It's more of an undercurrent and support to the star strawberries.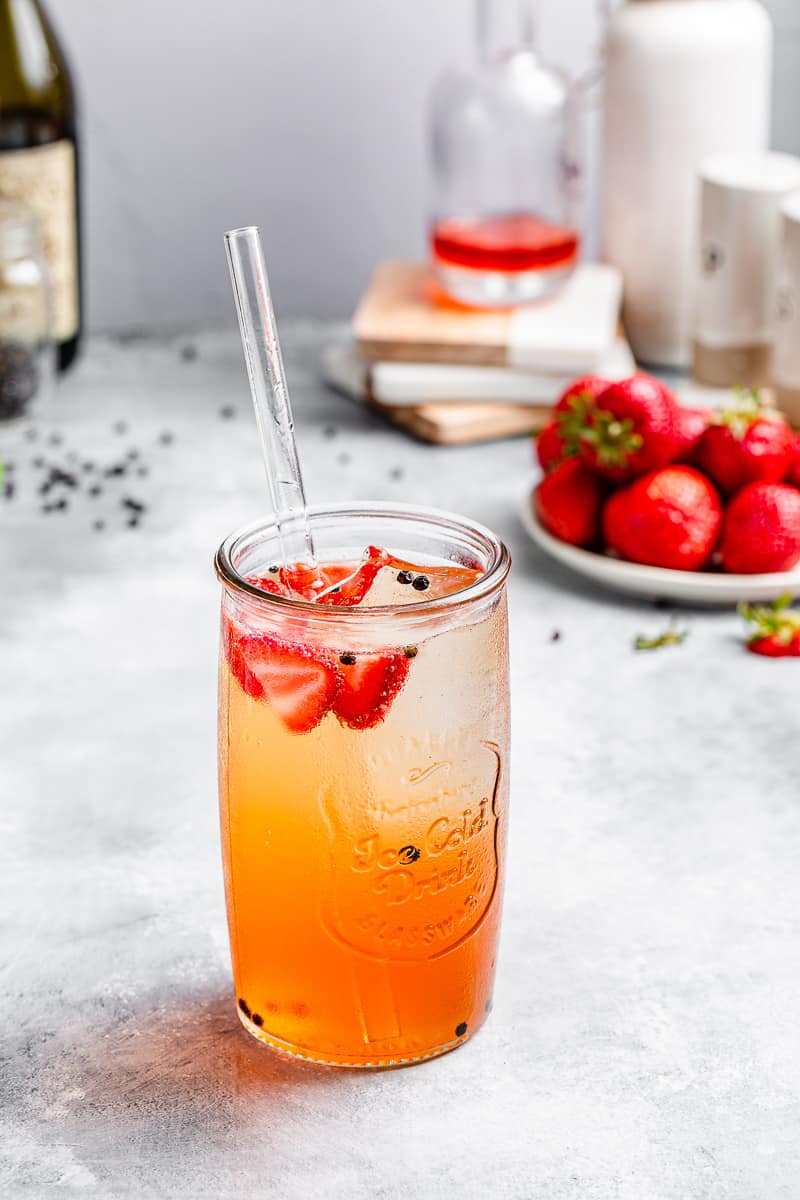 Peppercorn Syrup
It's super simple to make peppercorn syrup. Since peppercorns are most commonly a dry herb, it can be added into simple syrup before heating. Just add a tablespoon of peppercorns into your water and sugar mix (1 cup of each, 230g water/200g sugar) before bringing it to a boil. Let it simmer for about 5 minutes, remove from the heat and leave the peppercorns in while the mixture cools to room temperature.
Strain it into a clean bottle and keep it in the fridge. You can check out my Instagram story highlights for other syrup recipes!
Strawberry Infusion
Infusing strawberries into vodka is a great way to preserve that ripe-strawberry flavor for a long time. All you have to do is put some vodka into a clean glass jar with a lid. Cut up some ripe fresh strawberries, and place them into the vodka, making sure that the vodka completely covers the berries.
After a day or two, just strain the flavored vodka into a clear glass jar or container, and you're done! (I put the leftover strawberries into a glass of rose wine, and it was magnificent :))
Building the Strawberry Cocktail
This cocktail is easy to make! It just takes a few minutes to put it together once you have the strawberry infusion and peppercorn syrup ready to go. Just combine the strawberry vodka, gin, peppercorn syrup, lime juice, and vermouth in a cocktail shaker with ice.
Shake well, about 15-20 hard shakes, and then strain it into your serving glass filled with fresh ice. Top with seltzer and throw in some peppercorns and strawberry slices for garnish. Then get to relaxing in the sun!
Other Recipes You Might Like
Did You Try This Recipe?
I would love to hear how you liked this recipe! How did you think the strawberries went with the pepper syrup? Please let me know by leaving a comment or star rating below!
📖 Recipe
Strawberry Afternoon
This delicious cocktail combines strawberry flavor with black pepper, lime, gin and vermouth for a complex but refreshing summer drink.
Ingredients
1

oz

strawberry infused vodka

1

oz

dry gin

½

oz

sweet vermouth

1

oz

lime juice

1

oz

black peppercorn syrup

2

oz

Seltzer

fresh strawberry slices and dried peppercorns for garnish
Instructions
Add the strawberry infused vodka, gin, vermouth, lime juice and peppercorn syrup to a cocktail shaker along with ice.

Add fresh ice to your serving glass.

Seal and shake the cocktail shaker well, about 15-20 times, to mix and dilute.

Use a cocktail strainer to strain the mixture into the serving glass.

Add the fresh strawberry slices and peppercorns to the glass for garnish.

Top with the seltzer, add a straw and serve immediately.
Nutrition
Calories:
226
kcal
Carbohydrates:
24
g
Protein:
1
g
Fat:
1
g
Polyunsaturated Fat:
1
g
Sodium:
29
mg
Potassium:
53
mg
Fiber:
1
g
Sugar:
21
g
Vitamin A:
14
IU
Vitamin C:
9
mg
Calcium:
10
mg
Iron:
1
mg
Made with WP Recipe Maker plugin