The Tokyo Tea, also called the Tokyo Iced Tea, is a delicious (and deceptively strong) cocktail that's so much fun to drink! It has a bright green color from Midori melon liqueur, and fresh lime juice gives it a tasty citrus flavor. It follows the basic formula of a Long Island Iced Tea. It has a lot of alcohol, but the fruit and liqueurs make it go down easy.
This is a fun and easy cocktail to make for a girls night, or even for a green-themed Halloween drink! Even though it has a lot of ingredients, my recipe is easy to remember since it's equal parts of everything.
Looking for more green-colored cocktails? Check out the best Midori Sour ever, the always classic Last Word cocktail, or this tasty Kiwi Chartreuse Daiquiri.
Jump to:
Ingredients
Don't be intimidated when you see all 9 ingredients in this cocktail, because you're going to be using equal parts of each one. Just remember that you'll need all four of the classic "clear liquors" (rum, gin, vodka and tequila) along with Triple Sec and Midori liqueurs.
Remember, there is no whiskey in this (same as a Long Island Iced Tea). All the liquor, except for the Midori, is clear in color. Here are the ingredients you'll need:
Midori liqueur - Midori, which means green in Japanese, is a melon-flavored liqueur with a bright green color.
Triple Sec liqueur - this is an orange-flavored liqueur that is clear in color. I used Cointreau liqueur, which is a brand of triple sec.
White Rum - go for a light-colored rum. This way, green is the only color in the drink. I used Plantation 3 Stars white rum.
Gin - a classic London Dry style of gin works great here. I used Highclere Castle gin.
Vodka - no need for a premium vodka in this drink. I used Tito's vodka, which tastes great and is reasonably priced.
Tequila Blanco - like the rum, go for a clear, unaged tequila. I used Pasote blanco tequila.
Lime juice
Simple syrup
Seltzer
If you want to add an easy and traditional garnish, you'll also need a fresh lime and a maraschino cherry. Feel free to play around with the garnish! A lime wedge or twist work great too.
Substitutions
The beauty of this kind of cocktail, with four different types of hard liquor, is that they somehow all work together so well. If you don't have one of them, though, just use more of what you do have on hand, so you end up with the same amount of liquor in the drink.
Some other substitutions you can make:
Sprite - instead of using seltzer, you can use a little Sprite or another clear soda if you want to make this drink a little sweeter.
Sour Mix - although I think the drink is better with fresh citrus, you can use your favorite sour mix instead. Just omit the juice and also the simple syrup, since sour mix has its own sweetener.
Liqueur - if you don't have Triple Sec, you can omit it, or use more Midori in its place. You could also use limoncello instead (the non-cloudy style). The green will overpower the yellow color of the limoncello.
Equipment
This drink is usually served in a Collins cocktail glass (tall with straight sides), although you can serve it in whatever glass you have around. You'll also want to have a jigger or small measuring cup, a cocktail shaker and a cocktail strainer. If you're using fresh citrus, a citrus juicer is a huge help.
Need any new bar tools? Check out A Bar Above (and don't forget to grab 10% off using my discount code, LKDrinks). Their bar tools are really durable, dishwasher safe and beautiful too!
Instructions
Start out by prepping your lime wheel garnish. Cut a slice about ⅛ inch thick, and cut a small slit in one side so you can add it to the glass rim. Set it aside while you make the drink.
Then, start measuring all of your ingredients into a cocktail shaker. First, measure and add the lime juice.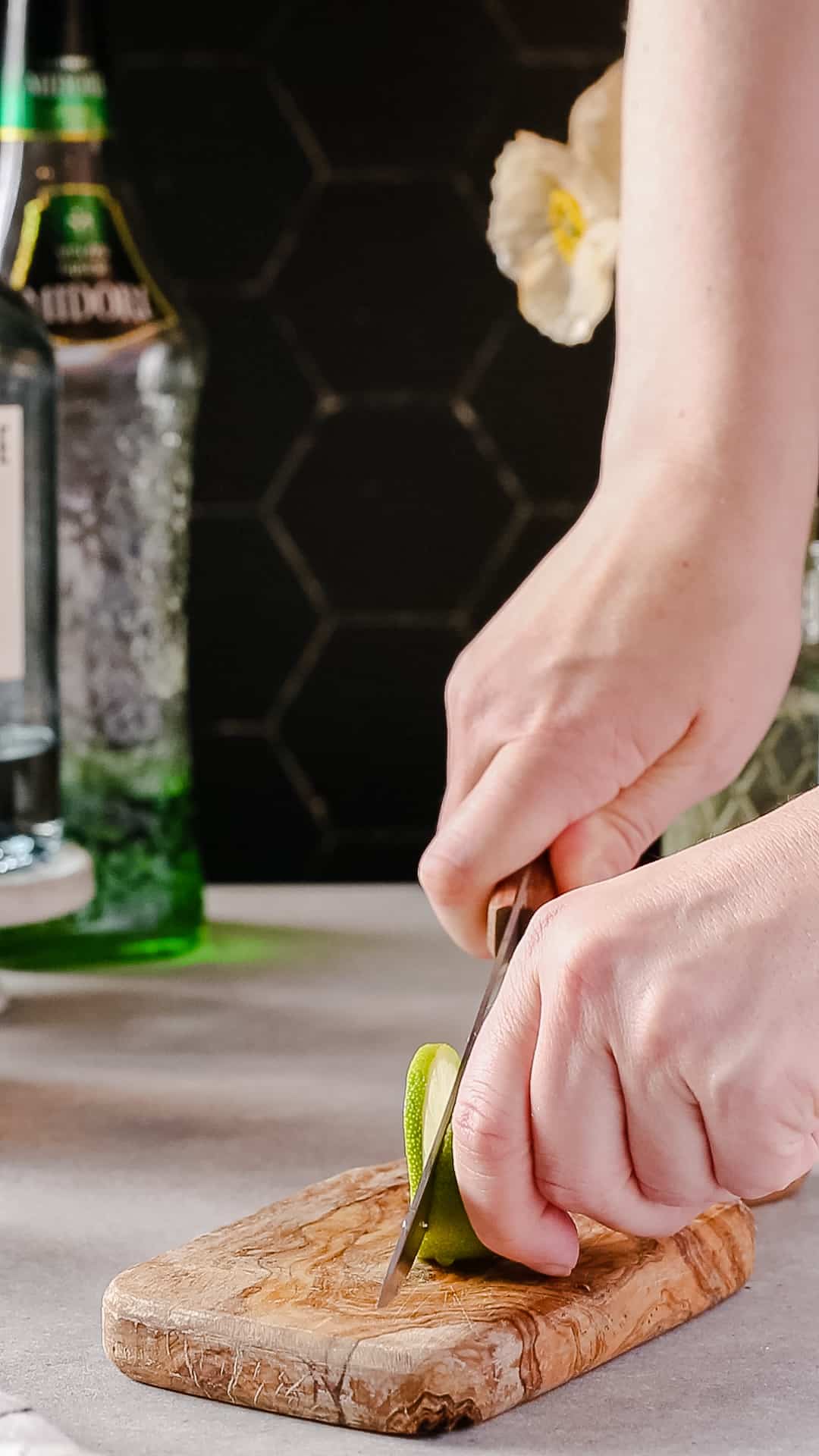 Then, add in the simple syrup and Midori liqueur.
Next, add in the Triple Sec liqueur. Then, add in the hard liquors: rum, gin, vodka and tequila.
Fill the cocktail shaker with ice and give everything a good shake, about 15-20 seconds. Add fresh ice to your serving glass.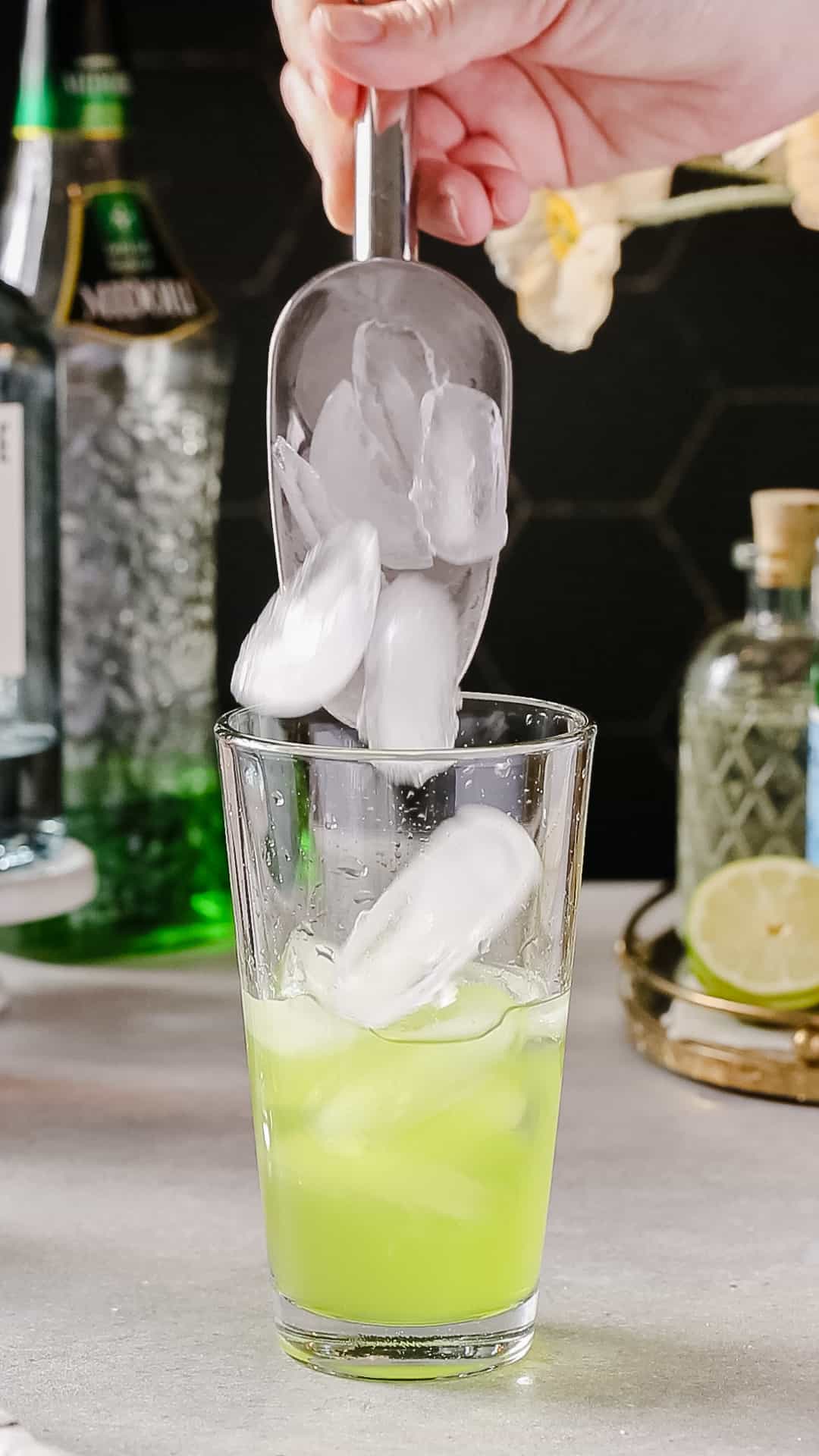 Strain the drink into the prepared serving glass, and then top it off with seltzer.
To garnish, add the lime wheel to the rim of the glass. Place a maraschino cherry next to the lime wheel, and serve.
Hint: a good rule of thumb is to add your least expensive ingredients to the cocktail shaker first, in case you measure wrong and have to start over!
Frequently Asked Questions
What does a Tokyo Tea taste like?
It has bright citrusy flavors up front from the lime juice, with the melon flavor of Midori coming in next. Overall it has a sweet and tangy flavor, with some notes of the different liquors coming through.
What is the difference between a Long Island Iced Tea and a Tokyo Tea?
The Long Island Iced Tea and Tokyo Tea have a similar recipe, but they do taste very different. Tokyo Tea has Midori melon liqueur, which gives it a sweeter, more fruity flavor than the LIIT. Tokyo Tea also uses seltzer (or sometimes lemon-lime soda) instead of cola, so the flavor definitely is more fruit-forward and less like the flavor of true iced tea.
Top tip
Just keep in mind when you drink a Tokyo Tea that it does have a lot of alcohol! One of these drinks is like drinking 1.7 glasses of wine. It's around 20% ABV (alcohol by volume). So definitely take this one slow, it's deceptively strong!
If you want to make this drink a little less strong but keep the same flavors, my suggestion is to omit the vodka and just add extra seltzer at the end.
📖 Recipe
Tokyo Tea (aka Tokyo Iced Tea)
This Tokyo Tea is similar to a Long Island Iced Tea, but with Midori melon and lime in place of the cola and lemon.
Equipment
1 Knife and cutting board

(for fresh citrus and lime garnish)
Ingredients
Cocktail
0.5

ounces

lime juice

0.5

ounces

simple syrup

0.5

ounces

Midori

0.5

ounces

triple sec

0.5

ounces

gin

0.5

ounces

vodka

0.5

ounces

white rum

0.5

ounces

tequila blanco
Instructions
Add the lime juice and simple syrup to your cocktail shaker.

Add the Midori and triple sec to your cocktail shaker.

Add the gin, vodka, rum and tequila to your cocktail shaker.

Fill the shaker with ice, seal the shaker up and give it 15-20 hard shakes.

Add fresh ice to your cocktail glass and strain the drink into the glass.

Garnish by adding the lime slice to the rim of the glass. Place the maraschino cherry next to the lime slice, and serve.
Nutrition
Calories:
264
kcal
Carbohydrates:
24
g
Protein:
0.4
g
Fat:
0.1
g
Saturated Fat:
0.02
g
Polyunsaturated Fat:
0.01
g
Sodium:
11
mg
Potassium:
39
mg
Fiber:
0.4
g
Sugar:
22
g
Vitamin A:
13
IU
Vitamin C:
6
mg
Calcium:
9
mg
Iron:
1
mg
Made with WP Recipe Maker plugin