The Vampire's Kiss cocktail is a deliciously deep red vodka drink with raspberry Chambord. It's perfect for any Halloween Party! Lemon juice and rosé sparkling wine, along with deep red grenadine syrup, bring both brightness and sweetness to the cocktail. The spookiness level is taken up a notch with a black lava salt garnish on the side of the glass.
Because of its red color, this drink fits in perfectly with a Halloween theme! But the delicious, light and fruity flavor make it easy to drink anytime. It would be great for Valentine's Day with some fresh raspberries as a garnish!
Plan out your Halloween party menu with some more spooky themed cocktails! Try the smoky Black Heart Halloween Cocktail or this blood-red Halloween Gin Cocktail infuses with Shiraz grapes.
The Halloween Margarita is another easy and absolutely delicious drink for any Halloween Party! For something a little more complicated but with a super impressive look, go for a candy theme with this impressive Candy Corn Martini.
Jump to:
Ingredients
Here are the ingredients you'll need to make this Halloween cocktail:
Vodka - I used citrus vodka, but regular vodka works great as well.
Chambord - this black raspberry flavored liqueur with its iconic round bottle gives the drink sweetness, flavor and color.
Grenadine - this pomegranate flavored syrup is a bar staple.
Lemon juice - preferably freshly squeezed.
Peychaud's bitters - this red-colored bottle of bitters brings some citrus flavors to the drink, and cuts the sweetness just the right amount.
Rosé sparkling wine - sparkling wine gives the final cocktail a bright fizziness.
Black lava salt (optional) - to stick to the side as a Halloween garnish.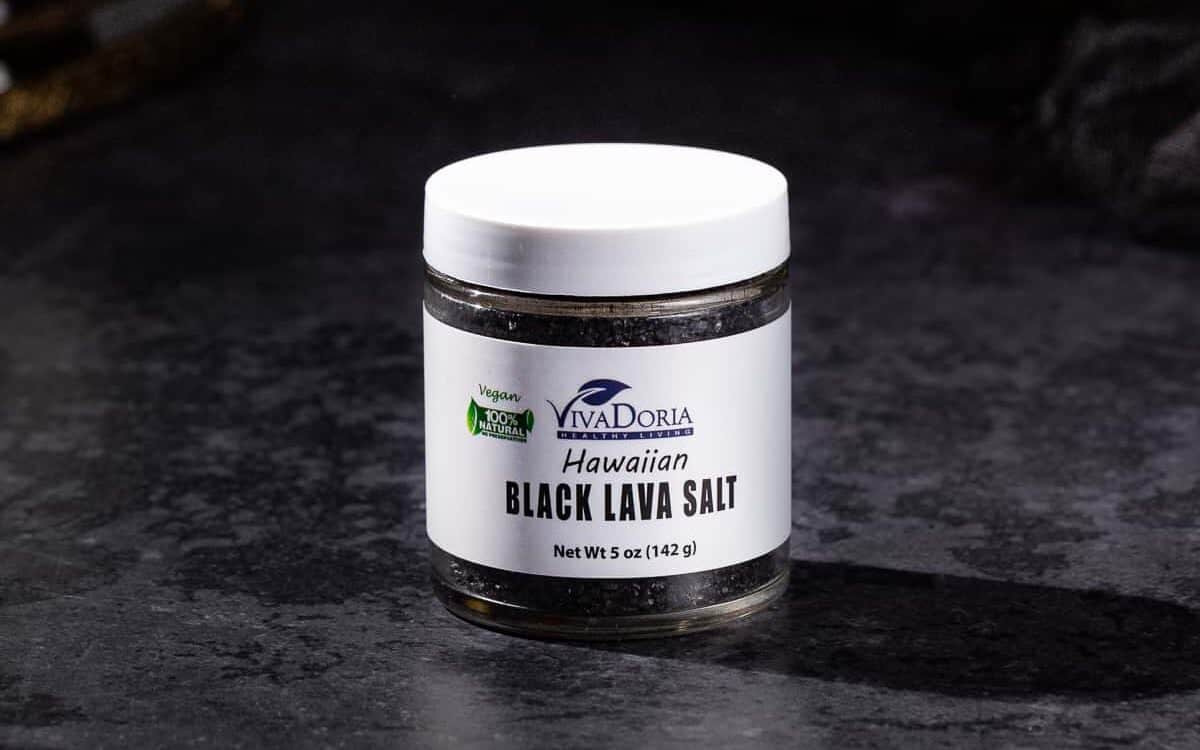 Substitutions
Here are some ways you can substitute if you don't have an ingredient, or if you need to modify the recipe for a particular diet.
Peychaud's bitters - you can omit the bitters if you don't have them, or use a different style of bitters, like Angostura or lemon bitters.
Rosé sparkling wine - if you don't have this ingredient, you can use any sparkling wine. Or, sub in a lemon flavored seltzer or even sparkling apple cider.
Black lava salt - you can use black or red colored sugar instead (but just be prepared to have your guests' lips turn colors!). Another option for a garnish is to use cocktail cherries on a Halloween-themed cocktail pick (like these Barfly skull cocktail picks).
Keto diet - the main ingredients containing sugar in this recipe are the grenadine syrup and the Chambord liqueur. There is not an exact low-sugar equivalent, but using a sugar free pomegranate syrup and a sugar free raspberry syrup in place of those ingredients will give you a similar flavor and color.
Virgin/Non-alcoholic - substitute in sparkling water for the vodka and the sparkling wine. Also, use raspberry syrup instead of the Chambord liqueur. Garnish with a cocktail cherry on a pick, so you can tell the difference between this and the alcohol version!
Variations
Here are some variations on this spooky cocktail:
Tequila Vampire's Kiss - substitute blanco tequila for the vodka to create a new and delicious flavor combo.
Spicy Vampire's Kiss - add in a little spicy kick by shaking the drink with a cut up fresh jalapeño. Or, infuse the vodka with jalapeños overnight before making the drink.
Dry ice - if you're looking for a cool effect in this drink, add in a tiny piece of dry ice and watch it roil and smoke out of the glass. Be super careful if you try this, though, and wait until the dry ice is fully gone before drinking. Never touch dry ice with bare skin.
Equipment
You'll need a cocktail shaker, strainer, and a jigger or a small measuring cup to make this drink. I love a goblet-style glass for this, but a large wine glass also works great. A knife and cutting board are also great if you are working with fresh citrus.
This one is not a necessity, but I love using this Champagne bottle opener! It's perfect for anyone who struggles opening a bottle of bubbly.
If you don't have a cocktail shaker or bar equipment, check out the products from A Bar Above! You can get 10% off using my discount code, LKDrinks. I love using their bar tools, and they can also be washed in the dishwasher when you're done making drinks!
Instructions
Start out by preparing the glass by sticking on the black lava salt garnish. You can use lemon juice to wet the glass, or paint on some grenadine syrup using a paintbrush reserved for food use only. Then, just dip the wet area in the lava salt, or sprinkle the salt on so it sticks.
The salt is meant to be more of a garnish for looks, but it goes well with the drink if your guests taste it too!
Set the glass aside and start adding the cocktail ingredients to the shaker. Add in the lemon juice and grenadine syrup.
Then, add in the Chambord liqueur and the Peychaud's bitters.
Finally, add in the vodka, and then fill the cocktail shaker with ice.
Seal up the cocktail shaker and shake everything up well, about 15 to 20 good shakes. Strain the drink into your serving glass. If you have a fine mesh strainer, you can use both a regular strainer and the fine mesh strainer to double strain it as shown below.
Open up your sparkling wine and top the drink off with the wine. Then it is ready to serve.
Hint: Be sure you know the size of your serving glass beforehand to make sure it is the right size for the drink. The glass goblet shown in the pictures holds about 8 fluid ounces.
Frequently Asked Questions
What's a Vampire's Kiss?
A Vampire's Kiss is a red-colored Halloween themed cocktail. Most recipes for this drink use vodka, grenadine and Chambord liqueur for the red color, although some use raspberry vodka or cranberry juice.
What type of alcohol is Chambord?
Chambord is a black raspberry liqueur. It has a lot of sweetness and uses both raspberries and blackberries in its recipe. At 16.5% ABV (alcohol by volume), it is low in alcohol for a liqueur.
Top tip
To make this drink for a crowd, you can pre-mix everything but the sparkling wine before your party. Add everything to a pitcher, plus about ½ ounce of water per cocktail (the water is in place of shaking it with ice). Store the pitcher in the fridge until you're ready to serve, and then open up the sparkling wine just before serving. You can also prep all of the glasses with black salt before the party, and just have them all displayed on a tray or table.
📖 Recipe
Vampire's Kiss Cocktail
The Vampire's Kiss is a Halloween themed cocktail that's both delicious and easy to make! It is a tasty dark red drink with citrus vodka, raspberry liqueur and a touch of bubbly.
Equipment
Knife and cutting board

(if using fresh citrus)

Cocktail serving glass

(goblet style, or a wine glass works great, at least 8 ounces)
Ingredients
1

ounce

lemon juice

1

ounce

grenadine syrup

½

ounce

Chambord liqueur

2

dashes

Peychaud's Bitters

1½

ounce

lemon vodka

(or regular vodka)

2

ounces

sparkling wine

(preferably rosé, but white is fine)

black lava salt

(optional, for garnish)
Instructions
Garnish (optional)
Use a cut lemon, or a food-only paintbrush with grenadine syrup, to wet a strip down the side of your serving glass.

Dip the glass into black lava salt, or sprinkle the salt on so it sticks. Set the glass aside to dry while you make the drink.
Cocktail
Add the lemon juice, grenadine syrup, Chambord, bitters, and vodka into your cocktail shaker.

Fill the shaker with ice, seal it and shake it 15 to 20 times.

Use a cocktail strainer to strain the drink into your serving glass.

Pour in the sparkling wine and serve.
Nutrition
Calories:
261
kcal
Carbohydrates:
27
g
Protein:
0.1
g
Fat:
0.1
g
Saturated Fat:
0.03
g
Polyunsaturated Fat:
0.02
g
Sodium:
13
mg
Potassium:
92
mg
Fiber:
0.1
g
Sugar:
19
g
Vitamin A:
2
IU
Vitamin C:
11
mg
Calcium:
9
mg
Iron:
0.3
mg
Made with WP Recipe Maker plugin