Looking for a scarily good cocktail for your Halloween party? This Halloween Margarita is fun, easy to make, and perfect for Halloween. It's so delicious and has the perfect orange color! Paired with a striking black salt rim, it'll be your go-to drink for spooky season.
Whether you're hosting a Halloween get-together or just love margaritas, this festive drink is perfect for setting the scene. Plus, it's gorgeous to look at!
Check out my other Halloween-themed cocktails to round out your party cocktail menu! The Vampire's Kiss is a delicious deep red vodka and grenadine drink. This Halloween Gin Sour uses Shiraz-infused gin for a gorgeous and tasty tipple. And, the New York Sour is always a hit with its red wine float!
Jump to:
About the Halloween Margarita
I developed this margarita recipe with an orange color in mind, so I went with my go-to orange colored liqueurs, Licor 43 and Aperol. The Licor 43 brings a sweet vanilla flavor, and the Aperol has a bit of a citrusy grapefruit-like flavor.
Pairing that with tequila blanco, Grand Marnier and lime gives the drink a margarita base, but with an almost creamsicle-like flavor that is sooo good. Definitely a winner!!
Ingredients
Here are all the ingredients you'll need for this spooky drink:
Tequila - you can use either blanco tequila (aka silver tequila) or reposado tequila, although blanco brings a great fresh flavor. I used Cantera Negra Silver.
Licor 43 - Licor 43 liqueur is a delicious spirit that famously uses 43 ingredients. The overall flavor brings marshmallow and vanilla flavors to the drink. (Hint: use this with heavy cream for a Mini Beer Shot!)
Aperol - Aperol liqueur is an amaro, which is a bittersweet Italian liqueur. It has a citrus based flavor and goes so well with the lime and tequila.
Grand Marnier - instead of Triple Sec like in a classic Margarita, I used Grand Marnier liqueur, which is an orange liqueur that has a Cognac base. The Cognac gives it a little more rich and complex of a flavor.
Lime juice - preferably fresh lime for the best tasting drink!
Black lava salt* - this black lava salt tastes pretty much like regular coarse salt, but the black color is striking and perfect for Halloween! *Important Note: black lava salt does contain activated charcoal, which should not be consumed if you are on any medication.
Substitutions
Here are some ways you can substitute the ingredients in this cocktail:
Tequila - if you sub out the tequila, it's not really a margarita anymore, but still tasty! Try using vodka or gin in its place.
Licor 43 - try using a little vanilla vodka if you can't find this.
Aperol - sub in some Campari Aperitivo liqueur if you don't have Aperol -- just keep in mind that it will have more alcohol in it.
Grand Marnier - you can use a different orange liqueur, like Cointreau liqueur or Triple Sec.
Lime - lemon will also work great in this drink.
Variations
Here are some variations on this recipe:
Spooky Strawberry - try muddling a couple of strawberries in your cocktail shaker at the beginning of the recipe. This will bring a bit of color and tasty berry flavor. You can garnish with a fresh strawberry too.
Non-alcoholic - you can use alcohol substitutes to make a similar drink without the booze. For the tequila, sub in Lyre's Agave Blanco. Then, use Lyre's Aperitif Rosso and Lyre's Italian orange in place of the Aperol and Grand Marnier. For the Licor 43, you can use a little vanilla syrup instead, like Amoretti vanilla syrup.
Smoky Halloween 'Rita - kind of like a cross between this recipe and a Smoky Margarita! Use a cocktail smoker (like SmokeTop cocktail smoker) to add smoke to the glass before pouring in the drink. You can also sub in a little mezcal for the tequila for an extra smoky taste.
Equipment
You'll want to have a few key bar tools on hand to make this drink. A jigger, cocktail shaker and strainer, and serving glass are all important to have.
I used an orange-tinted coupe glass, which I think works so well with the Halloween theme. I also love these wavy orange coupe glasses that look even more like pumpkins!
Also, grab a knife and cutting board if you're using fresh lime, and a small dish to use for the optional black lava salt rim.
If you need bar tools, check out my favorite tools made by A Bar Above! You can get 10% off using my discount code, LKDrinks. Their bar tools are super durable, dishwashable and look great!
Instructions
Start out by adding your black lava salt rim to the glass. This is an optional step (and you could use regular white salt too), but it does add a lot to the flavor of the drink!
Wet the rim of your glass with a cut lime or with water. Then dip the rim into a dish of black lava salt, coating it all the way around.
Set the glass aside while you make the drink.
Add your lime juice and Licor 43 to the cocktail shaker.
Then, add in the Aperol, Grand Marnier and tequila.
Fill your shaker with ice, and shake well, about 15-20 times.
Strain the drink into your prepared glass. Then, just serve and enjoy!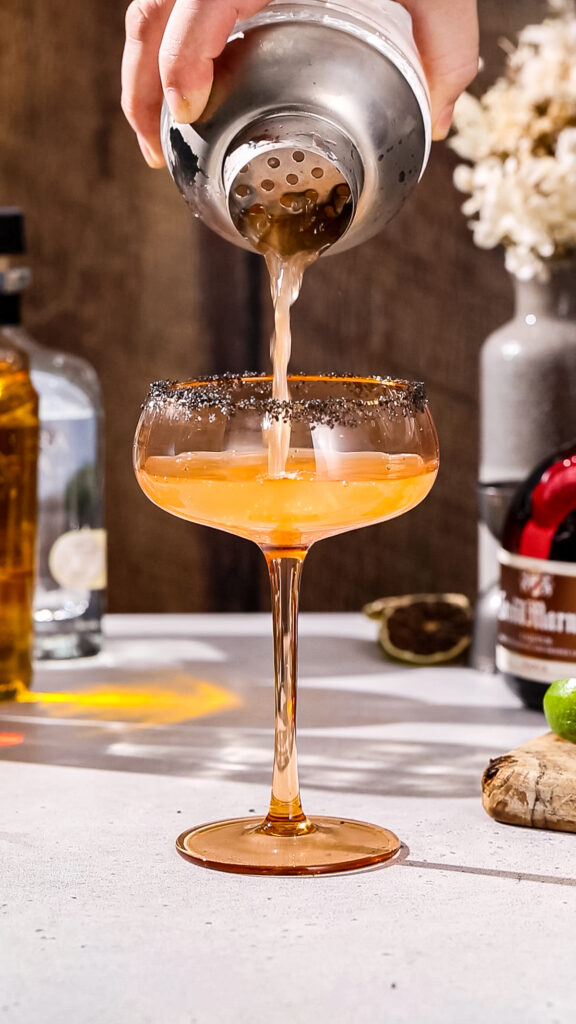 Hint: If you want to chill your glass, add your salt rim first and then refrigerate it for at least 30 minutes. It'll help keep your drink colder longer (and make it look nice and frosty!)
Frequently Asked Questions
What is black lava salt?
Black lava salt is made of sea salt, and it has a touch of activated charcoal to give it a black color. It tastes just like regular sea salt! Note: If you are on medication, it's best to avoid this salt due to the charcoal.
Can I serve the Halloween Margarita on the rocks?
Of course! The coupe glass is typically used for cocktails served "up", without ice. If you want to serve it on ice, you can use a double old fashioned glass. (Or try out a skull glass if you want to go all out!)
Top tip
This would be a great drink to serve in a pitcher at a Halloween party! To get the freshest flavor, I suggest adding the lime juice just before the party. But, you can mix all the other ingredients well ahead of time, and keep them in a pitcher in the fridge!
When you mix up your pitcher, add in ½ ounce of water per cocktail, and that way you won't have to shake it with ice. You can even rim all of the serving glasses with ice beforehand.
Bonus: try using this skull ice cube mold to make your presentation even spookier!
📖 Recipe
Halloween Margarita
This spooky orange-colored margarita is the perfect drink for Halloween! With a black lava salt rim, this is an easy and delicious drink for any costume party.
Equipment
Cocktail glass

Knife and cutting board

(if using fresh citrus)

Small dish

(if using black lava salt for the rim)
Text Ingredients
Instructions
Garnish
Add your black lava salt to a small dish.

Wet the rim of your cocktail glass. I find it easy to use a cut lime to do this, but water works fine in a pinch.

Dip the wet rim into the salt, turning it and re-dipping so the entire rim gets some salt. Set the glass aside (or in the refrigerator) while you make the drink.
Cocktail
Add the lime juice, Licor 43, Aperol, Grand Marnier, and tequila into a cocktail shaker.

Fill the shaker with ice and shake vigorously, about 15-20 times.

Strain the drink into your prepared glass. Serve and enjoy!
Nutrition
Calories:
230
kcal
Carbohydrates:
15
g
Protein:
0.1
g
Fat:
0.1
g
Saturated Fat:
0.04
g
Polyunsaturated Fat:
0.03
g
Sodium:
3
mg
Potassium:
43
mg
Fiber:
0.1
g
Sugar:
10
g
Vitamin A:
14
IU
Vitamin C:
9
mg
Calcium:
4
mg
Iron:
0.1
mg
Made with WP Recipe Maker plugin