Lavender Syrup is the perfect addition to your spring and summer cocktails! It's super easy to make at home, and is a wonderful sweetener for your hot tea or iced tea. This Lavender simple syrup recipe adds the perfect amount of floral aroma and flavor without being overpowering. It's sweet, only three ingredients, and will take your drinks to the next level.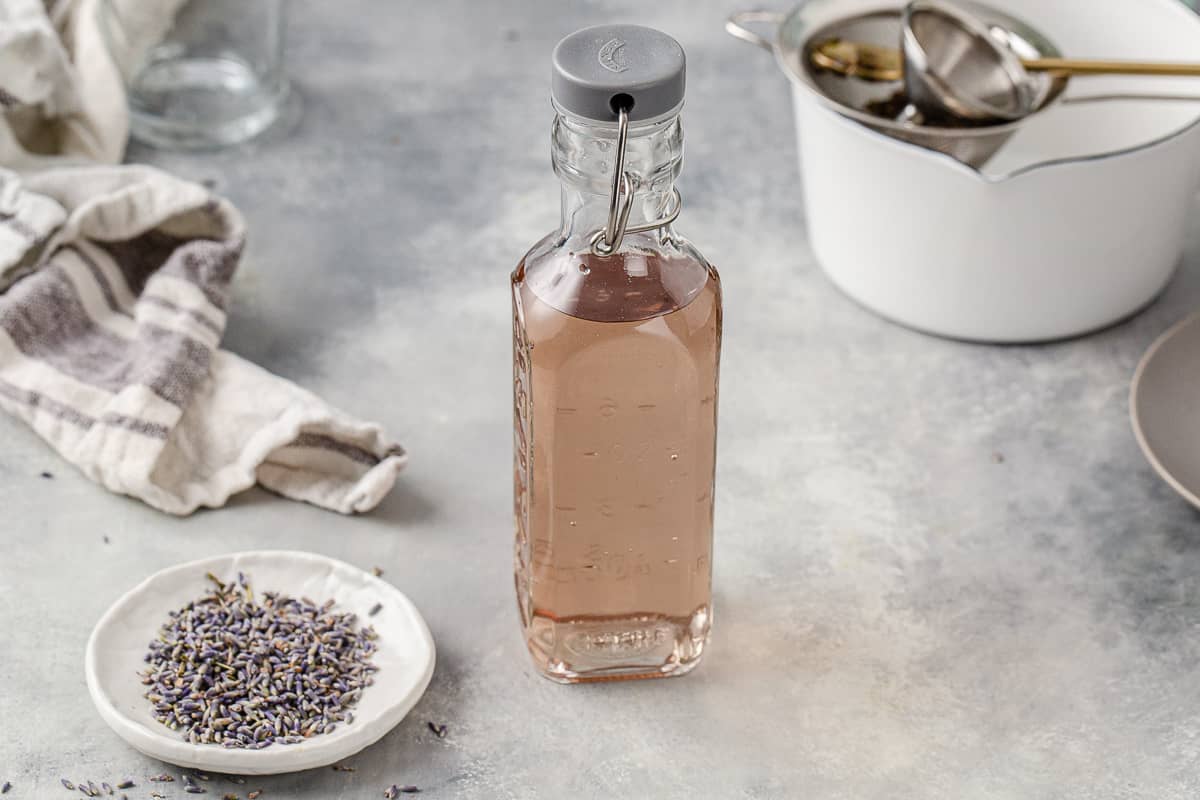 Lavender is in season from the early summer to late summer, depending on the variety and where you are in the world. But the great thing about this recipe is that you can make it with dried lavender, and it tastes just as good! Also, making this syrup yourself will avoid the food coloring used to give many commercial syrups their purple color.
This syrup is the star of my Lavender Mule cocktail, as well as my Lavender Vodka spritzer. Besides being an amazing cocktail ingredient, you can also add this syrup to coffee. Try adding it in place of your normal syrup to make a delicious lavender latte!
Looking for more flavored simple syrup ideas? Check out my best simple syrup recipes! And if you love the Lavender Syrup, the Sage Syrup will be right up your alley too!
Jump to:
Ingredients
You only need three simple ingredients to make Lavender Syrup.
Water - filtered or mineral water works great.
Sugar - granulated white sugar will give the cleanest lavender flavor.
Dried Lavender - be sure to get culinary lavender, which is food safe. You can also use fresh lavender blossoms if you have them available to you.
Where to Find Lavender
Using culinary lavender is super important for this recipe. To find some, you can start by checking specialty grocery stores or a local farmers market, as they often carry a variety of fresh herbs, including lavender. You can even visit nearby organic farms or lavender fields where you may be able to purchase freshly harvested lavender buds.
If you'd rather shop online (guilty!), dried culinary lavender buds or flowers are your best bet. Make sure to read reviews and choose a trusted source to guarantee the quality and safety of the lavender. I used this dried lavender from The Spice Way on Amazon.
Substitutions
Here are some ways you can substitute the ingredients in this syrup:
Sugar - if you don't have plain white sugar, you can use brown sugar, coconut sugar, or any type of natural/unprocessed sugar. Just keep in mind that changing the sugar will alter the taste a little bit.
Dried lavender - if you can't access culinary lavender, you can use lavender extract instead. When using the extract, add it in at the same point you would add the dried lavender. For this recipe, you could start with adding in ¼ teaspoon, and then add more if you want a stronger flavor.
Variations
Here are some variations for this syrup:
Keto Friendly Lavender Syrup - it's easy to make this into a keto-friendly syrup. Just switch out the sugar for a sugar free sweetener. My favorite is allulose because it tastes the best, and it acts like sugar and thickens up the liquid (unlike with erythritol, no xanthan gum is required). You'll need to add about 15% to 20% more allulose to get the same sweetening power as sugar.
Blueberry Lavender Syrup - blueberry and lavender is a wonderful combination! To make this syrup, add in fresh or frozen blueberries to the saucepan before boiling. Heat the liquid until the blueberries start to break apart. Then, add the lavender and continue on with the lavender syrup recipe as written. You can also add a squeeze of lemon juice after the syrup cools for some extra brightness.
Lavender Sage Syrup - mix in some fresh sage leaves when you add the lavender buds for an extra herbal flavor note.
Ways to use Lavender Syrup
There are so many ways to use this syrup! Here are a few ideas:
Lavender Cocktails - obviously, I am biased towards cocktails, and I love to make a Lavender Mule in the spring! You can add this syrup in place of simple syrup in lots of recipes, though. Try adding it to a margarita or a gin martini to up level the flavor and aroma of your cocktail hour.
Lavender Lemonade - this makes the perfect summer mocktail! Add some of this syrup in place of sugar to make homemade lemonade. You can use lemonade mix, or fresh lemon juice.
Lavender Coffee - hot or iced lavender coffee is so delicious in the spring! Add 1 ounce of this syrup to your drink in place of 2 pumps of coffee syrup.
Lavender Desserts - drizzle this syrup on your baked cakes or cupcakes in place of plain syrup to make them extra moist. You can also add this syrup to flavor buttercream, or drizzle it on top of pancakes!
Equipment
To make this syrup, you'll need to have a small saucepan, a spoon or spatula, and measuring cups/spoons or a kitchen scale. A fine mesh strainer and a funnel are both great when you want to strain out the lavender.
You'll also need a clean glass container to store the finished syrup if you don't plan to use it right away. It should be an airtight container.
The recipe makes about 10 fluid ounces of syrup, so make sure your container will hold that amount! I like these 12 ounce swing-top bottles, or mason jars work really well too.
Instructions
Measure out your sugar and water, and combine them in a small saucepan. Stir to combine the ingredients, and place the saucepan over medium-high heat.
Stir the mixture occasionally while it heats. The sugar will dissolve after a few minutes. Bring to a boil, and then turn the heat down so the liquid simmers. Let it simmer for about 3 minutes.
Turn off the heat and add in your dried lavender buds.
Stir to make sure all of the lavender gets moistened by the liquid. Then, remove the saucepan from the stove onto a cooling rack or trivet.
Let the mixture steep for at least 30 minutes, or until it cools to room temperature. If it's still warm after 30 minutes, you can use an ice bath to cool the bottom of the pot.
Pour the mixture through a fine mesh strainer and funnel your syrup into your clean glass container. This will strain out the lavender buds so your final syrup is clear.
Seal up your storage container. If the mixture is not entirely cool, let it come to room temperature completely before storing it in the refrigerator.
The syrup will keep for 2 to 3 weeks in the refrigerator. Discard at any sign of cloudiness or mold growth.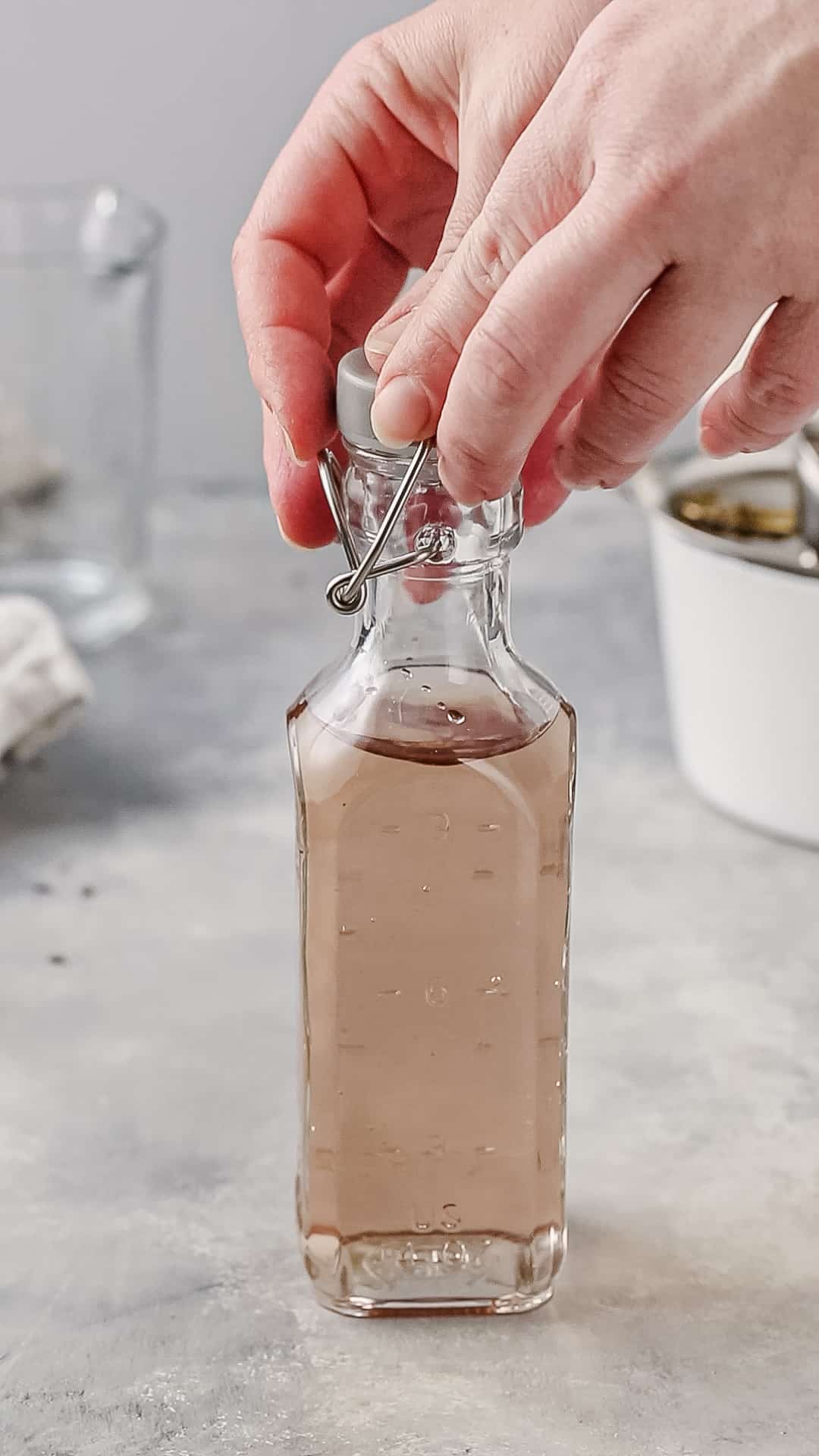 Hint: You can add a ½ ounce of clear vodka to the mixture if you want to extend the shelf life. Be sure to make a note on the bottle that there is alcohol in the syrup!
Frequently Asked Questions
What is lavender syrup made of?
Homemade lavender syrup has just three ingredients: sugar, water and lavender flowers. Many commercial syrups will also add food coloring and preservatives.
What does lavender syrup taste like?
Lavender syrup has a floral flavor, earthy and fresh. It has a slight mintiness and minerality in the flavor. Lavender is often used in soapmaking, which puts some people off the scent, although it is very refreshing in cocktails (especially gin cocktails)!
Top tip
You can control the sweetness level of your syrups when making them at home. This recipe uses a 1:1 ratio of sugar to water, but you can double the amount of sugar to make a rich simple syrup instead.
Rich simple syrup also lasts longer in the fridge, up to around 3 months. You can use it in all of your favorite drinks! Just add about half the amount you would use regular syrup.
📖 Recipe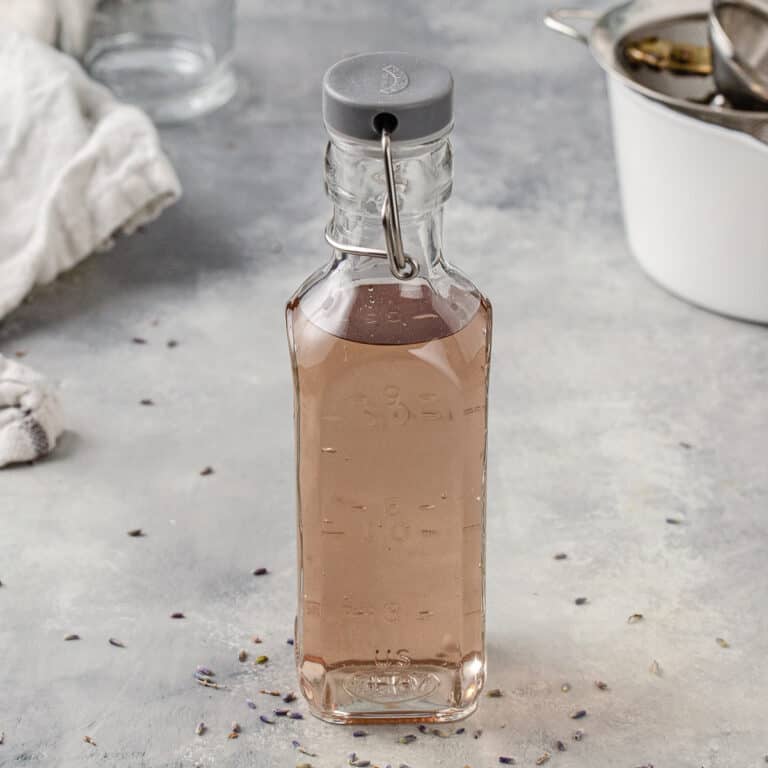 Lavender Syrup
This homemade Lavender Syrup recipe is easy and delicious. This syrup will transform your spring and summer cocktails and give them a tasty floral finish.
Equipment
Saucepan

Kitchen scale and/or measuring cups

Fine mesh strainer

Funnel
Ingredients
1

cup

water

1

cup

sugar

(white sugar for the cleanest lavender flavor)

¼

cup

dried lavender buds

(or fresh lavender buds)
Instructions
Add the water and sugar to a saucepan and stir to combine.

Bring the mixture to a boil over medium-high heat.

Reduce the heat to low and simmer for 3 minutes.

Remove the saucepan from the heat and add the lavender.

Stir the mixture until all of the lavender is wet with the liquid syrup, and then cover the saucepan and allow it to cool to room temperature (around 30 minutes).

Place the funnel onto the top your storage container and hold the fine mesh strainer above the funnel. Carefully pour the syrup through the strainer and funnel so the liquid goes into your container.

Seal the container, and store the syrup in the refrigerator for up to 3 weeks. Discard at any sign of cloudiness or mold growth.
Notes
To make a Keto-friendly version of this syrup, use around 240 g of allulose in place of the sugar.
To increase the shelf life of this syrup in the refrigerator, you can either double the amount of sugar used to make a "rich" lavender syrup, or add ½ ounce of vodka to the mixture. Either way, be sure to make a note on the glass container (especially for the vodka!)
Nutrition
Serving:
1
ounce
Calories:
80
kcal
Carbohydrates:
21
g
Protein:
0.1
g
Fat:
0.1
g
Sodium:
1
mg
Potassium:
0.4
mg
Sugar:
20
g
Vitamin A:
17
IU
Vitamin C:
1
mg
Calcium:
13
mg
Iron:
0.1
mg
Made with WP Recipe Maker plugin