This refreshing Rhubarb Gin Cocktail has a bright and tangy flavor, perfect to sip on a warm afternoon. Rhubarb syrup gives this drink a light pink color, accented by a curly strip of rhubarb peel for a garnish. The flavors of lemon and ginger go perfectly with the rhubarb for a tart, sweet and delicious drink.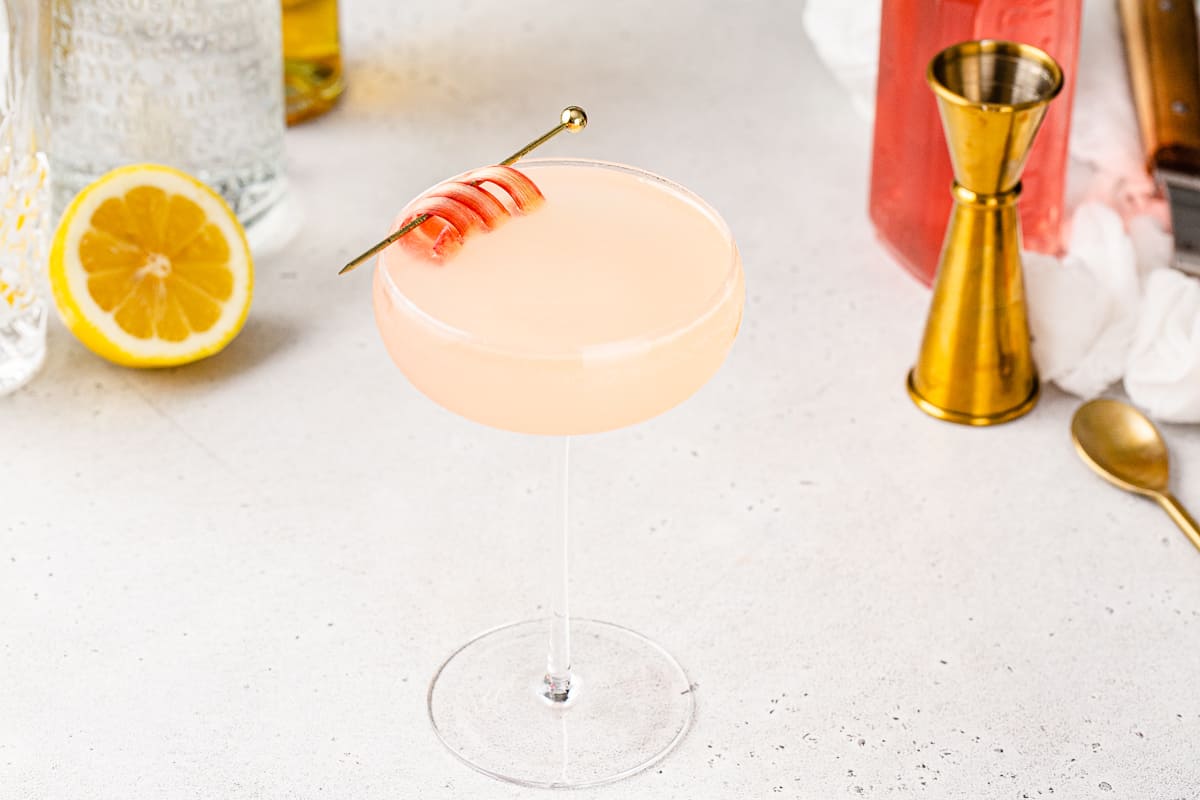 Rhubarb is in season in late spring and early summer, which is the perfect time for this drink! It's light and fruity, and the addition of seltzer keeps it from tasting overly sweet or strong. This drink uses homemade rhubarb syrup, and you can find the recipe here: Rhubarb Syrup recipe.
Looking for more pink colored cocktails? Check out my Pink Gin Sour, or this Hibiscus Vodka Cocktail.
Jump to:
Ingredients
You'll need to gather up these ingredients in order to make this cocktail:
Gin - I used The Botanist gin, which is a dry style of gin but has a wide variety of botanicals. You can use whatever gin you like best.
Rhubarb syrup - I used homemade rhubarb syrup, which is really easy to make at home. If you're wanting to make this drink outside of rhubarb season, though, there are commercially available rhubarb syrups, like Blossoms brand rhubarb syrup.
Limoncello - Limoncello brings a nice lemony and sweet touch to the drink. Keep in mind that if you use cloudy limoncello, it will add a little cloudiness to the drink. Check my Homemade Limoncello post for more info about making your own.
Lemon juice - preferably freshly squeezed for the best flavor and tartness.
Cardamom Bitters - these delicious bitters give a little bit of warmth and complement the rhubarb syrup really well. I used The Bitter Housewife cardamom bitters.
Ginger Seltzer - ginger goes perfectly with the lemon and rhubarb. Since this is a flavored seltzer, it's more of a light flavor and will be more of a background note in the drink.
Rose Geranium Hydrosol - this optional spray gives a pop of flavor at the end. A hydrosol is essentially just water and botanicals that have been steamed and distilled so you have an essenced water. Spray just before serving. I used the Barefoot Botanicals brand.
Fresh rhubarb peel - to make the curly garnish, you'll need a piece of fresh rhubarb and a vegetable peeler.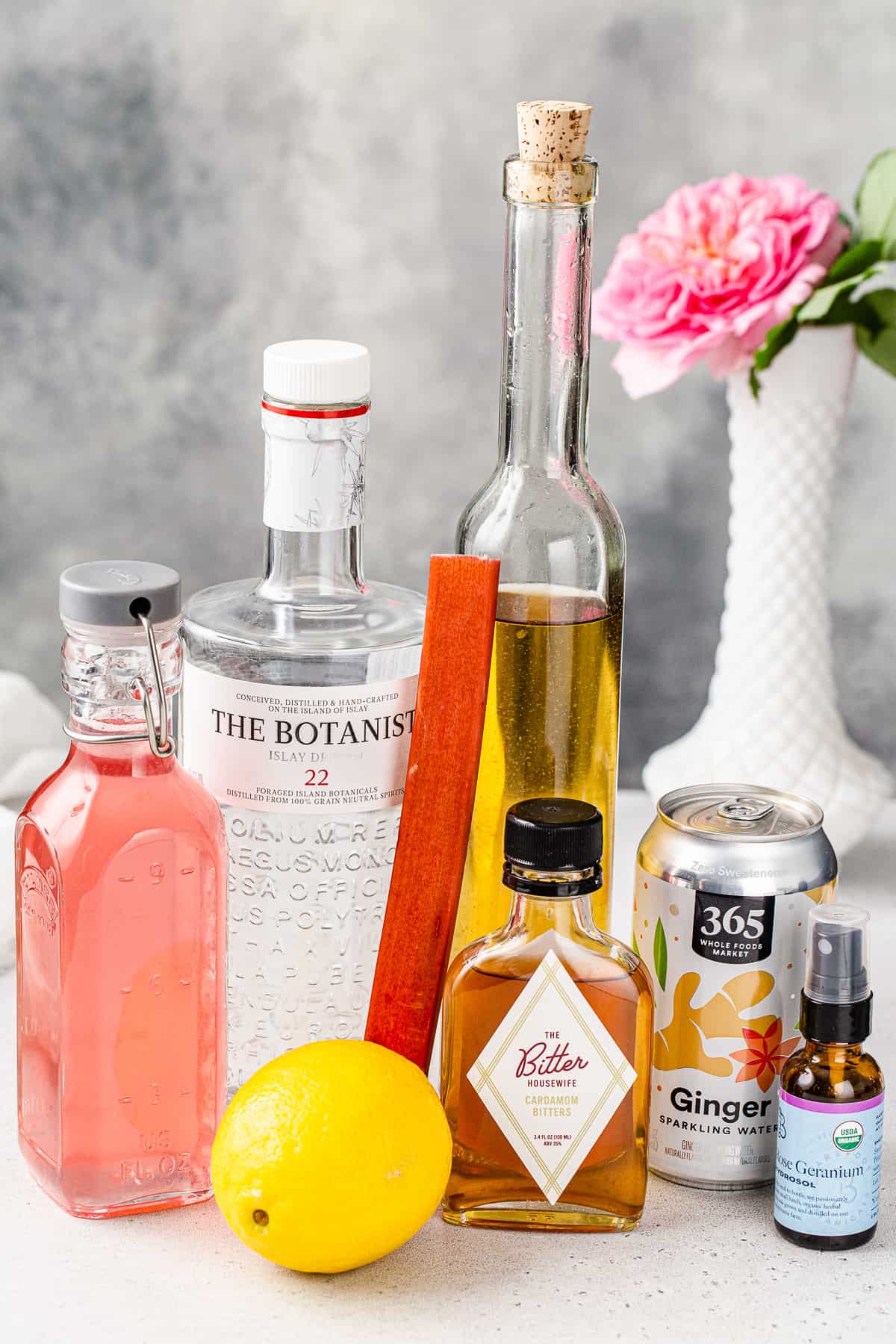 Substitutions
This drink is pretty flexible since the gin and rhubarb syrup are doing a lot of the heavy lifting. Here are some substitutions you can make:
Gin - substitute in vodka, white rum or blanco tequila for the gin if you aren't a gin person.
Rhubarb syrup - if you don't have the syrup, but you have fresh rhubarb, you can muddle the rhubarb along with plain simple syrup. It will give a much more tart and a little bit of a bitter flavor. Or, add a teaspoon or two of rhubarb jam along with ½ ounce of plain simple syrup instead, and use that in your cocktail shaker.
Limoncello - you can omit the Limoncello if you don't have any. If you omit it, increase both the rhubarb syrup and the gin by ¼ ounce each.
Lemon juice - you really need a citrus juice to balance out the sweetness in this drink and give it some citrus brightness. Try lime if you don't have lemon on hand.
Cardamom Bitters - these can be omitted if you don't have them. Or, you can substitute in a lighter style of bitters like these Apple Blossom bitters if you have those. Play around and see which flavors you like together with the rhubarb!
Ginger Seltzer - just use plain seltzer if you don't have ginger flavor. If you still want to incorporate a ginger flavor, add ½ teaspoon of ginger juice along with the plain seltzer. You could also use a lemon flavored seltzer if you prefer.
Rose Geranium Hydrosol - omit if you don't have it on hand. You could also take a large piece of lemon peel and twist it over the top of the drink for more of a lemon aroma.
Variations
Here are some different ideas for this cocktail to change it up:
Rhubarb Gin Infusion - instead of using plain gin, you can infuse your gin with rhubarb to give the drink a stronger rhubarb flavor. Just add some gin to a glass container with a wide mouth, like a Mason jar. Add a few pieces of cut-up rhubarb to the gin (making sure the gin covers the pieces), and seal up the container to sit overnight. Then strain out the rhubarb, and bottle up the resulting pink rhubarb gin to use in cocktails.
Rhubarb Highball - pour the shaken drink over ice in a highball glass, and top it with the seltzer. Serving it over ice will give a little more dilution as the drink sits.
Strawberry Rhubarb - before making the drink, muddle one or two strawberries in the bottom of the cocktail shaker. Then just make the drink as listed.
Non-alcoholic - in place of the gin, you can use Monday Zero Alcohol gin. Or, you can use a chilled herbal tea as the base, like Lemon Zinger.
Equipment
To make this drink, you'll need some basic bar tools. Grab a cocktail shaker and strainer, a cocktail jigger (or small measuring cup), and a serving glass (I used a Luna & Mantha coupe glass to serve).
For fresh citrus, you'll also need a knife and cutting board and a citrus juicer.
For the garnish, grab a vegetable peeler to take a thin strip of the reddish pink-colored skin of the fresh rhubarb. You'll also need a long toothpick or a metal cocktail pick to hold it on the top of the drink.
If you're looking to purchase new bar equipment, definitely consider the products from A Bar Above! You can get 10% off using my discount code, LKDrinks. Their bar tools are really durable, and also can be washed in the dishwasher (even with the gold finish!)
Instructions
Start out making this drink by getting your garnish ready. Just use a vegetable peeler to peel a thin strip of rhubarb skin. The skin should form a natural curl, and you can twist it a little tighter around a cocktail pick before setting it aside.
Next, add your lemon juice and rhubarb syrup to your cocktail shaker.
Then, add the limoncello, gin and cardamom bitters all to the cocktail shaker.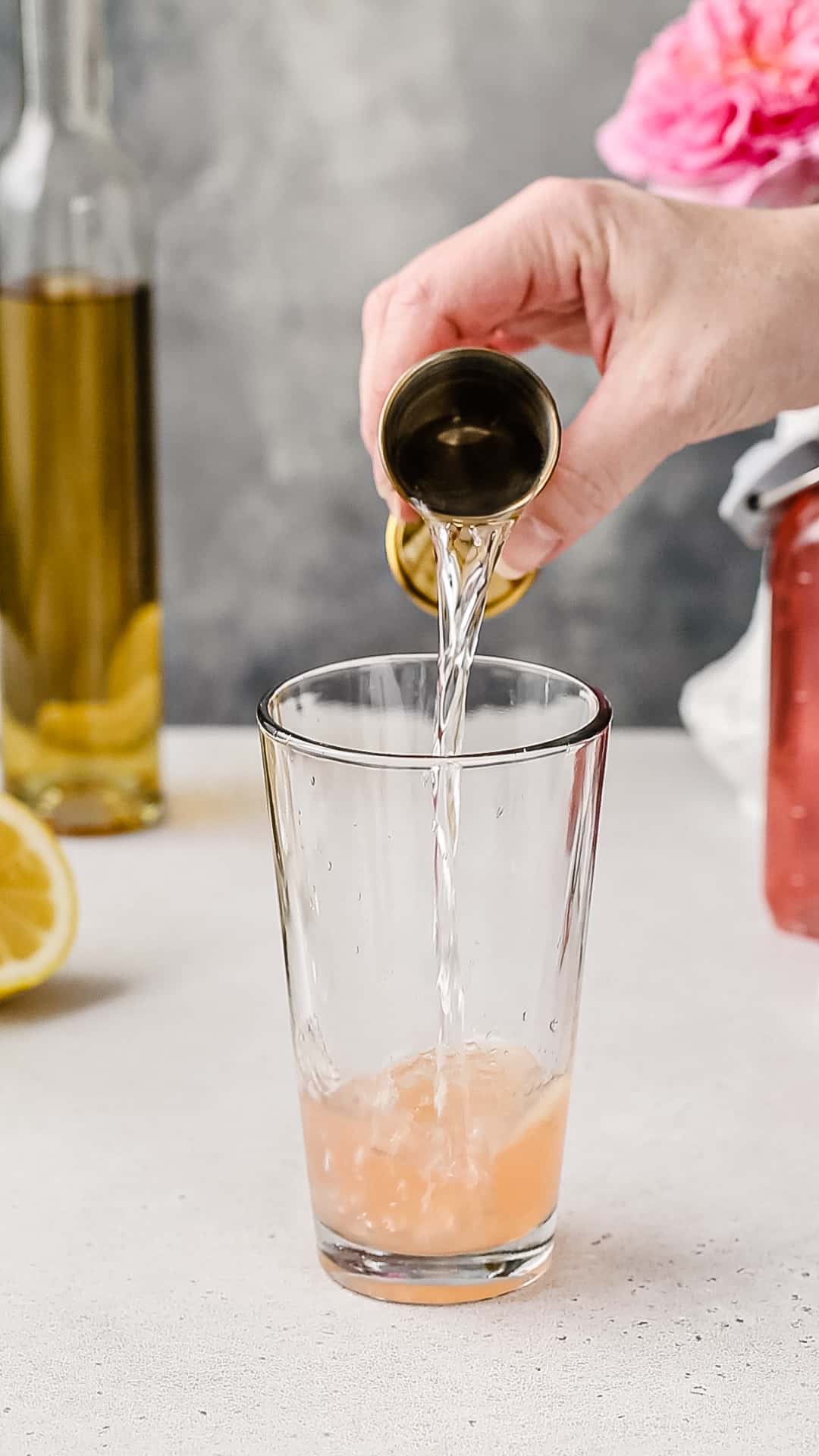 Fill the cocktail shaker with ice, seal it up and give everything about 15 to 20 good shakes. Shaking with ice will dilute and chill the drink, and make sure everything is mixed well.
Then, strain the drink into your serving glass.
Top the drink with the ginger flavored seltzer, and then rest the cocktail pick with the garnish on top of the glass. Optionally spray the rose geranium hydrosol over top of the glass, and serve.
Hint: if you're making this drink but don't have fresh rhubarb on hand for the garnish, you can use the vegetable peeler to cut a long strip of lemon peel instead. Clean up the edges with a sharp knife, and wrap it around the cocktail pick to set in a curl while you make the drink.
Frequently Asked Questions
What does rhubarb taste like?
Raw rhubarb is very tart and tangy, but when it's cooked the acidity drops away and it takes on more of a jammy flavor. This flavor profile makes it pair really well with a variety of fruits and spices.
What can you mix with rhubarb?
Rhubarb goes really well with fruity and citrusy flavors. By itself, it's very tart, and so it pairs well with summer fruit flavors like strawberry and watermelon. It also tastes great with citrus, as well as ginger and other baking spices like cinnamon.
Top tip - Making a Batch for a Party
If you'd like to make a batch of these cocktails for a party, you can mix together the gin, rhubarb syrup, limoncello, and bitters all together in a pitcher the night before. Keep it in the refrigerator, and then add the lemon juice just before the party.
There is no need to add extra water, since it will already be chilled and you'll be diluting it with seltzer as you serve.
Prep all the garnishes you'll need and keep them wrapped in a damp paper towel in the fridge until you're ready to use them. When you want to serve, just add 3½ ounces of the mixture to each glass, and then top it with seltzer, a garnish and a spray of hydrosol.
📖 Recipe
Rhubarb Gin Cocktail
This delicious and elegant gin cocktail gets a pretty pink hue and tangy flavor from rhubarb syrup. Lemon and ginger round out the flavors in this drink.
Ingredients
Cocktail
1

ounce

lemon juice

(preferably freshly squeezed)

¾

ounce

rhubarb syrup

(see linked recipe for how to make homemade rhubarb syrup)

¼

ounce

Limoncello

(see linked recipe for how to make homemade limoncello)

1½

ounce

gin

2

dashes

Cardamom bitters

2

ounces

ginger seltzer

1

spray

rose geranium hydrosol

(optional)
Instructions
Garnish
Prepare the garnish by using a vegetable peeler to peel a long and thin strip of rhubarb peel, about ¼ inch wide.

Twist the rhubarb peel strip around a cocktail pick in the direction of its natural curl.

Set the twist aside while you make the drink.
Cocktail
Add the lemon juice, rhubarb syrup, limoncello, gin, and bitters to a cocktail shaker.

Fill the shaker with ice and close it up. Shake it about 15-20 times.

Strain the drink into your cocktail glass.

Add the rhubarb garnish by resting the cocktail pick on top of the serving glass.

Optionally spray the rose geranium hydrosol on top, and serve immediately.
Nutrition
Calories:
197
kcal
Carbohydrates:
21
g
Protein:
1
g
Fat:
1
g
Saturated Fat:
1
g
Polyunsaturated Fat:
1
g
Sodium:
25
mg
Potassium:
45
mg
Fiber:
1
g
Sugar:
19
g
Vitamin A:
2
IU
Vitamin C:
11
mg
Calcium:
7
mg
Iron:
1
mg
Made with WP Recipe Maker plugin