This cocktail is all about the beautiful pink color, although the flavor is delicious too! I used Empress 1908 Gin, which is a gorgeous gin which gets its color from butterfly pea flowers, to achieve the finished cocktail. It's simple to make, and the color is definitely eye catching.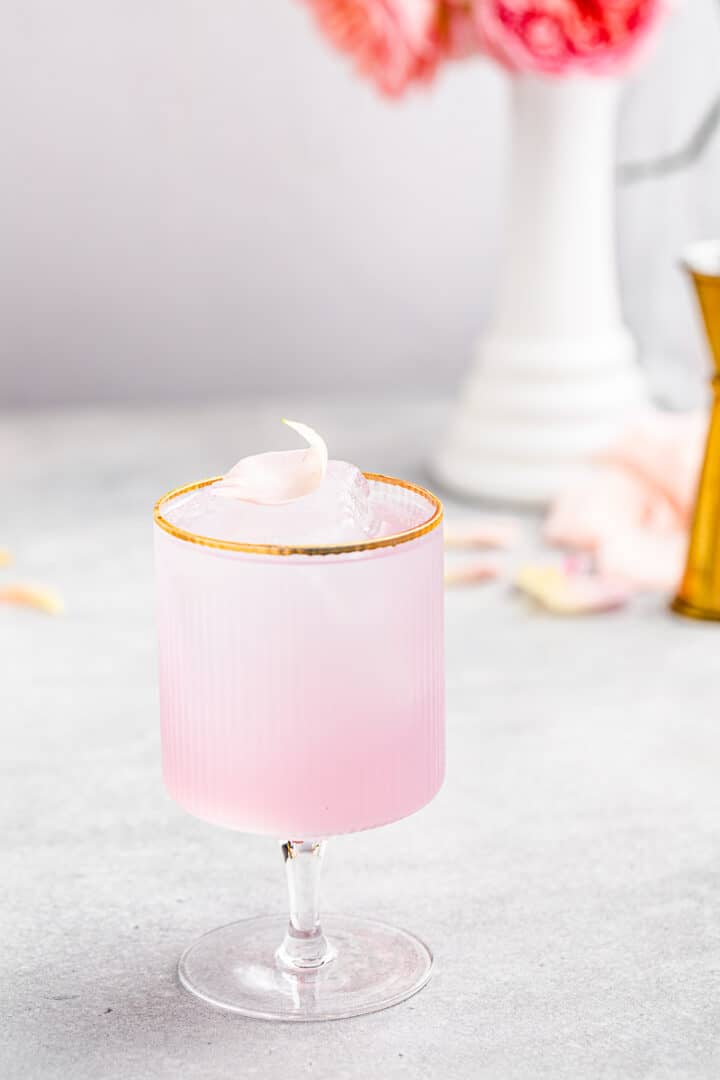 To me, this drink screams summertime garden party! I was actually inspired by my garden roses to make this, which is why I garnished it with a rose petal. It's a refreshing drink for that time of year when the roses first start to bloom.
This would pair perfectly with my Gin and Violet cocktail, which is a beautiful lavender color. If you have fresh blackberries on hand, this Blackberry Empress Gin Sour also uses Empress 1908 Gin, and it is a match made in heaven with juicy fresh blackberries!
Jump to:
Ingredients
This is a fairly simple drink, and the color is mostly based on how much Empress 1908 Gin you use in comparison to the clear gin. The more you use, the more purple the color will be. You can find my exact proportions in the recipe card at the bottom of this post, but here is a list of what you'll need:
Empress 1908 Gin - Despite the use of butterfly pea flowers for color, this gin is not very flowery. It has some herbal and citrus flavors along with some classic juniper.
Other clear gin -A more floral gin like Hendrick's or Uncle Val's Botanical Gin goes really well here.
Rubarb Ginger Liqueur - This liqueur gives a little sweetness and subtle flavor to the cocktail. It has a light pink color too.
Fresh lemon juice
Simple Syrup
Garnish - I used a rose petal, although you will want to make sure any petal is food safe and unsprayed before using it. Most retail roses are sprayed with pesticides and other toxins.
Hint: I didn't use any bitters in this cocktail, but if you are looking for a little more complexity, lemon bitters would work wonderfully.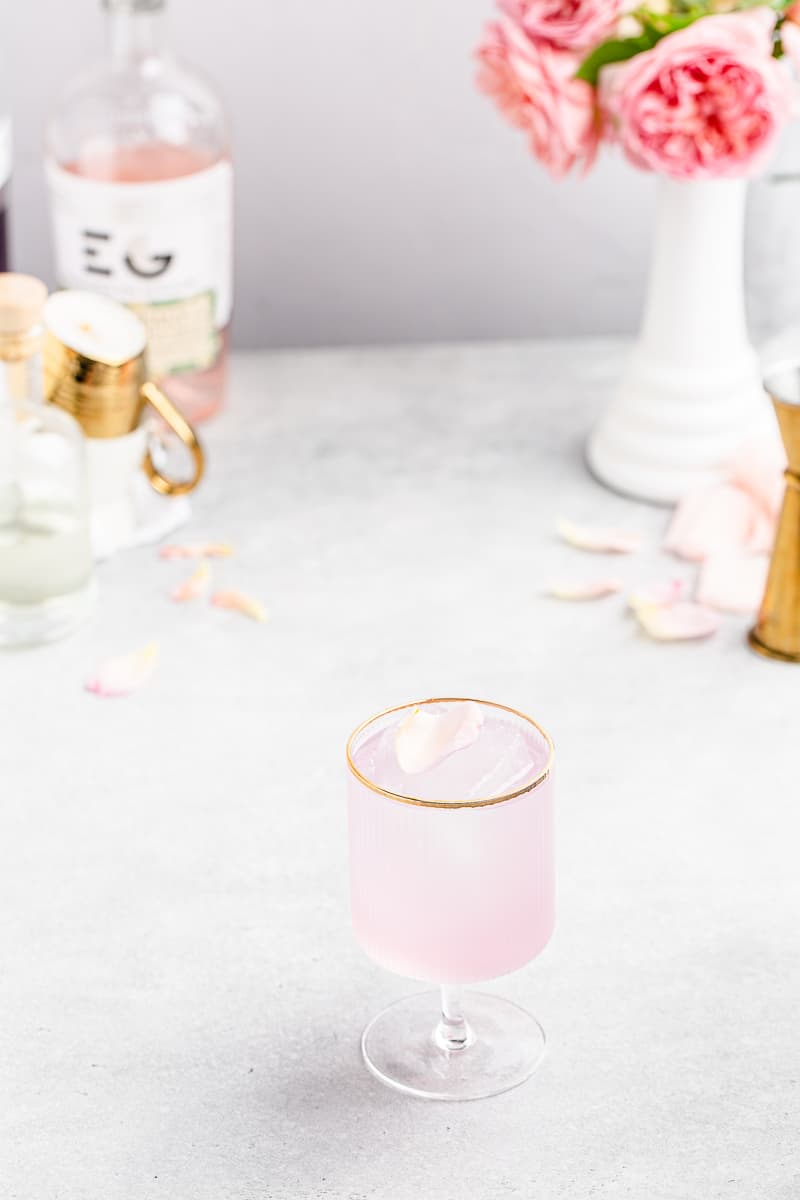 Equipment
This is a fairly simple cocktail, so you'll really just need a few things to put it together:
Cocktail shaker - I prefer a Boston style shaker, which has two cups, rather than a Cobbler, which has the strainer built in. I just find that the Cobbler style is more messy!
Cocktail strainer - I usually use a Hawthorne strainer
Cocktail jigger or small measuring cup
Cocktail serving glass - the glass I used in the photos is from an Etsy seller, PierHaus. If you're serving it up (without ice), make sure your glass holds at least 4 ounces of liquid, but you'll want a larger glass if you plan to use ice. This glass holds around 10 oz (300ml), so I was able to use a large piece of ice.
My favorite cocktail tools are from A Bar Above (affiliate link - use my code LKDrinks for 10% off). They are super durable and dishwasher safe.
Instructions
If you are using a large chunk of ice, start off by adding your ice to the cocktail glass. This will let the ice warm up a little bit so it won't crack when you add the drink.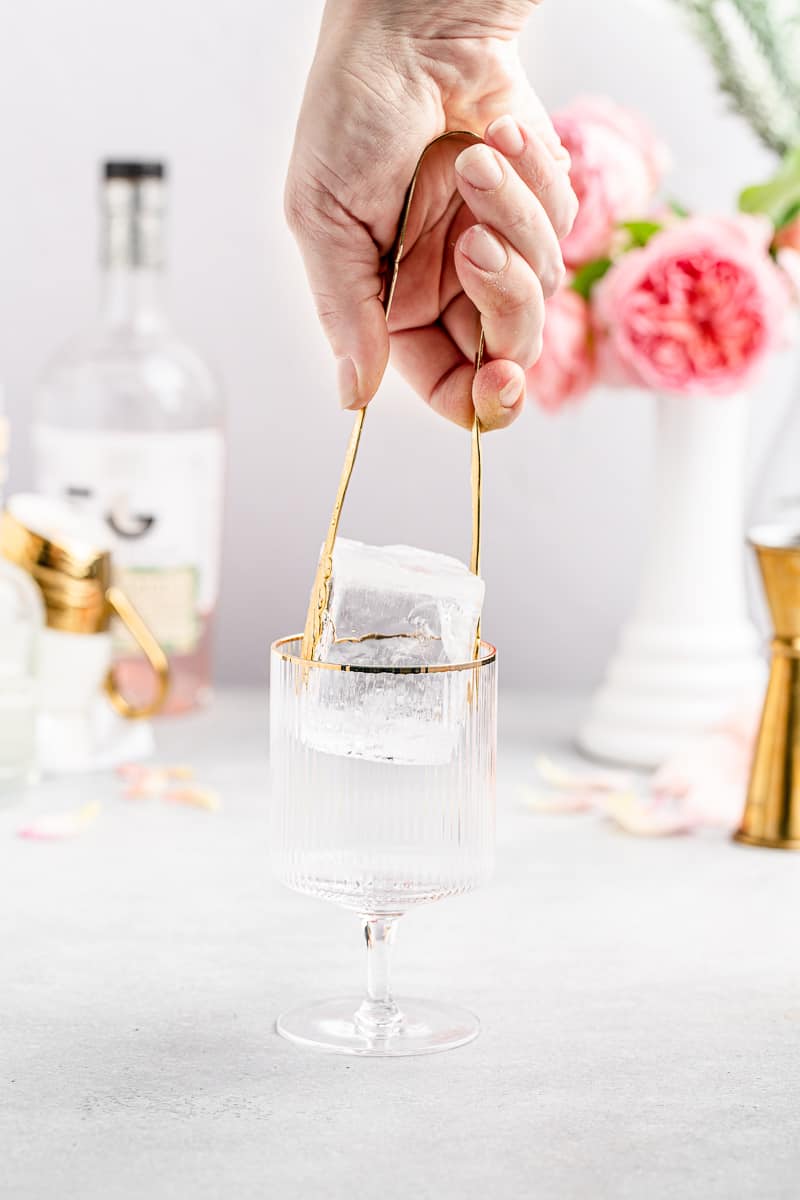 This is a shaken cocktail, so you'll build the cocktail in the cocktail shaker. It doesn't matter all that much what order you add the ingredients, but if you want to see a pretty cool effect, add the lemon juice and then the Empress 1908 Gin. It's so fun to watch the color change!
Then, add the other gin, the simple syrup and the Rhubarb Ginger Liqueur.
Add ice to the cocktail shaker and shake vigorously, about 15-20 good shakes. This will chill and dilute the drink.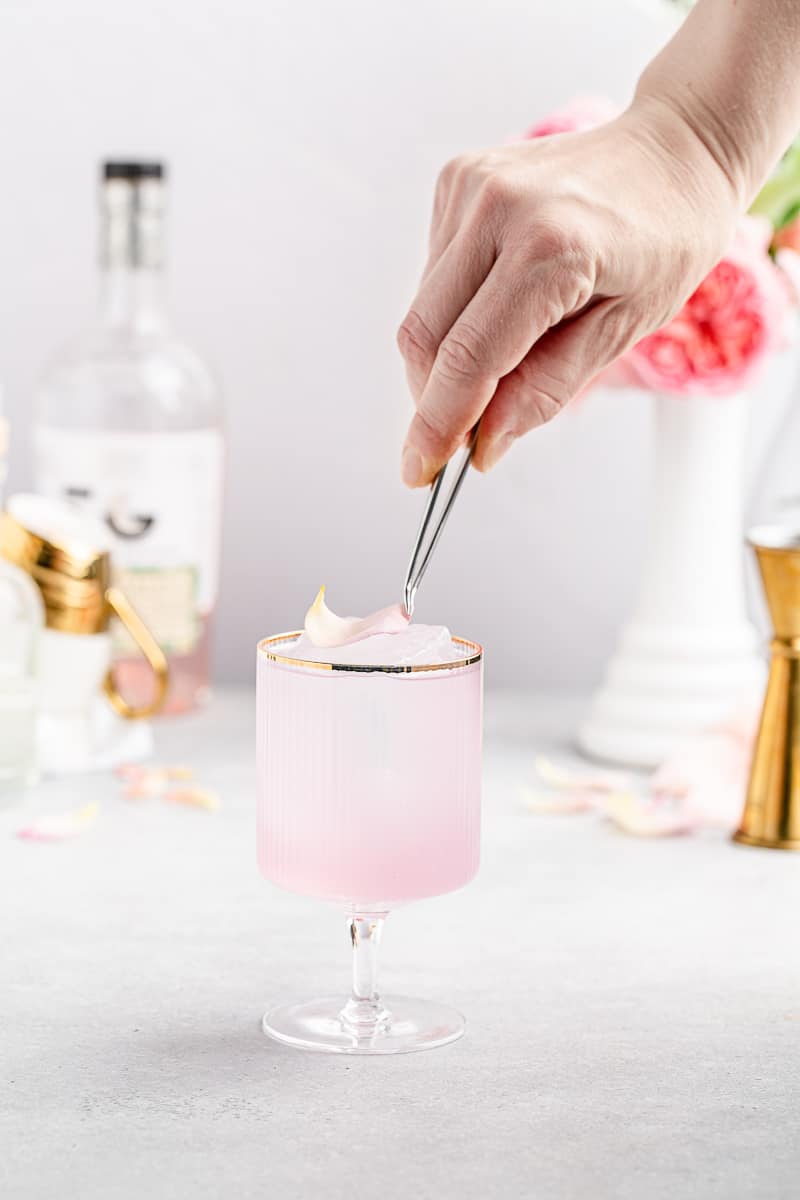 Strain the drink into your prepared cocktail glass, add a garnish and enjoy!
Hint: If you use a rose petal as garnish, like I did, make sure it is not sprayed by pesticides! An amazing resource for purchasing edible flowers, although you do have to buy a bunch at a time, is Gourmet Sweet Botanicals (not an affiliate, they just have nice flowers!)
Substitutions
If you don't have one of the ingredients for this cocktail on hand, here are some ideas to substitute:
Empress 1908 Gin - This gin is key for the color, but if you don't have access to it, you can make your own infusion using dried butterfly pea flowers and a different type of gin. You'll want to let it steep until you achieve the color you want.
Gin - if you don't have any gin, you can use vodka as a replacement, although you might want to use a different liqueur which has a stronger flavor if you do.
Rhubarb Ginger Liqueur - If you don't have this specific liqueur available, look for a different liqueur which has a pink color, like a grapefruit (pamplemousse) liqueur. Or, just omit it and add a little more of the simple syrup.
Top tip
If you want the pink color to really shine, make sure you are using clear ice! For an easy clear ice option, head over to the grocery store and buy a bag of ice. Or, you can make your own large pieces of clear ice. It takes a little time, but is worth the trouble, in my opinion! My favorite clear ice maker is this one by Clearly Frozen. You can make a lot of ice at once with it at once, unlike a lot of the other ones on the market.
📖 Recipe
Pink Gin Sour
A simple, beautiful and refreshing pink gin cocktail, made with Empress 1908 Gin.
Equipment
Cocktail serving glass, at least 4 ounces, or more if you want to use ice
Ingredients
1

ounce

lemon juice

¾

ounce

Empress 1908 Gin

made by Victoria Distillers

¾

ounce

gin

any clear-colored gin

1

ounce

Rhubarb Ginger Liqueur

made by Edinburgh Gin

¾

ounce

simple syrup

edible rose petal for garnish

make sure it has not been sprayed by pesticides
Instructions
Prepare your cocktail serving glass, adding ice to it to temper if you are using clear ice.

Add the lemon juice, Empress 1908 Gin, clear gin, Rhubarb Ginger Liqueur, and simple syrup to your cocktail shaker.

1 ounce lemon juice,

¾ ounce Empress 1908 Gin,

¾ ounce gin,

1 ounce Rhubarb Ginger Liqueur,

¾ ounce simple syrup

Add ice to the cocktail shaker and give it a good shake, about 15-20 times.

Strain the drink into the prepared serving glass, add a garnish and serve immediately.

edible rose petal for garnish
Nutrition
Calories:
266
kcal
Carbohydrates:
29
g
Protein:
1
g
Fat:
1
g
Saturated Fat:
1
g
Polyunsaturated Fat:
1
g
Sodium:
13
mg
Potassium:
43
mg
Fiber:
1
g
Sugar:
27
g
Vitamin A:
2
IU
Vitamin C:
11
mg
Calcium:
4
mg
Iron:
1
mg
Made with WP Recipe Maker plugin