The Tequila Mule is a simple and delicious cocktail. A spin on the Moscow Mule, using tequila in place of vodka gives this drink a little more flavor and dimension. It's beyond easy to make, and it becomes even more stunning when served in a traditional copper mug.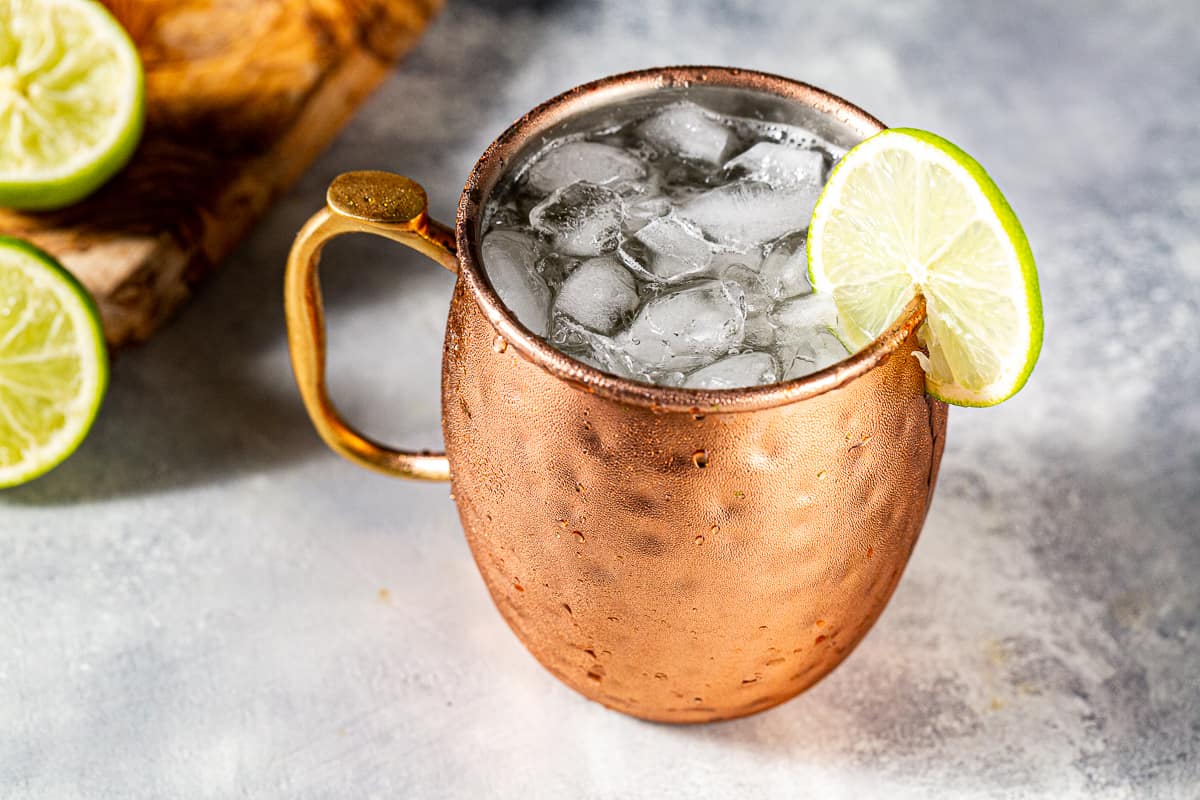 Also known as a Mexican Mule or a Jalisco Mule (named after the area of Mexico where all tequila is made), this cocktail is perfect for summertime. The ginger beer and lime are a really refreshing combo, and with the tequila, this would pair really well with a nice Mexican dinner.
For another delicious mule recipe, check out the Gin Gin Mule. A non-alcoholic option with similar flavors is this tasty Ginger Beer Bitters Mocktail.
Jump to:
Ingredients
Here are the ingredients you'll need to make this cocktail:
Tequila - Reposado tequila, which means it has been aged between two months and a year, is wonderful in this drink. Pictured below is the Espolón Reposado Tequila that I used. You can also use blanco tequila for a brighter style of drink.
Ginger beer - choose a ginger beer with lots of ginger flavor if possible. I've used Bundaberg ginger beer. Another tasty brand is Q Mixers ginger beer.
Lime juice - preferably freshly squeezed.
Fresh lime for garnish
Variations
Here are a few ways you can change up this recipe.
Lower Sugar Tequila Mule - look for a lower in sugar ginger beer to substitute in, like this Remedy Sugar Free ginger beer. Or, you can buy or make sugar free ginger syrup, and use that along with carbonated water to flavor the drink.
Tequila Mule Margarita - add in ½ ounce of triple sec liqueur and a little less ginger beer for more of a ginger margarita flavor. You can also salt the rim before adding the ice and the drink ingredients for a nice flourish.
Alcohol Free (Virgin) Tequila Mule - use a non-alcoholic tequila, like this Lyre's tequila style non-alcoholic spirit, instead of the tequila. This will give you the best flavor. Or, just mix ginger beer and lime, which will be more like a Virgin Moscow Mule.
Equipment
This drink is built in the serving glass, so you don't need a cocktail shaker or mixing glass. What you do need is a jigger, a citrus juicer, a knife and cutting board for the lime, and a way to crush your ice (although the ice crushing is optional).
I love using an ice mallet and Lewis bag to crush the ice -- it's fun and relieves some stress! You can also try out this ice crusher crank gadget, or just make small ice cubes using nugget ice trays.
You'll also need a serving mug. Although a copper mug (like this copper mug set) is a great way to serve this drink, you can use a regular glass if you don't have one. The biggest benefit of the metal mug, besides aesthetics, is that it takes on the coldness of the drink and gives a frosty sensation that a regular glass doesn't have.
Instructions
Start out by preparing your garnish. For the lime wheel, cut a lime in half and then cut a slice about ⅛ inch thick. Make a small slit in one side where you'll place it onto the rim of the mug. Set it aside while you prepare the drink.
If you will be using a Lewis bag to crush your ice, fill the bag with ice and close up the flap.
Smash up the ice using a wooden mallet (my favorite part!). Then, scoop out some of the crushed ice with an ice scoop and add it to your serving mug.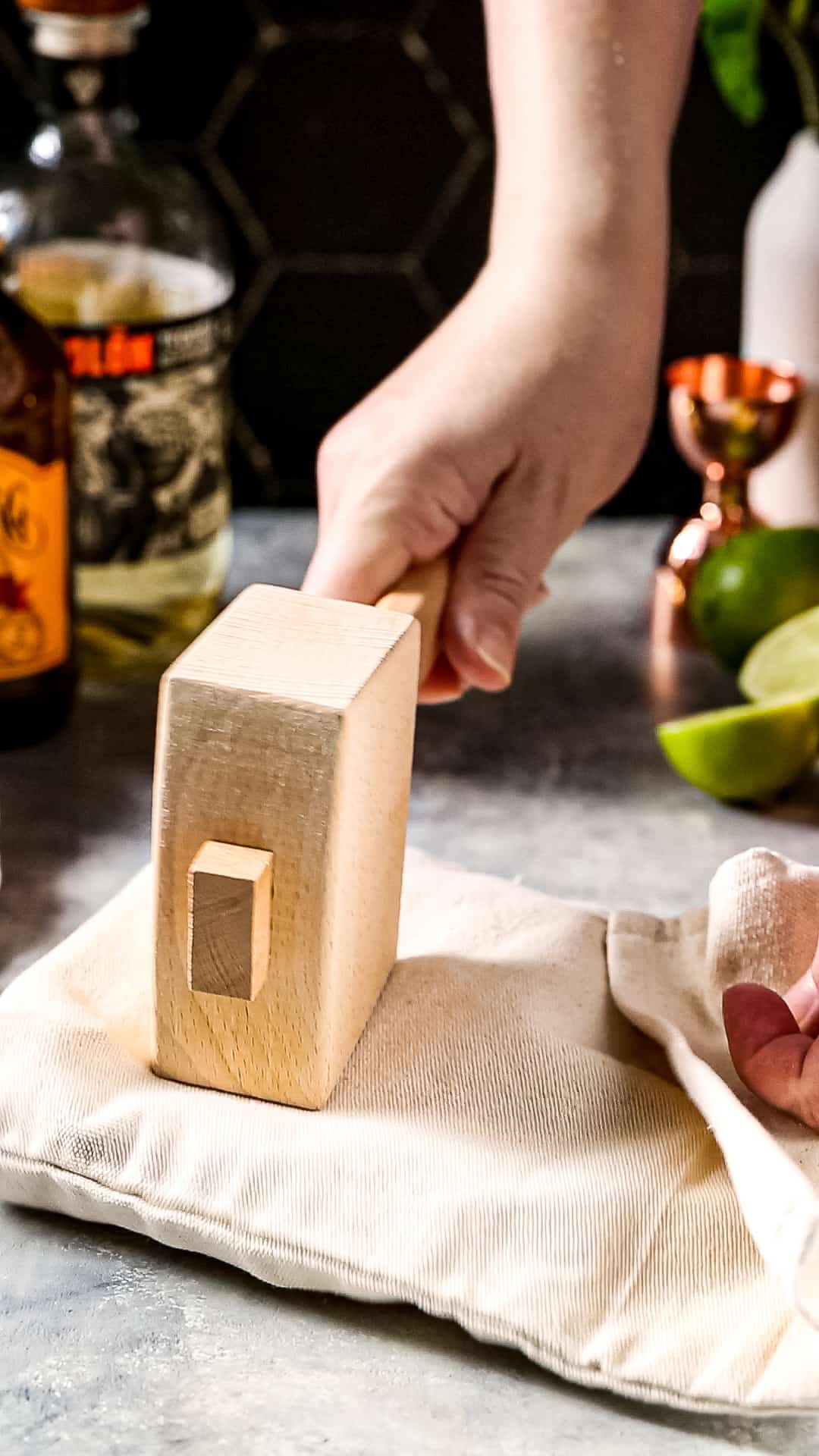 Pour the lime juice, followed by the tequila, directly into the serving mug.
Fill the mug with ginger beer. Give the drink a quick stir if you have a spoon or straw handy.
Then, add your prepared lime slice to the rim of the glass as a garnish, and serve.
Hint: if you have any fresh mint available, you can add a large sprig to the top of the drink as a nice additional garnish.
Frequently Asked Questions
What is the difference between blanco, reposado, and añejo tequila?
Blanco tequila is unaged tequila, and has a clear appearance. Reposado and añejo tequila are both aged in oak barrels, and the only difference is the length of time of the aging. Reposado tequila is aged anywhere from 2 to 12 months, and añejo tequila is aged anywhere from 1 to 2 years.
What types of mule drinks are there?
Depending on which base spirit you use, there are a ton of different ways to make a mule. The most well-known is the Moscow Mule, which uses vodka. The Tequila Mule (aka Mexican Mule) uses tequila. Then there is the Kentucky Mule, which uses bourbon, and the Irish Mule, which uses Irish whiskey. The Gin Buck (or Gin Gin Mule if you add mint) uses gin, and the Dark 'N' Stormy uses rum. The French Mule uses Cognac as the base spirit, and the Japanese Mule uses Sake.
What does a Tequila Mule taste like?
All mule cocktails are made with a base of ginger beer and lime, which is a wonderful flavor combination. The tequila adds a burst of extra flavor from the agave based spirit, which is a perfect match for the lime and ginger.
Top tip
If you're using crushed ice, make sure to serve the drink right away. The smaller pieces of ice will melt faster than larger pieces, so the drink will get watered down too much if it sits out too long with crushed ice.
📖 Recipe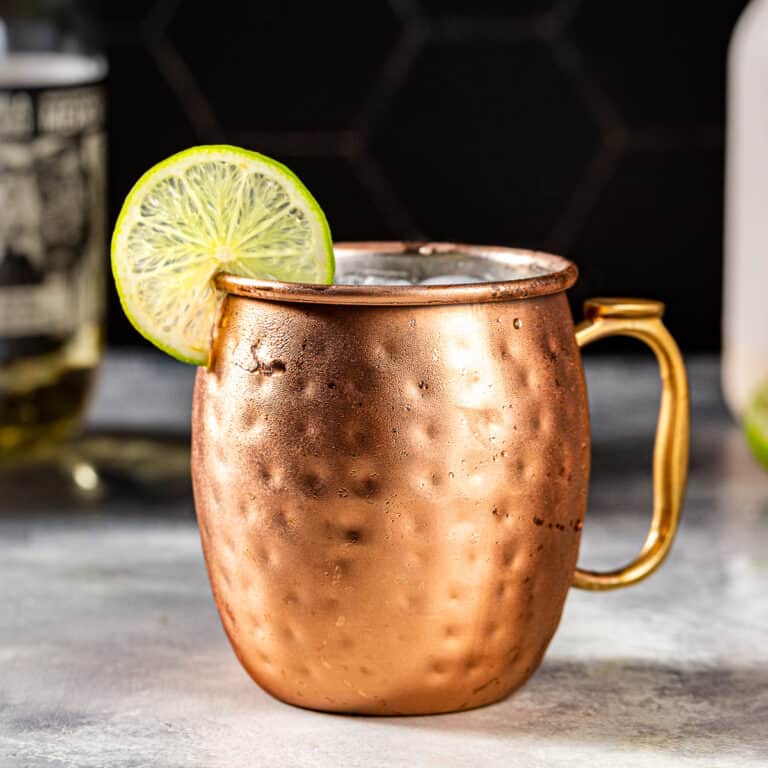 Tequila Mule (Mexican Mule)
This simple and delicious cocktail features lime juice, ginger beer and tequila.
Equipment
Copper mug

(or a Double Old Fashioned glass if you don't have a copper mug)

Knife and cutting board

(for lime)

Ice mallet and Lewis bag

(or other ice crusher - optional)
Ingredients
Garnish
1

slice

lime

(for garnish)
Cocktail
½

ounce

lime juice

(yield from ~½ of a fresh lime)

2

ounces

tequila

4

ounces

ginger beer
Instructions
Crushed ice
If you are making crushed ice, add regular ice to a Lewis bag and fold up the opening. Smash the ice with a wooden mallet until it gets to the size you like.
Cocktail
Add ice (either crushed or regular ice) to your serving mug.

Add lime juice and tequila to the mug.

Fill the rest of the mug with ginger beer.

If you have a straw or spoon, give the drink a quick stir to mix everything together.

Add the lime slice to the rim of the mug as a garnish, and serve.
Nutrition
Calories:
175
kcal
Carbohydrates:
12
g
Protein:
0.1
g
Fat:
0.02
g
Sodium:
9
mg
Potassium:
26
mg
Fiber:
0.3
g
Sugar:
10
g
Vitamin A:
11
IU
Vitamin C:
6
mg
Calcium:
8
mg
Iron:
0.3
mg
Made with WP Recipe Maker plugin