Add some sparkle to your aperitivo hour with the Negroni Spritz! This classic Italian cocktail is such a delicious summer drink. It's like a lightened-up version of a classic Negroni, but with all of the delicious nuances of flavor of the original. Gin, Campari and sweet vermouth pair with Prosecco and a splash of club soda in this sunny and refreshing cocktail.
Like other spritz cocktails, this drink is best enjoyed over ice on a hot summer day, ideally just before the sun sets. This magic hour of the day is also known as "aperitivo hour" in Italy, the perfect pre-dinner time to enjoy a drink and watch the sun disappear over the horizon.
If you like this drink, you'll definitely enjoy a Lillet Spritz or a Hugo Spritz! You can make a spritz out of pretty much any type of your favorite liqueur, but they're traditionally made with an amaro, which is an Italian bittersweet liqueur. Check out my Amaro Spritz recipe for the how-to!
Jump to:
History of the Negroni
Originating from Florence, Italy, the classic Negroni cocktail is traditionally made with equal parts gin, red vermouth, and a bitter red Italian aperitif, usually Campari. It was named after Count Camillo Negroni, who famously asked bartender Fosco Scarselli to strengthen his favorite cocktail, the Americano, by replacing the soda water with gin.
This Negroni Spritz is similar to a Negroni Sbagliato (made Tik Tok famous in 2022 by actor Emma d'Arcy). Instead of replacing the gin with Prosecco, though, in this spritz version the Prosecco and soda water are added to a smaller version of the original cocktail. This results in a drink with all of the complexity of the original, but in an even more refreshing way.
Ingredients
Here are the ingredients you'll need to make this cocktail.
Gin - the herbal flavors of gin are the backbone of this drink. Here I've used a gin called McQueen and the Violet Fog, a spirit from Brazil that has a ton of orange and citrus flavors. Any dry gin (i.e. Bombay Sapphire, Beefeater, or Tanqueray) will work great here too.
Campari - Campari liqueur is a red aperitif that's a staple bitter liqueur, bringing a deep citrus flavor as well as sweetness to the drink.
Sweet Vermouth - this vermouth is red wine-based, with a lot of sweetness as well as bitter herbal notes.
Prosecco - a sweeter cousin to Champagne, Prosecco is an Italian sparkling wine that brings a distinctive white wine flavor and, of course, bubbly carbonation.
Seltzer - adding some more bubbles lengthens the drink and adds to the refreshment!
Orange slice - this is an optional garnish, but the aroma of the orange definitely adds to the experience of the drink. You could also use an orange twist or a large piece of orange peel instead of a slice.
Substitutions
Here are some ways you can substitute the ingredients in this cocktail:
Gin - if you don't have gin, or just prefer a different flavor, try using vodka, light rum or tequila blanco.
Campari - try using Aperol to make this drink instead of the Campari. This will be closer to an Aperol Spritz, or an Aperol Negroni.
Sweet Vermouth - if the drink is too sweet for you, try using dry vermouth instead of the sweet version. You can also just omit the vermouth to make things a little less rich.
Prosecco - you can easily sub in Champagne, Cava or other sparkling white wine for the Prosecco. Or, just use all seltzer to lower the alcohol content of the drink.
Orange garnish - you can use a dehydrated orange if you don't have fresh, or try subbing in some fresh strawberry slices or even a blood orange slice.
Variations
Here are some variations on this recipe:
Keto Friendly Negroni Spritz - although it won't be quite the same, you can make something close to this drink that's lower in sugar. First, make sure you're using a Brut sparkling wine, which has very little sugar. Then, use about 6 to 8 dashes of a citrusy bitters, like Peychaud's bitters, along with an ounce of sugar free sweetener (I like to make my own sugar free simple syrup using allulose).
Non-alcoholic Negroni Spritz - there are a bunch of non-alcoholic spirits you can use to make a virgin version of this cocktail recipe! Try subbing in Monday Zero Alcohol Gin, Lyre's Italian Orange for the Campari and Lyre's Aperitif Rosso for the vermouth. You can also grab one of these bottles of the best reviewed non-alcoholic champagne.
Orange Juice - add in some freshly squeezed orange juice to the mix to sweeten things up.
White Negroni Spritz - for an even more bitter style of spritz, try making this cocktail as a White Negroni (gin, Suze liqueur, and dry vermouth) with the Prosecco and seltzer.
Equipment
As for bar tools, keep it simple. A jigger and a cocktail serving glass filled with large ice cubes are all you really need. I've used a large stemmed copa glass (aka gin and tonic glass), but any red wine glass or even a rocks glass will work great. For the orange slice garnish, a cutting board and knife will come in handy too!
If you'd rather mix the gin, Campari and vermouth together before adding them into the drink, you can use a separate mixing glass to mix them with ice before straining them into the serving glass.
You don't need direct sunlight to make this cocktail shine, but a good cocktail kit won't hurt! I really love the products from A Bar Above! You can get 10% off using my discount code, LKDrinks.
Instructions
If you're using a fresh orange, start out by prepping your garnish. Cut a slice from the middle, and then cut that slice in half. Set them aside while you make the drink.
Fill your serving glass with ice, and add gin to the glass.
Follow that by adding in the sweet vermouth and Campari.
Use a bar spoon to stir the mixture until it's well-chilled, and then pour in the Prosecco.
Top it off with seltzer, and then add one of the orange slice halves to the rim of the serving glass.
Add the other orange slice directly into the drink. Serve and enjoy!
Hint: Use open bottles of Prosecco quickly, within 1-2 days, to maintain its fizzy charm. Always store your vermouth in the fridge once it's opened, since the wine base causes it to oxidize over time and take on some off-flavors.
Frequently Asked Questions
What's the difference between a Negroni and a spritz?
A classic Negroni and a spritz are typically very different. The Negroni is a mix of gin, vermouth and Campari, and the spritz is a mixture of a liqueur with Prosecco and seltzer water. This Negroni Spritz cocktail is a way to capture the essence of both and combine them into one delicious and refreshing cocktail.
Which is better, Campari or Aperol?
Campari and Aperol are similar types of bittersweet liqueurs, both considered Italian red aperitifs. Campari is higher in alcohol and more bitter, while Aperol is on the milder side. They are both delicious, and it definitely depends on the drink or personal preference as to which is better!
Top tip
To ensure your drink stays colder (and more refreshing!) for longer, try chilling all of the ingredients for at least 30 minutes before making the drink. You can even stick the serving glass in the fridge to chill down!
📖 Recipe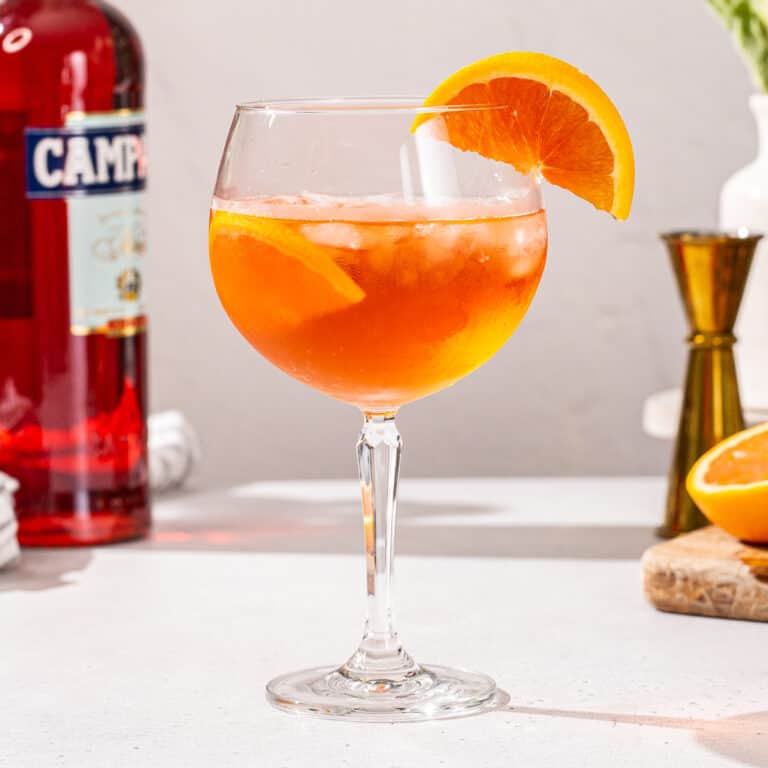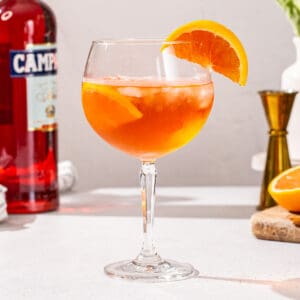 Negroni Spritz
The Negroni Spritz is a refreshingly bubbly version of the classic, adding in both Prosecco and a splash of soda water to the mix.
Ingredients
Garnish
orange slice

(optional but recommended)
Instructions
Fill a cocktail serving glass with ice.

Measure and add the gin, Campari and vermouth to the glass.

Give the mixture a quick stir to combine.

Pour in the Prosecco, and then top with the seltzer.

Garnish the drink with the orange slice and serve.
Nutrition
Calories:
127
kcal
Carbohydrates:
6
g
Protein:
0.1
g
Fat:
0.01
g
Sodium:
12
mg
Potassium:
87
mg
Fiber:
0.2
g
Sugar:
2
g
Vitamin A:
15
IU
Vitamin C:
3
mg
Calcium:
12
mg
Iron:
0.4
mg
Made with WP Recipe Maker plugin