Are you looking for something special to mix up with your favorite tequila? You won't want to miss out on this delicious Prickly Pear Margarita! Tap into the sweet side of summer with this tasty tequila drink. The vibrant pink hue and refreshing taste make it the perfect addition to any summer get-together! Best part? It only takes 4 ingredients and five minutes: did somebody say cheers?!
The Prickly Pear Margarita was first created in Colorado at The Fort restaurant. The co-owner and author of The Fort Cookbook, Samuel P. Arnold, references cold prickly pear drinks that were made in the area around the 1830s. Syrups and drinks made from the native fruit not only tasted delicious, but also kept people cool and refreshed in the hot environment.
A vibrant tequila cocktail like this could easily be served at a bridal shower, bachelorette party or mothers day gathering, or any spring or summer event calling for margaritas! It would also be a perfect Valentine's Day cocktail to go along with the pink theme, or even to celebrate Cinco de Mayo.
If you're looking for a version of this cocktail out in the wild, Carrabba's makes a delicious version!
More margaritas on your mind? Try out this equally vibrant Spicy Blood Orange Margarita, and then keep the party rolling with a Smoky Margarita! Or, for more pink-colored drinks, this pastel colored Pink Gin Sour Cocktail or the classic Dirty Shirley cocktail are both delicious and perfectly pink.
Jump to:
Ingredients
Here are the few ingredients you'll need to make this cocktail:
Tequila Blanco (or Silver) - Clear, unaged tequila works best in this drink. Tequila is a type of alcohol that is made in Jalisco, Mexico from the agave plant. Blanco means that it is not aged in oak barrels, and its fresh, vegetal flavors work perfectly with lime.
Lime Juice - freshly squeezed lime juice is preferred.
Prickly Pear Syrup - This is a sweet syrup made from prickly pear cactus fruit. Not only does the prickly pear bring a vibrant pink color, but also a sweet, mild bubblegum-like flavor.
Limoncello Liqueur - This Italian liqueur is made from an extraction of lemon peels mixed with simple syrup. Although lemony, it's not sour at all since it is made from the peels. You can use store bought Limoncello, or use my recipe to make your own Limoncello.
Substitutions
Here are some ways you can substitute the ingredients in this cocktail:
Tequila - if you don't have a blanco or silver tequila, you can use reposado tequila in its place. It will still taste great, although the color of your cocktail may shift to be a little more orange. Try using lemon instead of lime juice with reposado tequila.
Limoncello - If you don't have Limoncello on hand, you can use Triple Sec or orange Curaçao liqueur instead.
Prickly Pear Syrup - instead of prickly pear syrup, you can use agave nectar or any berry syrup with a vibrant color. This syrup is sweet and not tart, so shy away from tart syrups.
Variations
Here are some variations on this recipe:
Equipment
Cocktail shaker & strainer
Cutting board & knife - Get these out if you're using fresh lime, and for the garnish.
Small dish for salt - Just small enough to be able to salt the rim of your glass.
Cocktail glass - Ideally enjoyed in a short rocks glass or a short-stemmed glass with straight sides like the one pictured above. If you prefer to use a stemmed coupe glass, you can serve it up, without ice.
If you need any new bar equipment, I really love the products from A Bar Above! You can get 10% off using my discount code, LKDrinks. Their bar tools are really durable, and also can be thrown in the dishwasher when you're done mixing!
Instructions
To make your margarita, fill a small plate with fine pink Himalayan salt. If using a fresh lime, cut it in half and rub it along the edge of your cocktail glass. If you're not using fresh lime, then either use water or bottled lime juice.
Dip the edges of your glass into the salt, rotating the glass to evenly coat the rim. Set your glass aside while you prepare your cocktail.
Next, Add fresh lime juice and prickly pear syrup to a tall mixing glass.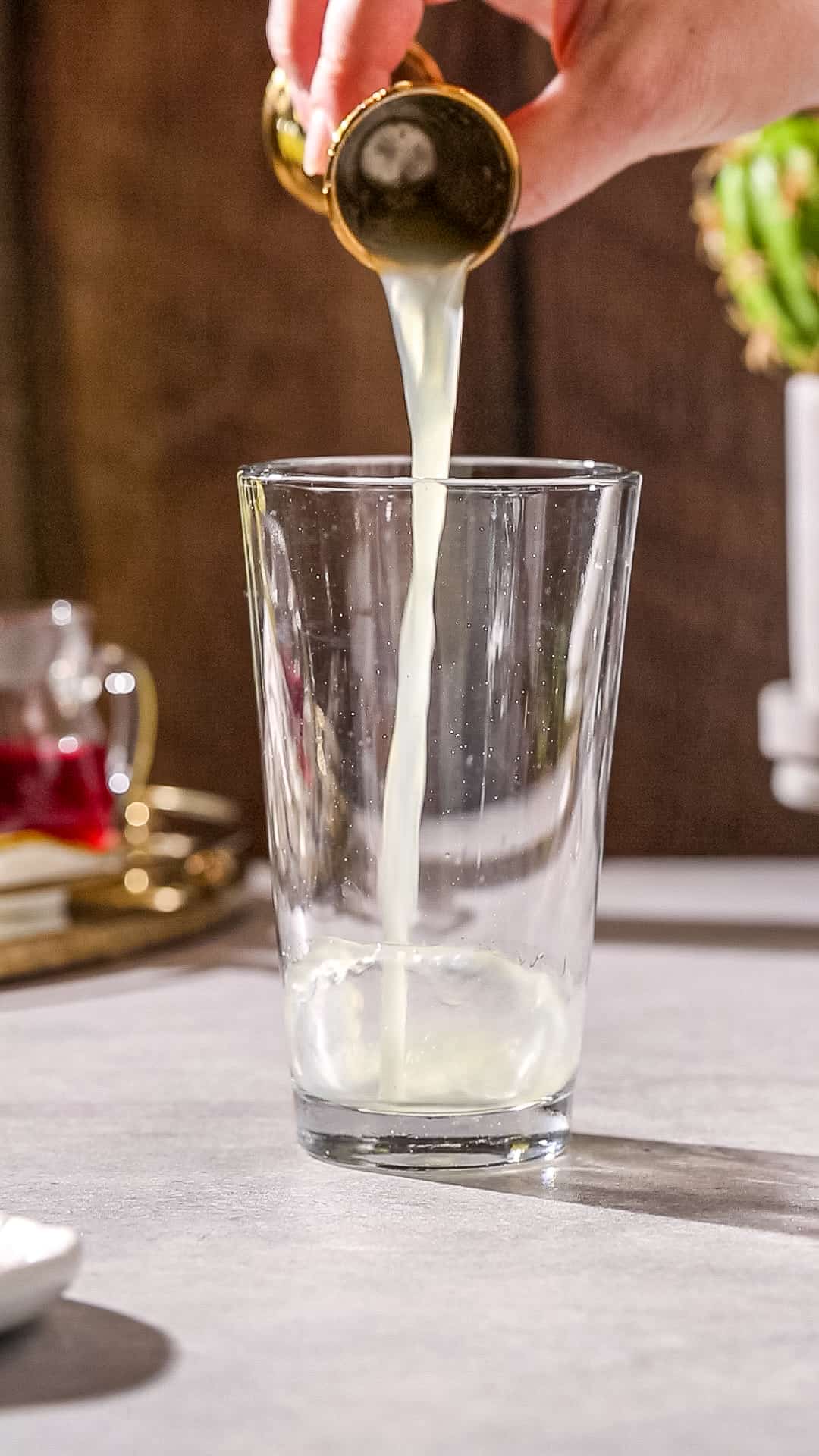 Then add the limoncello, tequila, and ice to the mixing glass. The ice doesn't need to be fancy as we're just chilling the drink at this point.
Add fresh, even fancy ice, to your prepared cocktail glass. Cover your mixing glass with a shaker cup and shake the drink 15 to 20 times. Then, strain it into your serving glass.
Garnish your prickly pear margarita with a lime wheel and serve.
Hint: Using clear tequila is important in this cocktail, not only for flavor, but to make the beautiful pink color of the prickly pear syrup stand out!
Frequently Asked Questions
What is a prickly pear?
Surprisingly enough, a prickly pear is not a pear, but the fruit of a prickly pear cactus. This fruit, also known as tuna in Spanish, grows on the tops of a mature cactus plant and comes in colors ranging from deep red, yellow, and pale green. The fruit can be eaten raw, minus the outer skin, and is best served chilled. The flavor is mild and sweet, and has been called nature's bubblegum because of its taste.
What do you mix prickly pear syrup with?
Prickly pear syrup can be a perfect addition to many cocktails, desserts, and salad dressings. Use the syrup to sweeten and add a pink hue to frostings, cookies, and cakes. Mix it into your favorite vinaigrette for your salad. And, of course, it can be enjoyed in cocktails, mocktails, lemonade, and more.
Top tip
This is the perfect drink for summer parties! You can easily make a pitcher of margaritas for a large event. Instead of using ounces for all of your measurements, just use cups instead, and it will make 42 ounces. You will also want to add ice to the pitcher, so use at least a 48 ounce pitcher. You can add the salt rim and lime to each glass beforehand and have them ready to go!
📖 Recipe
Prickly Pear Margarita
You won't want to miss out on our delicious Prickly Pear Margarita! Tap into the sweet side of summer with this delightful, refreshing cocktail.
Equipment
Knife and cutting board

(if using fresh lime)

Small dish

(to hold the salt for the salt rim)

Cocktail serving glass

(at least 6 ounces in capacity)
Ingredients
Cocktail
1 ½

ounces

Tequila Blanco

(Clear, unaged tequila works best in this drink)

¾

ounce

Lime Juice

¾

ounce

Prickly Pear Syrup

(click to purchase on Amazon)

¾

ounce

Limoncello Liqueur
Text Ingredients
Instructions
Add the salt to a small dish. Wet the rim of your serving glass using a cut lime.

Dip the rim of the glass into the salt, turning and dipping again to coat the entire rim. Set the glass aside.

Add lime juice, prickly pear syrup, limoncello, and tequila to a cocktail shaker and fill the shaker with ice.

Add fresh ice to your serving glass. Shake the drink 15 to 20 times and then strain it into the serving glass.

Garnish with a lime wheel and serve.
Notes
Tasting Notes:
Prickly pear syrup
has a subtle flavor, slightly tart and sweet with some berry and melon notes. Unaged tequila is ideal in this drink since the agave flavors will come through and the syrup won't be overpowered by any oakiness.
Nutrition
Serving:
1
g
Calories:
184
kcal
Carbohydrates:
11
g
Protein:
0.4
g
Fat:
0.03
g
Polyunsaturated Fat:
0.01
g
Sodium:
5
mg
Potassium:
80
mg
Fiber:
1
g
Sugar:
9
g
Vitamin A:
108
IU
Vitamin C:
8
mg
Calcium:
38
mg
Iron:
0.2
mg
Made with WP Recipe Maker plugin